Why Dubrovnik Old Town makes me feel all romantic...
In our opinion, Dubrovnik old town is definitely in the top 3 most romantic Mediterranean cruise ports! And if you've been there, you will surely agree!

For us, there's just something about:
dramatic cliffs and towers
fine restaurants overlooking the walls of Dubrovnik
narrow cobblestone alleyways
Lokrum island beaches
and the lazy atmosphere of the Old town
…that makes you want to walk hand in hand and just enjoy the company of your significant other.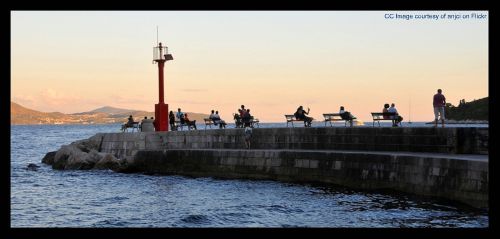 But we would like to hear what makes YOU feel all romantic in Dubrovnik!
Have you experienced a romantic lunch in one of Dubrovnik restaurants? Were you proposed to in Dubrovnik? Or simply got kissed on the Dubrovnik walls?
Ladies, did your other half suddenly feel the urge for some Dubrovnik shopping and bought you a beautiful piece of filigree gold jewellery? Or you showed him your love by presenting him with one of those special Croata silk ties, just like the Croatian ladies in the old days used to?
You had no one to share the romance with? Maybe you just enjoyed looking at the handsome Croatian men or beautiful girls? ;)
Whatever it was that made you feel romantic in Dubrovnik, we want to hear all about it!
AND YES, PEOPLE WANT TO READ YOUR STORIES AND SEE YOUR PHOTOS!

Submitting your story is easy! Just fill out the form below and hit the submit button.
We will turn your Romantic Dubrovnik experiences and photos into a webpage. You'll be a star, so don't forget to notify your friends and family to check it out!
Why Dubrovnik Old town makes you feel all romantic?
Do you have a great story about this? Share it!
OTHER DUBROVNIK MEMORIES AND TIPS TO WRITE ABOUT
DUBROVNIK CROATIA ARTICLES TABLE OF CONTENTS
From DUBROVNIK OLD TOWN 2 to Mediterranean cruise ports easy HOME PAGE