Dubrovnik Sightseeing -
Dubrovnik walls
Dubrovnik Sightseeing - walking the Old Town walls is one of the highlights of your Dubrovnik cruise!
Have you ever seen Dubrovnik on a postcard? A travel brochure or TV? If you have, you would have remembered it for sure.

Why? Because it's almost always shown from the side of its Old Harbour which beautifully shows off its famous city walls.
The walls, the highlight of many a cruise guest's Dubrovnik sightseeing, really do give this city its unique and recognizable appearance.
But they don't only give this city a unique appearance… they give you a chance for a unique experience!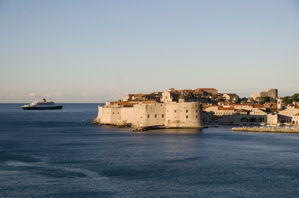 Namely, unlike with other fortified cities, where you can only admire the walls standing beneath them… in Dubrovnik you can climb and walk the walls!
By doing that, you will add one of the most unforgettable experiences to your memories to bring home from your cruise. And let's not mention the photos!
In short, walking the walls is a must when it comes to Dubrovnik sightseeing!
These fascinating and enormous walls are a big fortification system built of forts, bastions, casemates and towers. And they do encircle the whole city all around, from both the land and the sea.
DINING-ROOM TABLE TIDBIT: Dubrovnik town walls facts:
Length: 1940 m
Height: about 25 m
Thickness: 3 meters from the seaside
6 meters from the landside
---
Dubrovnik Sightseeing - How to go about walking Dubrovnik walls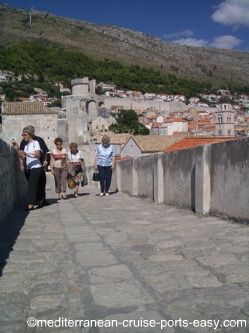 Now, you must be wondering how to go about experiencing the walls? First of all, to start your Dubrovnik sightseeing, you need to get from your cruise ship port to Dubrovnik Old town.
There are many ways and means of transportation you can use to do that and you can learn all about them here.
No matter which one you choose, you will always be dropped off at the Pile gate, which is a part of the Dubrovnik walls and the main entrance to the Old Town. From there on, transportation and getting around Dubrovnik is no problem at all as the Old town is a pedestrian only area.
As soon as you enter through the second gate, and almost get blinded by the shiny marble of Stradun (the main street of Dubrovnik), to your left you will see steep steps going up the wall.
It is very likely the steps are already packed with people, all waiting to enter the walls, as this is its main entrance point.
Click here to locate the Wall entrance on our Dubrovnik map!
Entrance fee is around US$10 and it's absolutely worth it, we promise you this will be the highlight of your Dubrovnik sightseeing!
Now, here's a little tip you need to know before you climb the walls: have a bottle of water, sunglasses and something to cover your head with if you can't stand the sun! It gets veeeeery hot up there!
As you get up there, start walking to your left, towards the sea. The walls are not completely flat, there are some steps, un-even surfaces and narrow parts so have comfortable shoes too. They are not accessible for wheelchairs at all.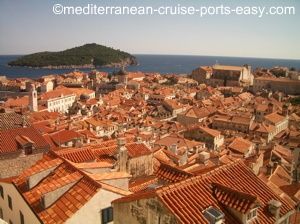 The whole walk around the walls takes between an hour and an hour and a half. Depends on how many stops you make to take photos and admire the views. But, if you don't have enough time to enjoy the walls all around, you can get off at another entry/exit point which is about half way round (near the old harbour).
And talking of the views, oh gosh… breathtaking is an understatement! The interesting thing is that you will be able to enjoy two completely different views… the Adriatic sea on one side and looking over the city on the other.
Seeing the red roofs spreading out beneath you, the old harbour, churches, little squares and hidden nooks of this city from a different perspective, is priceless!
And at the end, another little tip… if possible, do get off the ship very early in the morning and do the wall-walk as soon as you get to the Old Town. That way, you will have a more private experience of this magical place, which will give a whole new dimension to your Dubrovnik sightseeing!
For insiders tips on planning a perfect day in Dubrovnik, Croatia check out our eBook 'Dubrovnik, Croatia - How To Save Time And Money On Your Mediterranean Cruise'
---
Deals on Hotels and Shore Excursions:
Hotels in Dubrovnik - Planning to stay in Dubrovnik in future? HotelsCombined.com allows you to instantly search and compare room availability and prices from all major travel websites!
Viator Dubrovnik Tours and Shore Excursions - Compare prices to the ship offered shore excursions and book your own tours online!
---
RELATED ARTICLES:
---
---
Like this page?
DUBROVNIK CROATIA ARTICLES TABLE OF CONTENTS
From DUBROVNIK SIGHTSEEING to Mediterranean cruise ports easy HOME PAGE