Cruise to Canals: Making the Most of Venice Transportation Network
Venice transportation - Venice's awesome water-based transportation is a big part of what makes the city so special and memorable. Discover when to use regular streets and when to hop on a water boat to get the most out of your unique Venetian adventure!
Figuring out Venice transportation and how to get around Venice can be a bit of a head-scratcher, especially for first-time cruisers. But don't worry, we've got your back!
Now, a lot of you Med cruise pros already know that Venice is a city built on water, so naturally, a good portion of your travel will involve hopping on those cool water taxis (but not only them). Yep, you guessed it, it's all about the canals and the boats!
But there's more to the story. Sometimes you might need to use other ways to get around this watery wonderland. And that's exactly what we're diving into in this article – how to pick the right mode of transport for every situation in Venice! Let's go!
---
What are the types of Venice transportation that a cruise guest might need?
So, you're all set to embark on an awesome voyage that starts or ends in enchanting Venice. But wait, how do you get around this maze-like city of canals, bridges, and history? Don't worry, we've got you covered with all the cool transportation info you need.
There are three types of transportation you will use in Venice:
Ground transportation: 
While Venice's iconic waterways are the star of the show, there are times when the canals can't quite take you where you need to be!
Ground transportation is a lifesaver for those instances when the city's whimsical alleys and bridges lead to areas beyond the reach of the aquatic network.
Need to get from the cruise port to Piazzale Roma? The People Mover's got your back. It's like a mini monorail, and it's easy-peasy.
Many cruise lines offer shuttle services to/from the ship. Check if your ship has this option – it could be a super convenient way to travel, especially now that ships actually dock at the Marghera industrial port. 
Venice land taxis are around, but remember, there are no roads here, just waterways and pathways. So, they'll only get you so far. Keep reading to find out when to use them!
Some cruise lines offer bus transfer packages that include transportation from the airport to the cruise terminal. Worth looking into but do compare it with prices of independent transportation services I find for you on trusted platforms like Viator (savings may be great!)
2. Water - bound transportation: 
Whether you're seeking efficiency, luxury, or pure enchantment, Venice's water-bound transportation options have got you covered, promising a voyage within a voyage!
3. Walking in Venice:
This unique city is basically a bunch of islands stitched together with bridges. So, put on those comfy shoes and stroll along the narrow streets - it is like opening a door to enchantment.
Venice on foot is an invitation to wander and wonder through the labyrinthine alleys, where each corner holds a hidden gem waiting to be discovered.
So, go ahead, get footloose in Venice, and let each stride unveil the timeless delights that lie along its enchanting streets
As you can see, there is a bunch of cool ways to zip around Venice as a cruise guest.

Whether you're flying in, cruising out, or extending your stay, Venice's transportation scene has something for everyone. Keep reading to find out when to use each one of these different types of transportation.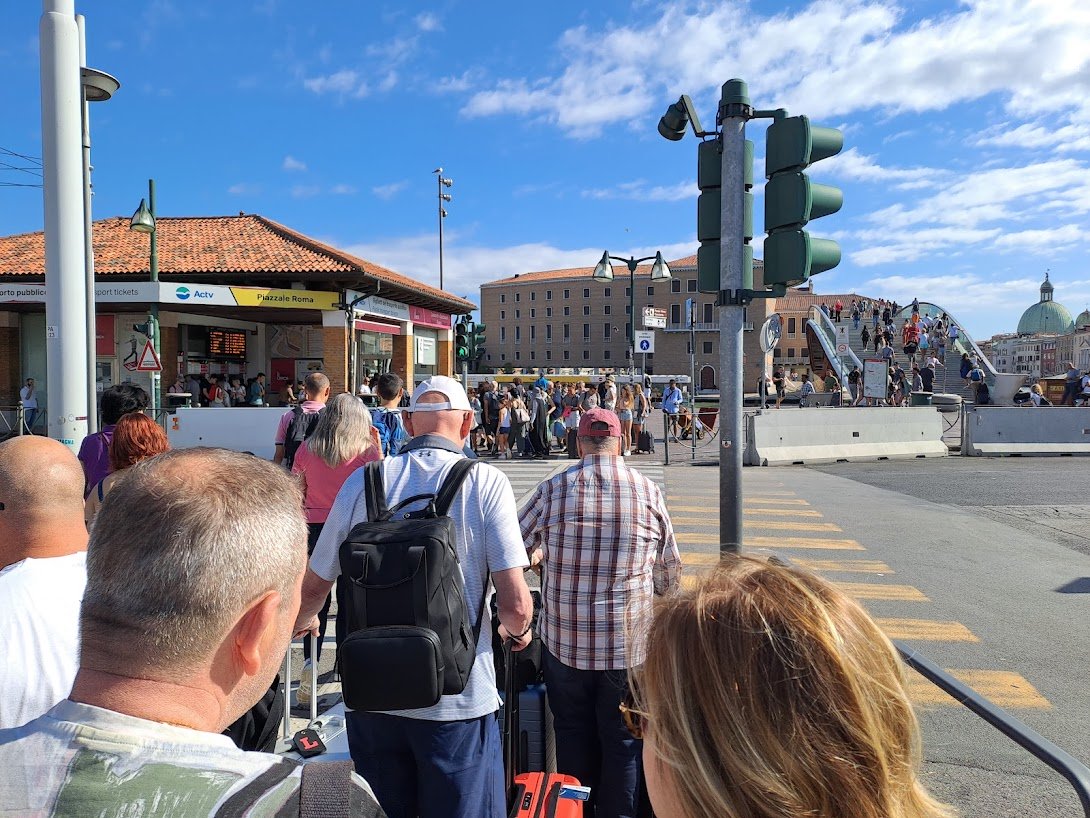 Piazzale Roma square is the place where all these modes of Venice transportation meet: Ferrovia stop is across the bridge and People Mover is behind my back!
In the upcoming paragraphs, I'll be diving into the specifics of which types of transportation to utilize in various scenarios you might encounter as a cruise guest in Venice.
---
Venice transportation from the airport to cruise port
Keep in mind that cruise ships stopped docking at Stazione Marittima cruise terminal in 2022, they now dock at Marghera industrial port.

However, all the check-in/embarkation/disembarkation procedures are still taking place at Stazione Marittima terminal buildings, so you will still have to head there on your way to the cruise ship. 
When journeying from Marco Polo Airport to the Venice cruise terminal, you'll have several transportation options at your disposal:
1. WATER-BOUND: Firstly, consider hopping on a water taxi, an iconic Venetian experience that allows you to cruise along the canals right to Piazzale Roma square. From there you would hop on the People Mover or take a land taxi for a short five-minute ride. Once you are done with all the embark procedures, the cruise line would shuttle you to Marghera industrial port with their waterbus. 
If you are worried about changing the means of transportation at Piazzale Roma, here's a great service that does all the thinking for you - it combines the water taxi and the land taxi: 
---
2. WATER-BOUND: If you're looking for a more budget-friendly alternative, the shared water bus service is a fantastic choice, offering scenic views as it ferries you to Ferrovia stop (railway station Santa Lucia).
This service is provided by Alilaguna Blu Line - the same line that used to have a stop inside Stazione Marittima before 2022. But not anymore.
If you open the link below, in the description you will see the same outdated info: they list Stazione Marittima as one of their stops. 
I double checked with Alilaguna customer service to - they do not stop inside the Stazione.
However, if you take their waterbus to Ferrovia, you can reach People Mover in about five minutes walk, and have it transport you inside the Stazione. Easy-peasy!
---
3. GROUND TRANSPORTATION: Additionally, the ACTV bus service provides a convenient connection between the airport and Piazzale Roma, followed by a walk or a People Mover ride to reach the Stazione Marittima terminal. From there, you would be shuttled to Marghera ship dock by your cruise line.
---
4. GROUND TRANSPORTATION: Opting for a land taxi from Marco Polo Airport to Piazzale Roma in Venice is a savvy choice for a swift and hassle-free transfer. This convenience is especially appealing if you're traveling with luggage or seeking a direct route to kickstart your Venetian adventure without any detours. Read more in my article Venice taxis. 
5. GROUND TRANSPORTATION: Opting for a prebooked shuttle service over flagging down a taxi at the airport entrance provides a range of advantageous features. Firstly, by securing your shuttle in advance, you avoid the potential hassles of queueing for transportation.
This method also guarantees the availability of a dedicated vehicle at the designated time, eliminating uncertainties associated with on-the-spot taxi availability.
Moreover, for group travelers, a private shuttle offers the convenience of maintaining the entire party together throughout the transfer.
---
You know what's even cooler? All the services I just mentioned work their magic in the other direction too! Yep, that's right – you can snag their transportation for a smooth ride back to the airport when it's time to bid Venice farewell.
---
---
Venice transportation from the airport to my hotel
You decided to stay in Venice for a few nights before your cruise? Before you step onto that magnificent ship, there's the adventure of getting from the Venice airport to your cozy hotel in the heart of this enchanting city. 

Lucky for you, there's a lineup of transportation options that cater to every style and preference:
1. WATER-BOUND: If you're aiming to kick off your Venice escapade with a splash, opting for a private water taxi from the airport to your central hotel is the way to go.
Picture this: you step off the plane and onto a sleek watercraft, whisking you away on a scenic cruise right to your hotel's front door.
With the Grand Canal as your route, this mode of transportation lets you soak in the city's magic as you glide effortlessly to your central Venice accommodation.
You can read more about different water taxi services in Venice in my article Venice water taxi or pick one below:
---
2. WATER-BOUND: For a blend of convenience and camaraderie, hopping onto a shared water taxi from the airport to your central hotel in Venice is a fantastic choice.
Imagine joining fellow travelers in the adventure of navigating the iconic canals together, sharing stories and excitement along the way.
With a shared water taxi, you'll still experience the thrill of cruising through Venice's waterways, all while splitting the journey's cost.
The service below will drop you off within walking distance to your Venice hotel. Click on the photo to find out more...
---
3. WATER-BOUND: If you're up for a shared adventure with a dash of local flavor, the Alilaguna shared water bus is the way to roll from the airport to your central hotel in Venice.
Imagine embarking on a journey with fellow travelers: it's like a floating community of explorers, soaking in the beauty of the canals together.
With the Alilaguna shared water bus get ready to mingle, share stories, and immerse yourself in the genuine Venetian atmosphere as you journey to your central Venice accommodations.
The service listed below has multiple stops along the Grand Canal and at Piazza San Marco, pick the one closest to your hotel: 
4. GROUND + WATER BOUND Venice transportation:
You can also seamlessly journey from Marco Polo airport to the bustling hub of Piazzale Roma, starting with the swift convenience of a land taxi ride or an ATVO airport shuttle bus. After that you can hop onto one of the water boats down the Grand Canal – a quintessential Venetian adventure that'll whisk you away to your destination with an extra touch of romance. 
In Piazzale Roma you can catch one of the regular public transport ACTV vaporetto lines that go from Piazzale Roma stop down the Grand Canal (get off on the stop closest to your hotel).
Another option is booking a private water taxi service down the Grand Canal (they can give you a more personalised service and stop closer to your hotel). 
Third option is taking a shared water taxi from Santa Lucia railway station (a few minutes walk from Piazzale Roma) down the Grand Canal (which hardly ever needs to be shared with other people because not many know about this service).
What's great is that you can book all the above mentioned transportation services when getting from your Venice hotel to Marco Polo airport, too!
---
Venice transportation from the cruise port to hotels in Central Venice
The adventure doesn't stop when you disembark from your cruise ship in Venice!
The next step is navigating your way from the cruise port to your hotel in central Venice, and there are plenty of transport options to make this transition smooth and enjoyable. They will include a mix of GROUND + WATER-BOUND vehicles.
Since 2022 cruise ship ban in Venice, there's a new crucial step to consider: getting from the Marghera cruise ship dock to the Stazione Marittima, the primary cruise terminal in the city (where all the embarkation/disembarkation procedures still take place).
Luckily, this transition is well-managed by your cruise line, ensuring that your journey continues without a hitch: they will shuttle you either by a land or water-bound shuttle bus.
Once you've arrived at the Stazione Marittima, you're presented with a choice of Venice transportation options to reach your hotel in central Venice.
The first step will be to either walk or take the People Mover to Piazzale Roma square where the Grand Canal starts. 
If you booked a hotel near Piazzale Roma, you may as well walk to your hotel.
For those with hotels on the Grand Canal or close to Piazza San Marco, there are a few water-bound options:
For those seeking a direct route with a touch of glamour, a private water taxi from Santa Lucia train station is a stellar choice.
On the other hand, if you're more inclined towards public transportation and sharing the water bus with locals and other tourists, you can always catch one of the ACTV vaporettos from Piazzale Roma or Ferrovia stop.
Another option is taking a shared water taxi from Santa Lucia Railway:
All these service will perfectly function when getting from the hotel to the cruise port, too!
---
Venice transportation to Murano, Burano and Lagoon islands
Ready to add an extra splash of adventure to your Venice experience?
Get ready for an exciting water taxi tour from central Venice to the captivating islands of Murano, Burano, and the enchanting lagoon.
Murano glass isn't just glass – it's an art form that has shaped Venetian culture for centuries. Renowned for its exquisite craftsmanship and vibrant colors, Murano glass holds a special place in history, reflecting the skill, creativity, and dedication of generations of artisans - it would be such a shame to stay in Venice and not see how it's made.
Burano lace weaves a story of intricate craftsmanship and cultural significance. This delicate art form has been passed down through generations on the colorful island of Burano.
Meanwhile, the captivating architecture of Burano's vibrantly painted houses is more than just eye candy. Each hue tells a tale, with legends ranging from aiding fishermen's navigation to highlighting family pride - don't hesitate visiting this charming island and experiencing both.
These unique spots on this Earth can be reached by water taxi tours departing from Venice:
---
RELATED ARTICLES:
---
Have A Great Story About This Topic?
Do you have a great story about this? Have you been to this port of call? Have tried out any of the shore excursions I recommend? Do you have any tips that might help your fellow cruisers? Share them with us!