Venice transportation for cruisers
"Although Venice is perfectly walkable on foot, Venice transportation on water is one of the main reasons this city is so unique and unforgettable..."
Planning Venice transportation seems to give a real headache to cruisers who have never been to Venice before.
Most Mediterranean cruisers know Venice is built on water, so they know that most of their Venice transport will be happening on some kind of vessels.
And that's true...but still, keep in mind: the number one means of Venice transport is - your feet!
You can easily see most of Venice without ever stepping on a boat! In other words, Venice is perfectly walkable. And that is both when it comes to distances within the city of Venice and "connectedness" of all 200 islands that make up what we call the city of Venice.
Once you have reached Piazza San Marco from your cruise ship, you can easily reach any point in Venice and do all your sightseeing with the help of 400 bridges that connect its little chunks of land. Yes, you might feel like you're in a maze sometimes but eventually- you'll get there.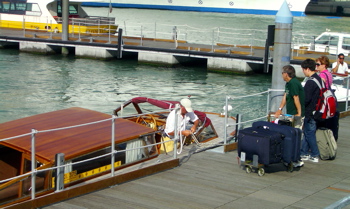 You will need to use water boats only to reach islands that are a bit distanced from the Venice city center, like Murano and Burano.
Of course, this applies to cruisers for whom Venice is one of the regular Mediterranean cruise ports.
On the other hand, if you start or finish your Mediterranean cruise in Venice and you are planning to stay a few days before or after your cruise, both kinds of Venice public transport will be important for you:
And that is especially when it comes to getting to and from the airport and reaching your hotel or Venice port.
You can find out more about the different means of Venice transportation when getting to the port of Venice check our article Venice cruise terminal..
Although, as we said, Venice is perfectly walkable on foot, Venice transportation on water is one of the main reasons this city is so unique and unforgettable.
So why wouldn't you enjoy the magic of something you don't get to experience every day:
While commuting, where you come from, probably means spending hours in your car on a motor-way or squashing into a stuffy metro, for Venetians it is standing on a platform of a partially open boat that zig-zags between some of the most beautiful palaces in the world.
There are a few things that guests who come to cruise in Mediterranean get confused about when it comes to Venice transportation:
How to get from their cruise ship to downtown Venice - here at Mediterranean Cruise Ports Easy we have dedicated a few articles to this aspect of Venice transportation and you can start learning about it in our article

Getting from the Port of Venice to St. Mark's square.

What kind of different boats are there in Venice - working with Europe cruise guests for many years we have noticed that they tend to call them all: "water taxis". That way they might be risking taking the most expensive and luxurious means of transportation when actually simply wanting to get from point A to point B in any kind of boat.
Every type of boat transport in Venice has its time and place. Some are a means of public transport in Venice, just like buses or trains are where you're from, while others are privately owned boats and offer a more personalized service.
Here's links to articles that will help you distinguish them and make the choice that is right for you.
---

Venice Vaporetto - this is the most popular means of Venice transport, especially when it comes to Venice public transportation. Equally used by tourists lugging backpacks around clutching Venice guide books in their hands, as it is by dressed up handsome Italian guys on their way to work in fancy boutiques or old ladies on their way back from the fish market.

Venice water taxi - For those who either want to treat themselves and ride in style or when time is an issue. These are privately owned boats and just like land taxis, they will give you a personalized service and take you exactly to the point you wish (as long as narrow canals allow that).

Venice gondola - You've seen them in glossy travel brochures, you've watched them in romantic movies, you've read about them... if you want to recreate the way you felt on your honeymoon, a gondola in Venice is a must!

Venice traghetto - If you're cruising on a budget but would like to show off some photos of you in a gondola to everyone back home, a Venice traghetto is the boat for you. For a price less than an espresso, the traghetto ride will last you just enough time for you to take that badly needed snapshot! Read this article where exactly to catch a traghetto, there are only a couple of points down the Grand Canal they can be found!
---
Deals on Hotels and Shore Excursions:
Hotels in Venice - HotelsCombined.com allows you to instantly search and compare room availability and prices from all major travel websites!
Viator Venice Tours and Shore Excursions - Compare prices to the ship offered shore excursions and book your own tours online!
---
RELATED ARTICLES:
---
Like This Page?
VENICE ITALY ARTICLES TABLE OF CONTENTS
From VENICE TRANSPORTATION to Mediterranean cruise ports easy
HOME PAGE