Four Best Ways of Getting
from Livorno to Pisa
How to get from Livorno to Pisa by bus, train, shore excursion and taxi - it gets easier than ever with these free tips and advice for cruisers
Being so close to the cruise ship dock in Livorno Italy, it would be a real shame not to visit Pisa Italy and its spectacular leaning tower on your way to or from Florence or some other Tuscan destination.

That's why the top most asked questions on Italy cruises is something like:
How far is Livorno from Pisa, Italy?

What is the best way to get to Pisa from Livorno cruise port?

Is it worth booking one of the online daytrips to Pisa?

How long does the train ride from Livorno to Pisa last?

What are the train schedules from Livorno to Pisa?

Is it possible to take the train to Pisa independently?
There are a few different ways you can get from Livorno to Pisa:
---
1. How to get from Livorno to Pisa by Bus
Rather than using the regular local bus, there's something much better in Livorno for you: a shuttle that serves the needs of cruisers only!
And not to mention it is much cheaper than your cruise line's shore excursions.
Find out where and how to get on the bus in our article on how to get to Pisa By Bus or jump direct to Pisa Low Cost Transfer. Due to its affordable price, this service is getting wildly popular so make sure to book your seats ahead to avoid any disappointments! There's just no better deal you will find!
What other cruisers say about Pisa Low Cost Transfer:
"Great communication- staff at bus depot very helpful & spoke excellent English + very patient. Bus to Pisa very good condition & great Airconditioning." Andrew_H, Sep 2022
2. How to get from Livorno to Pisa by shore excursions



This is one of the most popular ways of seeing Pisa, Florence and other charming Tuscan destinations in one day. 
Shore excursions are great for people who:
want to maximize their experience by learning strainght from the knowleadgeable, professional tour guides (and who doesn't?)

don't feel comfortable getting around in a foreign country by themselves

aren't too adventurous

can't be bothered worrying about getting back to ship on time when using local transportation (it can cause a lot of headache and stress)
There are two ways of taking shore excursions:
1) When you get onboard the cruise ship, through the shore excursions department - which can be quite limited when it comes to different options and a bit pricier (please compare for yourself)
2) By booking your tours ahead of time with one of the tested, world-known tour platforms like Viator. We will show you their options here on MCPE. What is great is they offer tours custom made for cruisers and coordinated with ships' departure times, so no need to fear getting back on ship late. 
When choosing a tour that will take you to Pisa, have a few things in mind:
What I am trying to say is: Pisa is easy to combine with other fantastic destinations in the neighbourhood!
Sticking to Pisa only is recommended to those who have been to Florence and other little Tuscan towns many times beofore or really want to take it easy on this day, which we understand.
It's my job to save you time and energy planning your trip so here's my best finds for Pisa only guided shore excursions (which are, by the way, difficult to find):
This shore excursion is not only super- affordable, but also provides you an expert guide to the Miracle Square where there is the Pisa Tower (you can pick the option which includes the entrance ticket to the tower).
---
If this is your first or second visit, you're fit & healthy and don't mind exploring all day… you will want Pisa to be just a quick stop on the way to Florence, Lucca, San Gimignano or Cinque Terre.

One way of combining  both Pisa and Lucca in a day would be by using a special tourist bus tranfer service -  and for only 28,80 euros too! Read more about it and book your seats on this Bus Transfer to Pisa and Lucca here or read more on our Lucca page. 
If you want to maximize your day even more and have a tour guide by your side all day, check some of our recommendations below...
3. Getting from Livorno cruise terminal to Pisa by Taxi
As you get off the cruise ship in Livorno Italy sea port, there will be taxis available to take you to Pisa.
Only some of them are authorized to enter the Livorno dock area and they will want to take you for a half day/all day tour.
Local taxis for shorter distances (to the train station or the center of Livorno) can be found some 300 feet (100 m) away at the exit from the dock area.
How much is a taxi to Pisa? What is cruise terminal to Pisa taxi cost? The usual price for a taxi fare to Pisa is approx.€120 for a round trip for up to 4 people and that is with a 2 hour wait.
As we mentioned already, if you're not into detailed exploration and climbing of the Pisa tower, 30-45 minutes around the Piazza dei Miracoli is more than enough, so maybe you can cut your wait time there and arrange with your taxi driver to take you to Lucca for that price too!
---
4. How to get from your cruise dock to Pisa
by train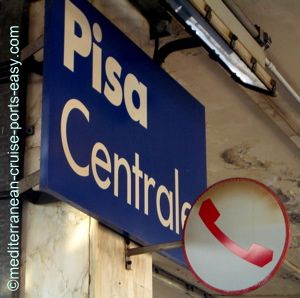 To be honest getting to Pisa and then even Florence by train can get a bit hectic, but not impossible if planned well and strictly sticking to the schedule. Of course it all comes down to how long your cruise liner is staying in port for.
The step-by-step instructions are explained in more detail in our article Pisa by Train.
RELATED ARTICLES:
---
Like Livorno to Pisa Page?
From LIVORNO to PISA to HOME PAGE
Have A Great Story About This Topic?
Do you have a great story about this? Have you been to this port of call? Have tried out any of the shore excursions I recommend? Do you have any tips that might help your fellow cruisers? Share them with us!