Four Best Ways of Getting from Livorno to Pisa
How to get from Livorno to Pisa by bus, train, shore excursion and taxi - it gets easier than ever with these free tips and advice for cruisers
Being so close to the cruise ship dock in Livorno Italy, it would be a real shame not to visit Pisa Italy and its leaning tower on your way to or from Florence!

That's why the top most asked questions on Italy cruises used to be related to Livorno port to Pisa distance, best way to get to Pisa, how long does train from Livorno to Pisa take, train schedules and whether you can do it on your own.
There are a few different ways you can get there: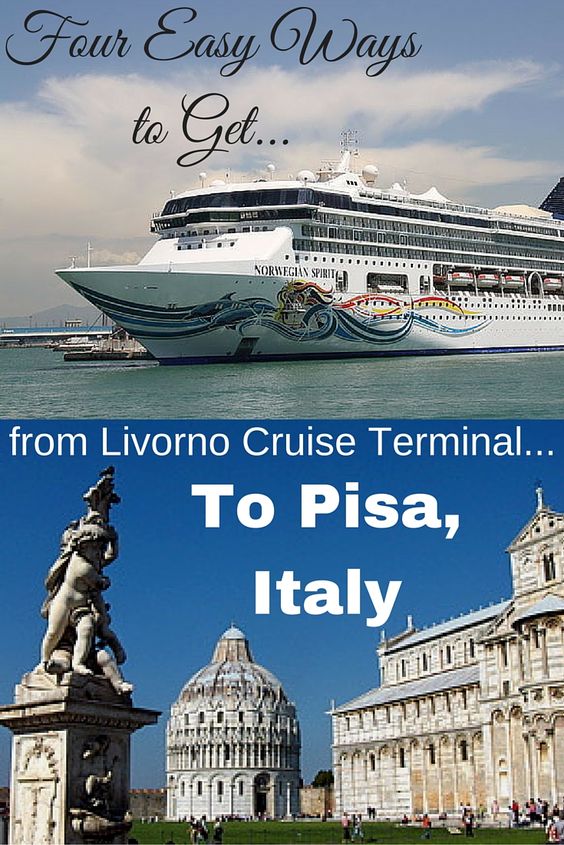 ---
How to get from Livorno to Pisa by Bus
Rather than using the regular local bus, there's something much better in Livorno for you: a shuttle that serves the needs of cruisers only.
And not to mention it is much cheaper than your cruise line's shore excursions.
Find out where and how to get on the bus in our article on how to get to Pisa By Bus. Due to its affordable price, this service is getting wildly popular so make sure to book your seats ahead to avoid any disappointments!
How to get from Livorno to Pisa by 

shore excursions



This is one of the most popular ways of seeing both Florence and Pisa in one day. Or if you have been to Florence many times before, you can combine a day trip to the leaning tower with some other Tuscan destination, most usually Lucca.
Shore excursions are for people who don't feel comfortable getting around in a foreign country by themselves, aren't too adventurous, or can't be bothered worrying about getting back to the ship on time.
When choosing a tour that will take you to Pisa, have a few things in mind: this little town is only about 20 minutes ride from the cruise ship dock in Livorno.
If you aren't too interested in climbing the famous Pisa leaning tower, or entering the Cathedral and the Baptistery, and just want to have a nice walk around the Piazza dei Miracoli and take a few shots… 30 minutes is more than enough to do that.
If this is your first time visit to this part of Italy, visiting Pisa only on your day in Livorno would be such a shame!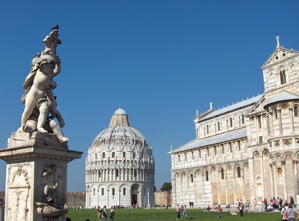 Shore excursions that focus on Pisa only last no longer than approx. 3 ½ hours. So if you are taking one in the morning, you will be back on board the ship by lunchtime!
It is recommended only to those who have been to Florence and Tuscany many times and really want to take it easy on this day.
If this is your first or second visit, you're fit & healthy and don't mind exploring all day… you will want Pisa to be just a quick stop on the way to Florence!
Another way of maximizing your day would be taking a tour to both Pisa and Lucca.
Luckily, since spring 2017 there is a special tourist bus service that makes it possible for you to do exactly that, and for only 28 euros too! Read more about it and book your seats on our page on Lucca Italy.
Getting from Livorno cruise terminal to Pisa by Taxi
As you get off the cruise ship in Livorno Italy sea port, there will be taxis available to take you to Pisa.
Only some of them are authorized to enter the Livorno dock area and they will want to take you for a half day/all day tour.
Local taxis for shorter distances (to the train station or the center of Livorno) can be found some 300 feet (100 m) away at the exit from the dock area.
How much is a taxi to Pisa? What is cruise terminal to Pisa taxi cost? The usual price for a taxi fare to Pisa is approx.€120 for a round trip for up to 4 people and that is with a 2 hour wait.
As we mentioned already, if you're not into detailed exploration and climbing of the Pisa tower, 30-45 minutes around the Piazza dei Miracoli is more than enough, so maybe you can cut your wait time there and arrange with your taxi driver to take you to Lucca for that price too!
---
Thinking of seeing both Pisa and Lucca in a day? Even better! The tourist bus service is also available now, click on the photo below: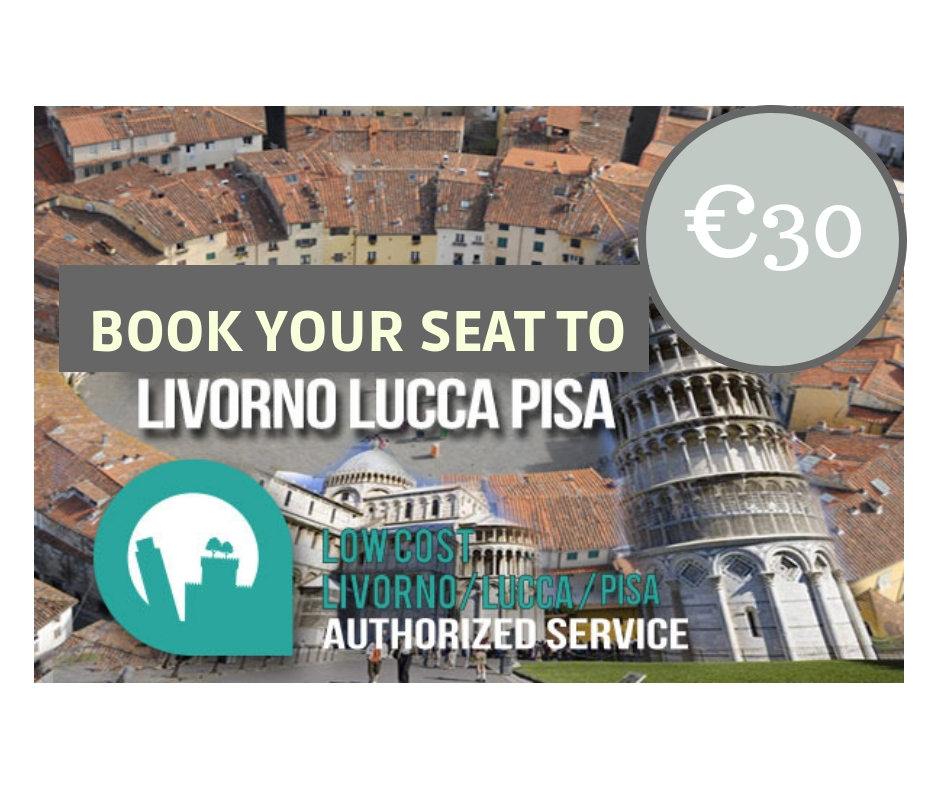 Click to read more!
---
How to get from your cruise dock to Pisa
by train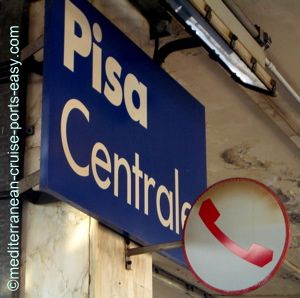 To be honest getting to Pisa and then even Florence by train can get a bit hectic, but not impossible if planned well and strictly sticking to the schedule. Of course it all comes down to how long your cruise liner is staying in port for.
The step-by-step instructions are explained in more detail in our article Pisa by Train.
RELATED ARTICLES:
---
Like Livorno to Pisa Page?
From LIVORNO to PISA to HOME PAGE