Getting to Dubrovnik old town
from your cruise ship
"Dubrovnik, Croatia: With all these options, you won't have any problems getting to the Old Town of and enjoying your day there!"
Often times, our experience showed us, Dubrovnik, Croatia ends up being the highlight of many a cruise vacation.
That's why, no matter how you decide to get to the Dubrovnik Old Town, you simply have to get there!
And we'll tell you how to do that.


Three different things can happen when it comes to getting to Dubrovnik. Your ship can either:
Dock at the new port of Dubrovnik, Gruz
Anchor in front of the Old Town of Dubrovnik
Anchor in front of the new port of Gruz
*To locate all the Dubrovnik transportation points of interes on the map, click the link immediately below it for a larger view with a legend*
View Dubrovnik Cruise Port and Transportation in a larger map
Click here for the complete Dubrovnik Map of Dubrovnik attractions!
At the beginning of 2010, the construction work on expanding the new port of Gruz was finally finished.
From now on, even the biggest cruise ships will be able to dock at the Gruz port, and it's able to accommodate a few of them at the same time.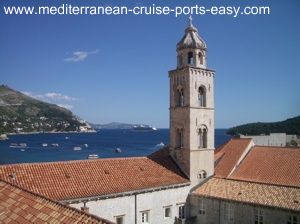 If you are an experienced cruiser, you probably know that docking is a much more favoured option when it comes to getting off the ship in ports of call.
You simply choose the time you want to get off and walk off the ship.
Anchoring is the least favourite option with cruisers, as it involves a little bit of a wait to get on the little tender boats that will take you ashore.
Still, depending on the organization onboard the ship, it can run very smoothly and you can often times enjoy great destination vistas as you approach the shoreline in a small tender boat.
Considering the number of cruise ships that can visit Dubrovnik at the same time, which can amount to more than 5 on some days… for some cruise ships anchoring and tendering will be inevitable.
---
Getting to Dubrovnik from your cruise ship - Anchoring
If your cruise ship is one of those that anchor in this port, as mentioned above, they can do that at two completely different sides of the town.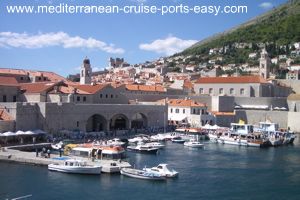 1. Anchoring in front of Dubrovnik Old Town – this is an amazing way to get introduced to this breathtaking port!
Get out on the open deck with your camera and enjoy the view… the Old Town will almost be in the palm of your hand!
On the other side, there is the little island of Lokrum, a peaceful and lush oasis for those who want to enjoy a day of swimming.
Your tender boats will drop you right in the Old harbour from where you are only a few steps away from Stradun, the main street of Dubrovnik, cafes, museums and shops!
2. Anchoring in front of the Gruz port - in this case your ship will anchor 2,5 km northwest of the Old Town of Dubrovnik.
A five-minute tender boat ride will take you to the new, recently reconstructed port standing in the shade of the big white suspension bridge.
From here you will still need to get some kind of land transportation to the Old Town. For more info on that read the docking instructions below.
---
Getting to Dubrovnik from your
cruise ship – Docking

If your ship is docking in Dubrovnik, it will always be in the port of Gruz.
This port is 2.5 km away from the Old town of Dubrovnik. So when it comes to getting to Dubrovnik you will need some kind of motorized transportation.
Here are your options:
1. Taking one of the organized tours. If this is your first visit to Dubrovnik, make sure you choose one of the tours that will take you to the Old Town and give you some time off here to walk around and explore! Really, this is where you want to spend your day! See some of our suggestions here...
2. Taking a taxi
– there are always taxis available right in front of the cruise ship. They will charge you about $10 or 50 kn (Croatian kunas) to Pile Gate, which is where you enter the Old Town. Split between up to 4 people it's actually quite an affordable, quick and hassle-free way of getting to Dubrovnik Old town.
3. Taking the ship organized transfer bus – some cruise lines will charge for this service and others will not. Inquire about your Dubrovnik transfers, once on the cruise ship, at the Tour desk!
These buses will also drop you off right by the Pile Gate where the pedestrian area of the Old town starts. The ride takes about 10-15 minutes, depending on traffic.
This is where you will catch them to get back to the cruise ship too. Just make sure you inquire what time the last bus back to the port is.
All ships that tender/dock in Gruz will have their bus drop offs here, so also make sure you get on the right bus for the right cruise ship when coming back.
Most cruise lines will have organized a staff member to wait for the cruisers there and keep them organized in a line.
Due to the crowds and long intervals in which buses show up to pick up the guests, it can get very crazy and stressful there. So either be very patient or choose to take one of the last buses, as usually most people will have departed earlier in fear of missing the ship. As long as you catch that last bus, you'll be fine! ☺
4. Taking a local bus – yes, there is a local bus station on the main street in front of the cruise terminal and you can take getting to Dubrovnik into your own hands. You will find it next to a little newspaper/magazine stall.
Just remember you will need some local currency to purchase the bus ticket. If your ship visits Split before coming to Dubrovnik, you might still have some Croatian kunas sitting in your pocket, but if it doesn't you'll need to get them somehow.
Most ships will not have any kunas available onboard. That's why you will need to get some at the money exchange office or ATM machine at the Main Bus station, which is right next to the local bus stop.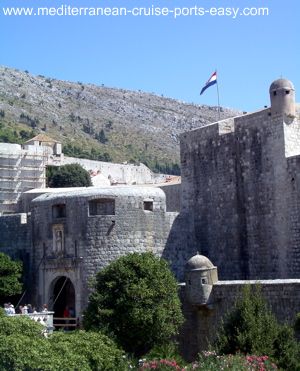 Get your local bus ticket in the news-stand for 8kn per person (just over €1) or on the bus for a little more - 10kn. Look for buses #1, #1A or #1B. Get on the bus through the front door only and validate the ticket in the little machine by the driver.
You will get off at the last stop which is right in front of the Pile gate, which is the entrance into the Old town of Dubrovnik.
From there, getting around Dubrovnik is very easy – you will most likely spend all day inside the walled Old town which is a pedestrian only area and you will not need any other means of transportation.
With all these options, you won't have any problems getting to Dubrovnik Old Town and enjoying your day there! 
For insiders tips on planning a perfect day in Dubrovnik, Croatia check out our eBook 'Dubrovnik, Croatia - How To Save Time And Money On Your Mediterranean Cruise'
---
Deals on Hotels and Shore Excursions:
Hotels in Dubrovnik - Planning to stay in Dubrovnik in future? HotelsCombined.com allows you to instantly search and compare room availability and prices from all major travel websites!
Viator Dubrovnik Tours and Shore Excursions - Compare prices to the ship offered shore excursions and book your own tours online!
---
Like Getting to Dubrovnik Page?

RELATED ARTICLES:
DUBROVNIK CROATIA ARTICLES TABLE OF CONTENTS
From GETTING TO DUBROVNIK to Mediterranean cruise ports easy HOME PAGE
---
---