Setting Sail on a Venice Vaporetto Adventure:
A Must-Try for Cruise Guests in Venice
"Venice vaporetto will give you a chance to have a romantic but inexpensive ride  - learn where to catch one closest to the airport or the cruise ship!"

Whether you're a first-time visitor or a seasoned explorer, navigating the city's iconic waterways via Venice vaporetto boats – the charming water buses of Venice – is a must for an authentic experience.
Why use them as opposed to their faster and sleeker cousins, private water taxis? For cruisers in Venice, vaporettos offer a blend of convenience, charm, authenticity, and cost-effectiveness.
Even if you don't like public transportation back home where you come from, you will like the way Venetians commute to work.
Here's why:
1. They provide cruisers with a unique perspective of the city's majestic architecture: you're floating on the canals, getting up close to those jaw-dropping buildings and their facades that can't be seen any other way. These boats actually give you a front-row seat to some of the world's most amazing architecture.
2. Venice is a puzzle of islands, and vaporettos are your puzzle pieces. They have different routes that connect the dots between the must-see places. That means you can hop on one, and before you know it, you're at St. Mark's Square, or the Rialto Bridge, or anywhere else your heart desires - you will love them for the easy access they provide.
3. Additionally, vaporettos are a budget-friendly alternative to private water taxis, ensuring you can experience the magic of Venice without breaking the bank.
4. Whether it's hopping between attractions or simply enjoying the picturesque ride, vaporettos enrich your cruise adventure with an authentic Venetian flair. When you ride a vaporetto, you're not just getting from Point A to Point B – you're soaking up the real Venice. Locals use vaporettos every day, so you're right there in the mix, seeing how Venetians live and commute. It's like you're part of the city's rhythm, even if it's just for a little while.
In my article Venice water bus you will find out in detail what is the difference between the water buses that your cruise line might hire to shuttle you from point A and B, and what public Venice transport water buses (vaporettos) are.

Also, in my article on vaporetto boats service I discuss where to take a vaporetto, how to use it, what it actually is, where to find timetables and route lines, where to buy tickets and how much vaporetto fees are.
In this guide, I will let you know where to get a Venice vaporetto closest to the cruise ship when trying to reach historical Venice. 
---
Getting Venice vaporetto close to Venice cruise terminal
Vaporettos are one of the popular ways of Venice transportation when it comes to getting downtown Venice from the port of Venice.
If you decide not to go into Venice with one of the cruise line organised shore excursions, the cruise ship organized water shuttle, then taking Venice vaporetto is a good way to go.
It will give you a chance to both:
If you are wondering where to get on one of the vaporettos closest to the ship, you need to know the closest vaporetto station to the cruise terminal is in Piazzale Roma.
The square of Piazzale Roma is the furthest point that cars can reach and this is where the Grand Canal of Venice begins.
Now, here comes the important part: Piazzale Roma is relatively close to the old cruise terminal of Stazione Marittima, but much further away from the Marghera industrial port where ships started docking in 2022.
You will find out all you need about getting from the new to the old dock in my article on Marghera cruise port, so make sure you read it first.
In Marghera you can't catch Venice vaporetto because it is just an industrial zone, public transport does not have access to it. You will still need to head to Stazione Marittima and then make your way to Piazzale Roma. 
It takes about 15-20 minutes walk to reach Piazzale Roma from the "main square" of the Stazione cruise terminal, which is by the terminal building #107.
If you wonder if you could take a land taxi to Piazzale Roma from the cruise terminal, the answer is - no. But you can take a Venice people mover and cut your trip much shorter.
Land taxis are mostly around in the Venice cruise terminal during a ship's turnaround days. Even if the day of your cruise ship's visit coincides with another ship's turnaround day, it would be very very difficult for you to catch a taxi.
There is always a long line waiting for them and they are always snatched by passengers rushing to catch a flight at the Venice airport.
Even if you got one, keep in mind, you would need to pay €15 just for the 5 minute taxi ride from the cruise terminal to Piazzale Roma.
So, taking a Venice people mover is our best suggestion.
You prefer saving a few euros and walking from Stazione to Piazzale Roma?
Well, I suggest you only do it if it's not too hot and you have an overnight in Venice. If not, save your time and energy.
How to walk from Venice cruise teminal to Venice vaporetto

---
Which vaporetto stop is closest to the cruise ship terminal?
As you walk out of the People Mover building in Piazzale, you will need to cross the street. In front of you there will be a new and modern bridge designed by Calatrava.
To the left of the bridge there will be the closest vaporetto stop to the Stazione Marittima: the Piazzale Roma stop.
You can get your tickets either at the booth or at one of the ticket machines.
This is where your trip down the Grand Canal will start. If you want to take photos from the Calatrava bridge, you can cross it and catch the vaporetto a bit further down the canal, at Ferrovia stop, in front of the Santa Lucia railway station.
---
Alilaguna Venice vaporetto from cruise terminal to downtown Venice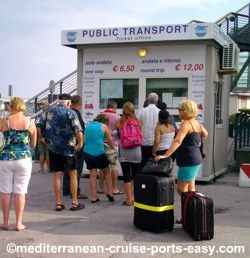 So, there are vaporettos that leave right there from the venice cruise port itself but their purpose is to help people who are getting off their cruise ships after a finished cruise to reach their hotels downtown Venice or vice versa.
These are run by a private company Alilaguna and they go straight to San Marco down the Giudecca canal.
In other words, if your ship's visit coincides with another ship's turnaround day and you see the Alilaguna boats are running, yes, you can absolutely purchase a ticket and take a ride to Piazza San Marco, but you will not experience a romantic ride down the Venice Grand Canal.
A one-way vaporetto ticket price for this special Alilaguna line is €8.50 

a round trip fare is €15.
If you want to save some money, you can buy your tickets online and then exchange the vouchers for a ticket at the Alilaguna booth before you board the boat:
This service can be very helpful for back-to-back cruisers who would quickly like to pop to Venice downtown on their ship's embarkation day.
If you are just visiting Venice for a day, remember, check if there is Alilaguna service on that day.
Alilaguna Venice vaporettos from the cruise terminal straight to Saint Mark's square depart from:
in front of the terminal building #103. You will find the Alilaguna ticket booth in between the terminal buildings #107 and #103.
---
Deals on Hotels and Shore Excursions:
Hotels in Venice - HotelsCombined.com allows you to instantly search and compare room availability and prices from all major travel websites!
Viator Venice Tours and Shore Excursions - Compare prices to the ship offered shore excursions and book your own tours online!
---
RELATED ARTICLES:
---
Like This Page?
VENICE ITALY ARTICLES TABLE OF CONTENTS
From VENICE VAPORETTO to Mediterranean cruise ports easy
HOME PAGE