Venice water taxi for Europe cruisers
"If you are celebrating an anniversary, honeymoon, any other special occasion or simply want to enjoy life to its fullest, a Venice water taxi is the best way to create the "wow" effect as you approach this beautiful city..."

A Venice water taxi might be one of the Venice transportation options whether you're visiting for a day as part of your Europe cruise, or staying in Venice a few days before your cruise starts.
First of all, if you are one of the first time cruisers who tend to refer to all Venice boats with a generic name "water taxis", here's what makes an actual water taxi different from Venice water buses:
they are privately owned boats

they are much smaller than water buses

they take less people

they don't have routes, just like 

land

 taxis, they give you a personal service and drop you off at any desired point (as long as canals allow it)

they are much more costly than public transportation - water buses
---
Water taxi from cruise terminal to San Marco

When your ship docks in Venice, there will be a few options for you when it comes to transportation from the Stazione Marittima cruise terminal to downtown Venice.
You can get there with: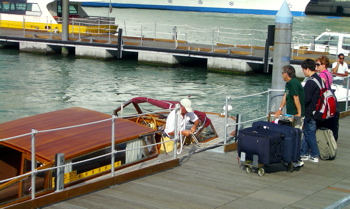 Although this might be the least used option when trying to reach downtown Venice from your cruise ship, savvy cruisers won't discard this option altogether.
Having a ride in a Venice water taxi is like hiring your own private limo – you can't get more personalized service than this when it comes to getting around Venice.
Venice water taxis are small, sleek, lacquered wood boats that take 10-12 people maximum. You will recognize official licensed water taxis by a yellow stripe on their side and a registration number.
Just like land taxis, they will take you straight to where you want to go but will charge considerably more for the convenience.
However, if you know this is your once in a lifetime visit to Venice, if you are celebrating an anniversary, honeymoon or any other special occasion, a water taxi is the best way to create the "wow" effect as you approach Venice.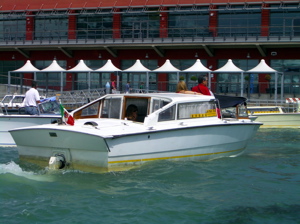 Also, if you are cruising with a bigger group of friends or family, it is definitely worth considering as it might save you a lot of hassle and a lot of time, especially if you're, for some reason, determined to see one of the Venice lagoon islands first (eg Murano).
Once the cost is split up between 10-12 people, it can be quite reasonable.
If you came to cruise Italy to really enjoy every single moment of it and money's not in question…well, what can I say, lounging on the leather covered seats at the open back of your water taxi…for a moment you might just believe you're on your way to the red carpet of the Venice film festival, while being chased by the paparazzi!
---
Where to find a water taxi in the Cruise ship terminal
There are a few different ship docks inside the Stazione Marittima cruise terminal in Venice.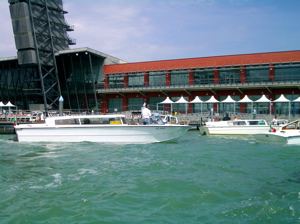 So, when you get off the ship, you will first need to locate terminal buildings #107/108 and #103. A Venice water taxi stand will be right in front of the terminal building #103. To see the map of the Venice cruise terminal, click here.
If your ship's visit coincides with another ship's embarkation day, there will be many water taxis at the dock, but if not you will be better off booking a water taxi online ahead of time. 
Venice water taxi price from cruise terminal to San Marco: expect to pay at least €90. Make sure you arrange the price before getting on the boat or before booking an arranged pick up.
Please note: It is much easier for any boats leaving the Venice cruise terminal to use the Giudecca canal when approaching the Venice downtown. If you wish for your boat to take the Grand Canal, specify that before booking!
---
Venice water taxi from Marco Polo airport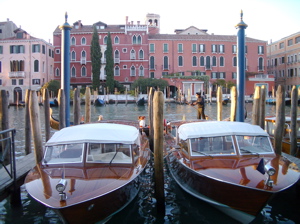 If you'll be spending a few days in Venice before you board the ship, you can take a water taxi from the Venice airport to your hotel.
In that case, water taxi fares will be around €100 - €110.
It will take from about half an hour to up to an hour for the Venice water taxi to reach the downtown Venice area.
To find a water taxi at the Venice airport, as you exit from the arrivals terminal, follow the signs for Motoscafo water taxi.
It will take you about 10 minutes to reach the actual dock. You will know you're on the right track as you walk under the covered walkway.
You can wait for your water taxi in line here or...you can see the Motoscafi office desk in the arrivals hall and book a boat there. By the time you would have reached the dock, your water taxi will be waiting for you.
Remember that you can also share a water taxi with someone else if they're going in the same direction.
If you want to make sure there is a water taxi waiting for you to take you to your hotel in Venice, check one of the options below...
Deals on Hotels and Shore Excursions:
Hotels in Venice - HotelsCombined.com allows you to instantly search and compare room availability and prices from all major travel websites!
Viator Venice Tours and Shore Excursions - Compare prices to the ship offered shore excursions and book your own tours online!
---
RELATED ARTICLES:
---
Like This Page?
VENICE ITALY ARTICLES TABLE OF CONTENTS
From VENICE WATER TAXI to Mediterranean cruise ports easy
HOME PAGE