Recreate the taste of Taormina Italy - Cannoli Recipes
"Cannoli recipes - To come to Taormina and not try some Sicilian cannoli is just as unimaginable as not seeing the Taormina Greek theatre."


One thing all Mediterranean cruise guests would want after visiting Taormina Italy is Cannoli recipes.
To come to Taormina and not try some real Sicilian cannoli is just as unimaginable as not seeing the Taormina Greek theatre.
They smile at you from all the pastry shop windows and cafes, and you cannot wait to sit down and taste that sweetened goat cheese melting in your mouth. Oh, gosh, my mouth is watering just writing this.
Now, you've heard of the cannoli in the Godfather Part I, maybe you've even tried some Italian-American variants back home. But to eat real cannoli, made by Sicilian recipes, and all that in the shade of the Mount Etna Volcano, flushed down with a sip of an Italian espresso is something completely different.
Cannoli is a typical Sicilian desert that got its name from the word cannolo which means 'little tube', obviously referring to the shape of the pasty shell made out of flour, butter and sugar, and some Marsala wine.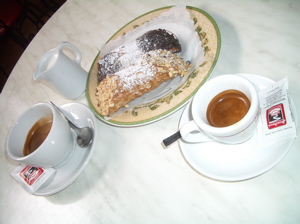 After the dough is fried, it is then filled with a cannoli filling which is a mixture of ricotta cheese or, in Italian-American recipes, sweetened mascarpone. In some cannoli recipes, the cheese can be blended with vanilla, chocolate, rosewater, pistaccio or other flavours.
The cheese openings of Sicilian cannoli can be sprinkled with pistaccios, candied fruit or chocolate chips.
Cannoli history says that Sicilian cannoli originated in the Palermo area, where it was traditionally prepared during Carnevale season. Some say it was a symbol of fertility. It dates back to the times of Arab domination of Sicily.
What is really important with cannoli is that the pastry doesn't sit filled with cheese for a long time as it would become all soggy.
When ordering your cannoli in Taormina Italy, remember to order a cannolo, if you wish for one only, and cannoli for two or more as this is the plural.
If this is the first time ever you will be trying cannoli, you will never eat one again without remembering the real Taormina Italy cannoli. If you've had cannoli before… well, you just think you did. Now, visiting Taormina, try some real Sicilian cannoli and enjoy!
For those wanting to recreate this little piece of Taormina Italy heaven at home, here is where you can find your cannoli recipes, tips and tricks.


RELATED ARTICLES:
TAORMINA ITALY ARTICLES TABLE OF CONTENTS
From CANNOLI RECIPES to Mediterranean Cruise Ports Easy
HOME PAGE
Join us on Facebook!
Head on over to the Mediterranean Cruise Ports Easy page on Facebook and become a fan.
You will receive notices whenever something new is added to the site and never miss a thing!
Feel free to leave comments on the page and interact with other fans, Post your photos and any other links that might interest our visitors too!
See you on Facebook!