About to cruise Venice?

Get off the ship

and know 

what to do...

When you cruise Venice you realize...all these canals of Venice, palaces and gondolas of Venice aren't just props for tourists' fun. Here, things are down to earth...it is a city where real people live and work, a place where you come to admire its natural charm and atmosphere...just as it is.
Cruise Venice articles table of contents
In all these years of endless cruising, we've had a chance of meeting people who claimed to have "visited Venice once before" and wanted to see something else on that day. As someone who has visited Venice at least 50 times we could never understand people who cruise Venice once and claim to have "seen it all."
This city literally is like a museum in the open...and guess what, since it in the open, there are so many things to do in Venice for free.
Cruise Venice: What is so special about this city?
Every facade, cupola, courtyards and Venice bridges speak a story of the fantastic mixture of peoples, religions and beliefs that meddled right here...you just need to learn how to read it. Trust me, even if you cruise Venice for the umpteenth time...you'll learn and discover something new about the history of Venice Italy!
Even shopping here isn't only limited to the same-old-same-old that you see in every other capital of the world. Quite a few items you can buy here speak of its history and have meaning behind them.
Shopping in Venice is actually a fantastic opportunity to buy something handmade, unique and precious...something you might hand down in your family one day!
Today, there are numerous cheap and soulless copies of these items sold on streets so we'll help you recognize the real deal and avoid the tourist traps!
Although the majority of stores do take all major credit cards it is always wise to keep some cash on you and you might use our tips on where to find the nearest ATM machine. 
If you're not from the EU (European Union), you'll be happy to find that you might be eligible to claim the VAT tax back and maybe even get your customs stamp right there in Venice!
And if you are planning to focus your Venice day here on experiences, not shopping...trust us, you will still have a fantastic day...and won't even have to pay through your nose for it. Here's out tips on how to cruise Venice and spend a memorable day in Venice on budget.
Cruise Venice: Getting around
Getting around Venice is generally easy on foot...and here at the Mediterranean Cruise Ports Easy you can learn all about how to walk Venice. If you do head towards Piazza San Marco on foot, Venice people mover will be of a great help, too.
Still, depending where you're headed, you can also choose from the big fleet of different boats unique to this city: Venice vaporetto, Venice water taxi, gondola Venice, Venice traghetto...just like you wouldn't miss a rikshaw ride in India, a horse drawn carriage in Vienna or a black cab in London, you don't wanna leave here without taking a little ride in any one of these!
Naturally, they all hugely vary in price and we'll teach you how to make the most of them regardless of whether you want to spend €100 or €2,50! You will literally cruise Venice!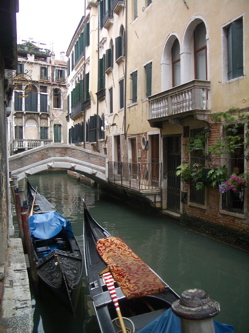 Not even after a whole day of walking around on foot in the hot sun can one get enough of this magical place...it's just heartbreaking to say goodbye. That's why it's always good to rest a little in one of the stylish Venetian cafés before another couple of hours of tireless walking around. In the past, these cafés were frequented by many stylish and famous people and we'll tell you which!
Don't forget that having a drink in any of the cafés in Venice is also the easiest way to use the toilet for free. But if you've gulped down your espresso too quick and forgot about going, knowing where the nearest public toilets are will always help and you can find out all about that in our article on Venice practical tourist information.
When you cruise Venice, your time in this port of call can be pretty limited. However, some cruise lines offer overnights in Venice or a chance for their guests to embark or disembark the ship at the Venice cruise terminal and so spend some additional time here before or after their cruise.
Even just one overnight is more than enough to peer underneath the covers of this city, as well as visit other little neighboring islands such as Murano, Burano, Lido di Jesolo or San Michele. Each one a little gem completely different from the others. If you are travelling to Venice with kids, these are some of the places they might enjoy most!
Having an overnight in Venice? It would be a real shame to stay on the ship and not see this city at its most romantic-at night! Just remember this isn't an amusement park where you can pop into the latest superstar studded show or spend the night in a casino.
All these canals of Venice, palaces and gondolas of Venice aren't just props for tourists' fun. Here, things are down to earth...it is a city where real people live and work, a place where you come to admire its natural charm and atmosphere...just as it is.
However, there are many things to do at night in Venice, so make sure you don't miss the last boat back to the ship!
Feel like a day or two isn't enough to experience Venice? You're so right! Even after all these visits, we still get excited every time we cruise Venice.
So, we won't be surprised that once you put all the Venice pictures into your scrapbook, hang your new Murano chandelier and display your Venetian masks, you get all excited to cruise Venice all over again or maybe even spend a couple of days in one of the Venice Italy hotels before or after your cruise!
OTHER USEFUL LINKS:
Home

> Rome vacation
---