Pompeii Italy - Ancient Pompeii for Med Cruisers
I have to admit I have been in awe with Pompeii Italy and the destruction of Pompeii since I was 8.
Not because Pompeii ruins are a unique source of information about the economic, social, religious and political life of a Roman city in the 1st Ct AD, or because it is a UNESCO Heritage site, or even less because as an 8 year old I had a sophistocated taste for fresco paintings, mosaics and Pompeii art in general.
My amazement came from the photograph of a cast of a Pompeii dog, caught in the final moments of his life, moments before he suffocated and got covered by a layer of ashes and pumice from the erruption of the notorious Mt Vesuvius volcano.
HERE'S A COMPLETE LIST OF OUR POMPEII ARTICLES:
VISITING POMPEII - There are many different options when it gets to transport from Naples cruise dock to Pompeii.
A CRUISER'S DAY IN THE LOST CITY OF POMPEII - Maximize your day in the Bay of Naples by visiting more than one destination.
NAPLES TO POMPEII - Detailed instructions on how to take a train from Naples to Pompeii.
ANCIENT CITY OF POMPEII - Entrance fees, opening times and other must read tips before visiting Pompeii.
POMPEII RUINS - Find out what's there to see in Pompeii before you get there and save yourself hours of aimlessly walking around.
POMPEII RUINS, PART 2 - Pompeii theatres, walls and other attractions.
POMPEII RUINS, PART 3 - Pompeii Basilica, necropolises and The Garden of the Fugitives.
VILLA OF THE MYSTERIES - Suburan Pompeii villa is famous for its frescoes showing mysterious rituals. Find out how to reach it...
POMPEII FORUM - The main square of the lost city of Pompeii.
POMPEII HOMES - What made Pompeii homes so different from our homes today?
POMPEII HOMES 2 - Overview of some of the most impressive Pompeii houses.
POMPEII BATHS - What's the difference between the Roman baths and today's spas?
VESUVIUS VOLCANO - Could the big Vesuvius eruption of 79 AD happen again?
DESTRUCTION OF POMPEII - What exactly happened on that day in 79 AD, the day Pompeii got buried under layers of ash for the next 1500 years?
POMPEII ART - It is thanks to the infamous Vesuvius Volcano that Pompeii art got perfectly restored; learn more about it...
HISTORY OF POMPEII - What was happening with the city of Pompeii before the Vesuvius volcano erruption?
NAPLES ITALY MAP - Map of the Naples cruise terminal and getting to the Naples Circumvesuviana train station
MAP OF ANCIENT POMPEII - Map of the archaeological site of Pompeii will help you plan the time you spend in the lost city...
This photo of someone's pet from Pompeii, buried alive in Pompeii ruins, 2000 years ago, with a collar around his neck just like any doggie of today would wear, has the power to transport us into the past immediately and we don't see the History of Pompeii as a history of dead stones but a history of humans.
Everyday people who loved and fought, left accusatory and nasty graffiti on the facades, worked as lamp makers, sculptors, toolmakers, merchants or gem cutters, ate in on one of the 89 fast-food takeaway cafes, enjoyed the Pompeii baths, their beautiful Pompeii homes with amazing Pompeii fresco paintings and Pompeii mosaics, attended gladiator fights, gossiped at the Pompeii forum...
The lost city of Pompeii tells their story.
POMPEII FACTS:
Location: near modern day Naples, region of Campania, Italy
Citizens at the time of destruction: around 20,000
Area: originally covering 163 acres/66 hectares but only about 109 acres of ruins have been excavated
Destroyed: AD 79
Rediscovered: AD 1599 and then again in AD 1748
Yearly visitors: 2.6 million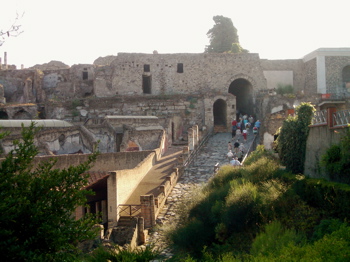 This is why visiting Pompeii Italy is sure to touch you even if you are not a big history connoisseur and someone purely interested in Pompeii archaeology and excavations - this museum in the open will be your window into what life used to be 2000 years ago. Until one day, the last day of Pompeii, this town got frozen in time under 6 layers of ashes and pumice of the Vesuvius Pompeii eruption.
You can read more about what happened on the day Pompeii got flattened with the ground in our article Destruction of Pompeii.
There are a few ways you can reach Pompeii Italy from your Mediterranean cruise ship when docked in Naples or anchored in Sorrento Italy, and they are all described in our article Visiting Pompeii.
If you are one of the Med cruisers who prefer to take transportation into their own hands, you will be happy to find you can take a train from Naples to Pompeii for only a few euros!
Before getting there, make sure you check out our pictures of Pompeii, the map of ancient Pompeii as well as read all the practical tips, fees and opening hours for visiting the ancient city of Pompeii.
The only thing that might spoil your day when in Pompeii Italy will be the fact that you are in the Bay of Naples which abounds with attractive sites to see: from the magical isle of Capri Italy, the famous Sorrento Italy, romantic Amalfi and dynamic Naples. You will want to see it all...what a sweet torture to be subjected to!
Find out more how to combine visiting Pompeii with another destination in the Bay of Naples in our article A Cruiser's Day in the Lost City of Pompeii.
If you would like to make your day in Naples bay and Pompeii stress free, here's a shortcut to some suggestions of ours when it comes to getting there...
Like Pompeii Italy Page?