Why cruise to Portofino Italy?

"If you decide to visit Portofino Italy, your senses and the part of you searching for the most sophisticated pleasures in life will thank you for it."
Portofino Italy articles table of contents:
Tiny. Portofino is very, very tiny. It's a fact. You can walk from one end to another in about five minutes, there is a couple dozen houses, and about five hundred residents. No cars.
So how could a place so tiny become one of the most desired destinations for the Hollywood A-listers since the 1940ies, poets and authors, entertainers, fashion designers and the who-is-who list of the business world?
---
Why is Portofino Italy so famous?
How is it possible you can shop the biggest brand names, from the finest Loro Piana cashmere cardigans and the latest cruise collection by Pucci to the finest Hermes scarfs and Louis Vuitton bags in a place so small you really need to search hard to find a place to buy, let's say...a pair of socks.
Why do people decide to pay more than $3000 per night for mooring their out-of-this-world megayacht at one of only 14 berths in the marina of Portofino village right next to the little harbour where the wooden fishing boats are bobbing, cool as cucumber, ignoring the dazzling and powerful floating visitors.
What could be the reason cruise ship visitors are crazy about Portofino Italy, never mind that when they all get ashore they double, triple, or quadruple the number of its residents. They completely take over and pretty much make it just another off-the-ship entertainment lounge.
Is it possible that a place that covers a mere 2.6 km2 gave its name to at least one Italian restaurant or wine bar in almost every city of the world?
What was there before all the glitz and glamour, the luxury, the charm of the beautiful and well-dressed visitors, the megayachts, the elegant hotels, the most expensive properties in Italy per square meter, the perfumes called after it, the songs inspired by it?
The best way to feel the charm of Portofino is, of course, to take one of the walking tours around the charming village, as well as around the neighbouring town of Santa Margherita: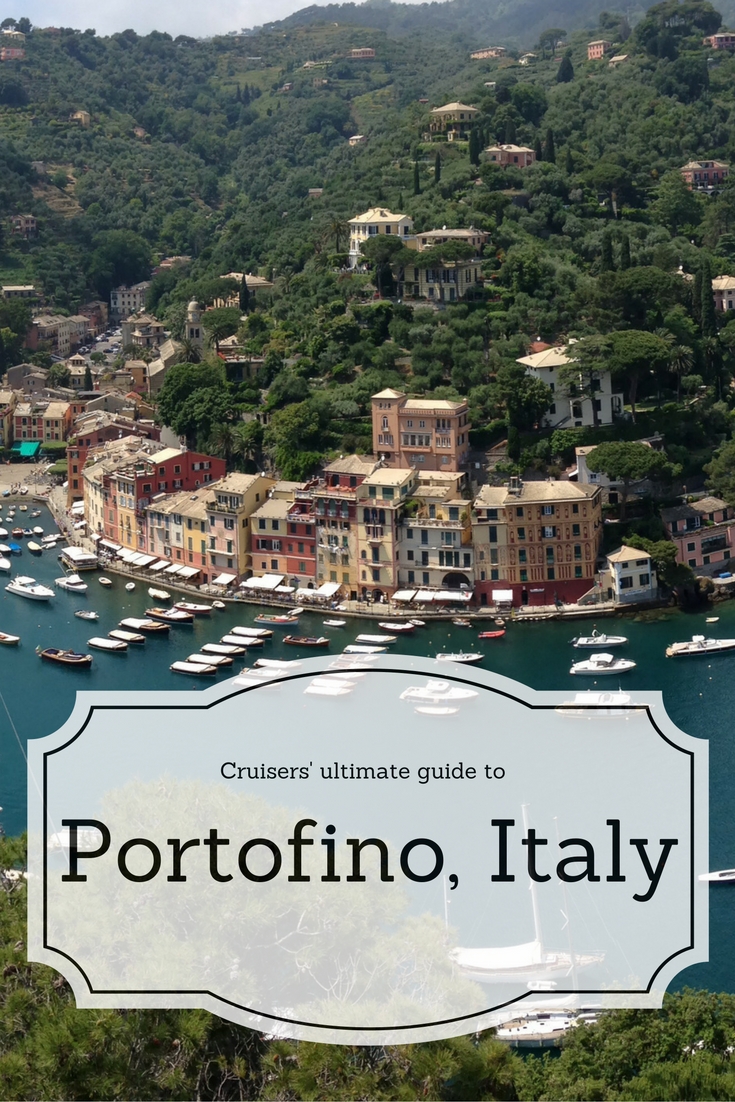 If you have heard Portofino Italy name a million times but have never seen the photo of it, take a good look of the photos on this page. Just one glimpse is enough to answer the questions above.
Yes, Portofino has always been a magnet because of its...
Idyllic and spectacular setting: it's a little gem hidden inside a peaceful cove on the rugged and dramatic Lygurian coast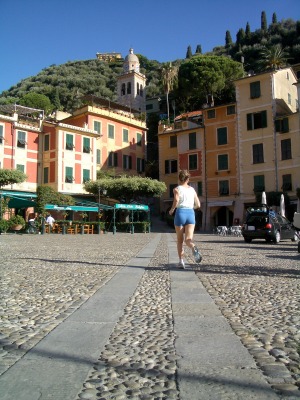 Picturesque Portofino port and harbor and the quaint Piazzeta di Portofino flanked with houses painted in bright reds, greens, ochres, and yellows
Mild climate and air smelling of pine trees and olive groves
Intimacy...walking around you almost feel part of the village and its everyday life, you feel at home and almost say 'hi' to everyone you meet on the street
Relaxed atmosphere...no cars, no stress, no briefcases, no business suits. Only beautiful and bronzed people sipping on their cappuccinos and chilled white wines of Liguria
Azzure Mediterranean waters that call you to jump into them right there off the tender boat
Fantastic views from Castello Brown as well as from its promontory just a little hike out of the village
Not every ship cruising the Mediterranean will go to Portofino Italy but after looking at the pictures and reading about what to do in Portofino Italia, you may reconsider the choice of your cruise ship and its itinerary.
If you do, your senses and the part of you searching for the most sophisticated pleasures in life will thank you for it.
---
Home

› Cruise Portofino