Dubrovnik Croatia for Dubrovnik cruise guests
"When it comes to Dubrovnik Croatia, all cruisers agree on two things... first, Dubrovnik far exceeded their expectations and second, they know they have to come back one day!"
Visiting Dubrovnik always tends to create a lot of hype onboard every Mediterranean cruise ship!
Many Mediterranean cruisers on ships that call to Dubrovnik Croatia have ancestors that came from one of the ex-Yugoslav countries, and are eager to visit the area and the city they've been hearing about since they were little kids.
Some know of Dubrovnik through CNN reports when the city was shelled during the war.
Whilst others have simply heard of the city being "The Pearl of the Adriatic", and one of the top world vacation destinations of this decade.
And then, sadly, there are those who are very much lost in time and space. Not sure where Dubrovnik is, they think that the best souvenir to get in Dubrovnik Croatia is a Russian matrioshka doll! :)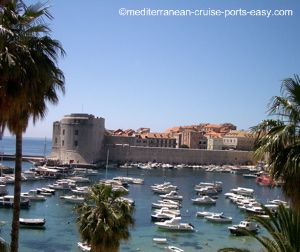 No matter what the reason might be for visiting Dubrovnik, and what kind of background knowledge they have of it, all cruisers agree on two things when back onboard their ship. First, Dubrovnik far exceeded their expectations and second, they know they have to come back one day!
But before we tell you what to see and do when you get to the Old Town of Dubrovnik, which is where you want to go if this is your first ever visit to the city, we'll also tell you some important things to keep in mind before you get off your cruise ship.
First of all, we recommend you plan the way of getting to Dubrovnik Old town. There's many options so chose the one that suits you best.
Dubrovnik really is one of the most charming places on earth and has that same eternal beauty that is so characteristic of the whole coast of Dalmatia.
It's a beauty that never goes out of fashion, and equally appeals to all age groups…
Kids will love to taste some gelato and chase the pigeons on the main street and promenade, Dubrovnik Stradun which is easy to locate on our Dubrovnik map.
Their parents will love some power sightseeing, discovering Dubrovnik's exciting history, and doing a bit of shopping.
Grandparents will enjoy taking long breaks in one of the numerous cafes, flipping through the newspapers and people watching.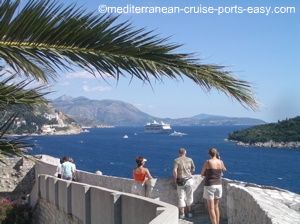 And oh, we haven't mentioned that Dubrovnik Croatia is one of the most romantic cities in Europe too! Did you know that people come from all over the world to propose or get married on the Dubrovnik Old town walls?
Besides the walls that are perfect for hand in hand strolling and taking amazing Dubrovnik photos… here at Mediterranean Cruise Ports Easy, we will reveal a few other spots where you might want to spend a few moments with your loved one, away from the crowds.
As the bus descends towards the city surrounded with thick medieval walls… everyone on the bus gasps at once: "wooow!" And that's only seeing it from the outside!
Dubrovnik really will "wow" you in many ways…
Most cruisers will first visually experience Dubrovnik through the window of the shuttle bus that will take them from the Dubrovnik port to the drop off point by Pile gate.
Whether it's viewing the walls and fortresses from the outside, walking the walls and admiring the red roofs of Dubrovnik Croatia from above, strolling the narrow cobblestone streets, sightseeing its churches and museums and other Dubrovnik attractions, admiring its palaces, sipping on your cappuccino (the best in Europe after the Italian one), experiencing the colourful green market, taking a boat ride to the nearby island of Lokrum, shopping for souvenirs or having fresh fish or oysters for lunch…
It is very likely this city will grow on you and you will be returning back to the ship happy and content but with a heavy heart and a big sigh… "Aaaahh, we simply have to come back!" :)
Dubrovnik Croatia table of Contents
PORT OF DUBROVNIK - Learn all about your cruise ship's position in Dubrovnik and what makes this port the 3rd most visited in Europe.
GETTING TO DUBROVNIK - There are many ways to get from your cruise ship to downtown Dubrovnik. Plan your transportation ahead and save your time and money!
TOP 10 1/2 DUBROVNIK ATTRACTIONS - This list will help you make sure you see and check off the top 10 ½ Dubrovnik attractions and return to the ship without the funny feeling you missed something.
DUBROVNIK WEATHER - Windbreaker or flip-flops? Umbrella or sunscreen? What to pack when you're cruising to Dubrovnik, Croatia?
DUBROVNIK OLD TOWN- Find out what to expect, see and do when visiting this fascinating place.
STRADUN DUBROVNIK- Stradun is the very heart of Dubrovnik and one of the most beautiful and romantic streets in the Mediterranean. Learn what makes it such a charming place!
DUBROVNIK SIGHTSEEING - DUBROVNIK WALLS- Walking the walls of Dubrovnik will be one of the highlights of your Mediterranean cruise vacation! It's a must!
DUBROVNIK PHOTO GALLERY- Get your travelling and cruising juices going by looking at some Dubrovnik photos!
DUBROVNIK MAP- With our Dubrovnik map it's easy to locate all the points of interest in the Port of Dubrovnik as well as all the attractions in the Old Town!
DUBROVNIK CROATIA FROM YOUR PERSPECTIVE- Have you been to Dubrovnik before? What did you think of it? Any tips for future cruisers?
DUBROVNIK GUIDE- Get your own PDF Dubrovnik eBook guide full of time and money saving tips. It's a must have!
OTHER USEFUL LINKS:
Like Dubrovnik Croatia Page?
Mediterranean cruise ports easy HOME PAGE