Pisa Italy - tips for cruisers visiting Pisa leaning tower
"Although numbering only 87,000 citizens, virtually everyone in the world has heard of Pisa, Italy… thanks to its famous landmark, the leaning tower of Pisa!"
PISA ITALY TABLE OF CONTENTS:

Visiting Pisa Italy in a day
When visiting the port of Livorno Italy, a Mediterranean cruise guest can often feel like a child looking at a shop window full of sweets and lollipops…
There are so many mouth-watering destinations that can be reached from the cruise ship dock in Livorno Italy, it can be a real torture to pick only one or two to see in your short cruisers' day in port.
Trust us, you're not the only cruiser scratching your head trying really hard to get around planning your time so you can see as much as you can!

Florence Italy is the undisputed queen of Tuscany and an absolute must-see on this day!
There's also all those little medieval hilltop towns in Tuscany we want to see and feel like we're in a movie… Lucca, San Gimignano, Siena!
And then… there's Pisa Italy!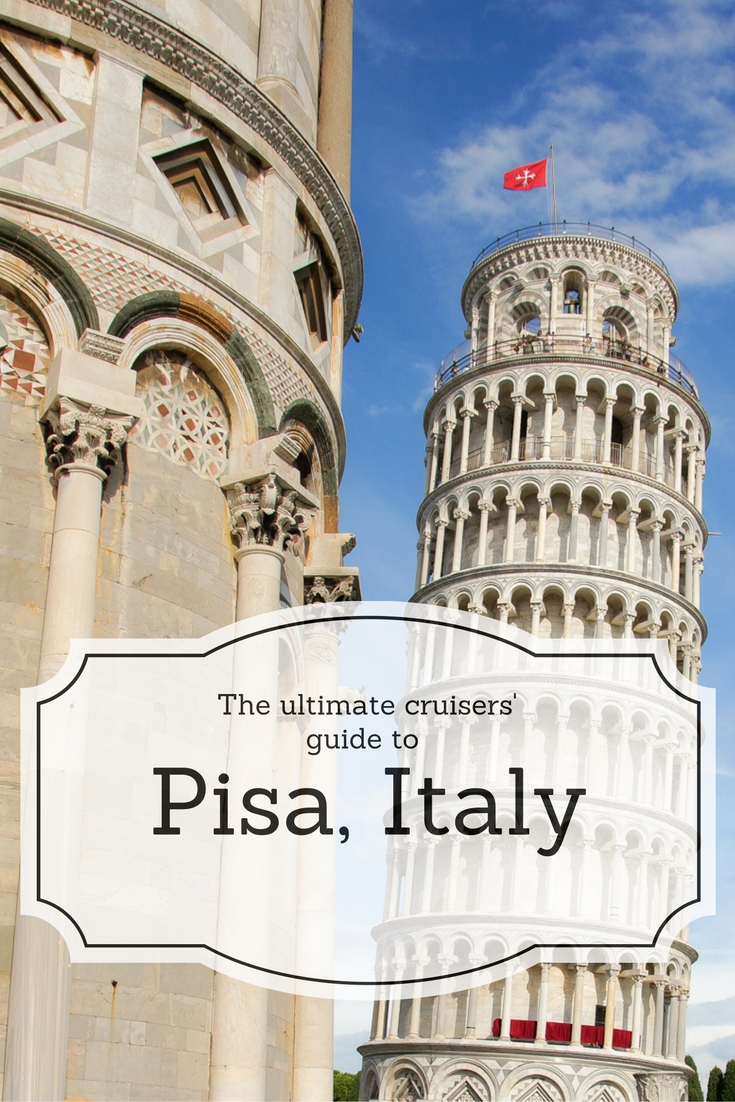 ---
Why visit Pisa Italy from your cruise ship?
The famous, the renowned, the historical city of Pisa.

Although numbering only 87,000 citizens, virtually everyone in the world has heard of Pisa Italy… thanks to its famous landmark, the leaning tower of Pisa!
When they first started building it, they sure didn't intend on making it tilt like this, but due to the soft base it sits on, foundations only about ten feet thick and the weight of its stone… this result was inevitable!
Back in 1173, when the construction of Pisa leaning tower in Italy began, the Pisans surely couldn't dream that such an architectural failure would attract over a million visitors a year.
Although Pisa leaning tower may be the most famous of the Pisa tourist attractions, there are many other things Pisa is significant for.
And it's no surprise if you know anything about the history of Pisa: it was a huge maritime power in the 11th Ct. and one of the most famous University cities in the world.The city is full of churches, palaces and museums.
Let's not forget it is the birthplace of Galileo Galilei, the famous astronomer and physicist whose grave you will have a chance of visiting inside the Santa Croce church in Florence.
But, the brutal truth is… as cruisers, you have only so many hours in a day, and even if you were sitting at the Captain's table the night before, you won't get him to stay longer! ☺
That's why our tip is… for the first time, concentrate on the leaning tower and other Pisa tourist attractions in Piazza dei Miracoli: Pisa Cathedral, Pisa Baptistery and the Monumental Cemetery, all easy to locate on our map of Pisa Italy.
How to go about visiting Pisa?
If until now you only had a chance to see Pisa tower in commercials and travel magazines, it is only natural you would want to visit it when docked with a cruise ship in Livorno Italy only 12 miles (20 km) away!
There are a few different ways of getting from Livorno to Pisa Italy and here at Mediterranean Cruise Ports Easy, we'll help you choose the one that suits you best!Do you prefer the adventure of taking a train, the convenience of taking a bus or a shore excursion or the personal touch of taking a taxi or a private tour?
Also, keep in mind that if you're visiting Pisa Italy for the very first time and you want to see the leaning tower only, it's always wise to incorporate Pisa together with either visiting Florence or Lucca.
If you have only become aware of this now, make sure you explore our pages on getting to Pisa and Florence and Pisa and Lucca in a day.
Also, since 2019 there is also a low cost transfer coach that will take you from La Specia to Pisa and Lucca in a day!
You will only dedicate the whole day to Pisa if you have been to Florence Italy and other Tuscan attractions many times before. In that case we suggest booking the low-budget Pisa walking tour which will help you make the most of your visit!
Have fun in Pisa, take that famous photo with you holding up the leaning tower and don't forget to post & share it on our Facebook fan page! We'd love to see it!