Capri Island Travel Guide
for Cruisers
Capri island travel guide tips help cruisers and day trippers with getting to the isle of Capri Italy, activities, visiting the Blue Grotto, shopping for the finest jewelry and perfumes.
Capri Island Travel Guide Table of Contents
Capri island travel guide is essential to you if, just like thousands of other tourists every day, you decide to make the isle of Capri your destination of choice in the Bay of Naples.
Even though this beautiful isola Italiana is surrounded with numerous attractive towns and points of interest like Positano, Sorrento, Amalfi, Pompeii and Herculaneum, it never ceases to delight, inspire and attract boat-loads of travelers and cruisers every single day.
---
How to organize my day on the isle of Capri?
With less than about 12 hours to spend out in port when docked in Naples Italy, knowing what to do is crucial if you want to have a successful day.
And our Capri Italy travel guide will help you plan a perfect day.
The good thing is, visiting Capri can easily be combined with seeing another vacation destination such as Sorrento and even Pompeii.
Our article on Getting to Capri will help you decide whether you want to do it:
on your own

with the cruise line organised shore excursions (limited variations, sell out quickly)

private tours you book online (those that cater to cruisers and keep in mind your limited time)
Or, some of you may just prefer to spend the rest of the day in the city of Naples itself.
The isle of Capri Italy in the Tyrrhenian sea is a smallish island of only 4 square miles (10 square kilometers) and with only about 13 000 inhabitants.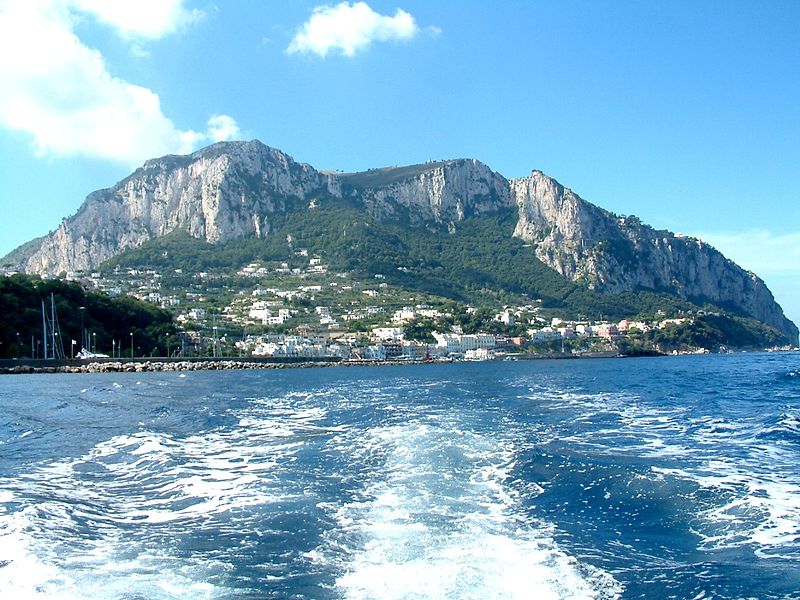 Capri island by Radomil Wikimedia Commons
---
How can Capri Italy Travel Guide help me with getting to Capri?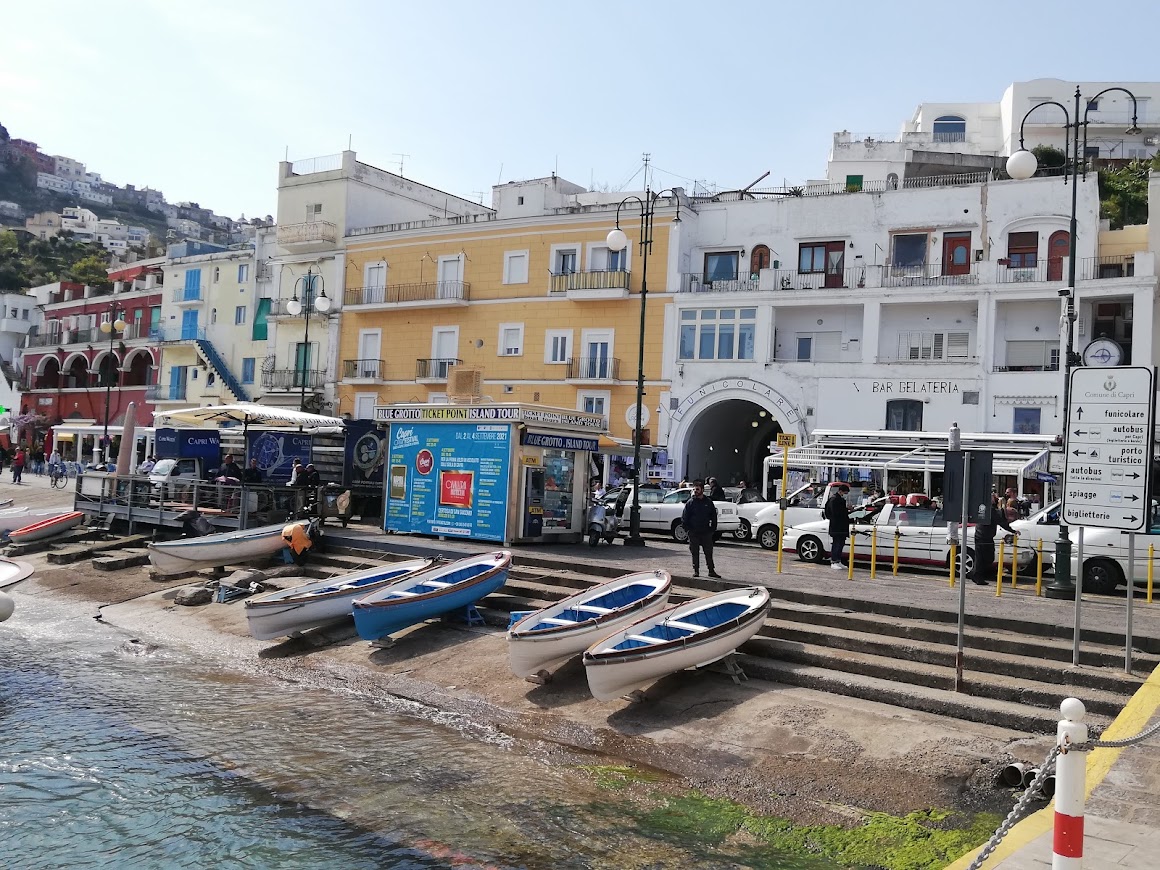 Capri Marina Grande is where the hydrofoil trops you off, but you need to take the funicolare up the hill now!
About 50 minutes ride with a fast hydrofoil boat from Naples (or 30 from Sorrento), it makes for a perfect half-day trip away from the pollution and craziness of Naples.
You will learn why not take the ferry but hydrofoil, where to get the tickets, what the fees and departure times are in our article Capri Ferry and Hydrofoil. Make sure you read it!
Once you land in the Capri's Marina Grande, you will not quite be there yet, so make sure you read about Getting to Capri Town from Marina Grande which is part of our Capri Italy travel guide.
Of course, there is nothing wrong with taking one of the private shore excursions on this day, whether you only want to reach Capri only or combine it with Sorrento, Pompeii and Positano (in that case, organised shore excursions are a must, I would say, as it gets too complicated, although it's 'doable' in a day). Here's a few quick recommendations:
---
What is so special about the isle of Capri?
For such a small island, with no major sights to offer to a regular photo-snapping tourist, it has made quite a big mark in history and you can learn  the Capri History In 10 Easy steps.
At the end of the 19th and the beginning of the 20th Ct, the isle of Capri Italy became a favorite haunt (for some even a more permanent place to live) of many an industrialist, painter, writer, aristocrat, scientist and diplomat who owned or rented villas here.
Many of the artists who stayed here spread the fame of the little island in their works… paintings, novels, short stories and even music pieces.
They all tried to convey this feeling of magic around you the moment you step on its ground… something you can not quite describe in words and is probably a mixture of the sea-salt breeze coming from the clear blue sea, scents of jasmine and lemons infusing the air and songs of the sirens that used to live on the island still flowing in the wind…or so the Capri myths and legends say.
In the 50s and 60s, the mystical and lush isle of Capri Italy was a playground for many celebrities, royalties, movie stars, artists… it was the epitome of La Dolce Vita, a place full of glitz and glamour. 
Celebrities of today cannot resist the charms of Capri either, and it is still a playground of the rich and famous, the setting of many a fashion shoot and a place where paparazzi wait behind every corner! You can read more about it in our Capri Island travel guide article Travel To Capri - Feel Like a Celebrity!
Where there are celebrities, there's good shopping, too. Actually you may get a shock when you get up there into the village and find all those high-end brand stores there. So that we buffer your shock, we wrote about Capri's fantastic shopping here.
---
Capri Island Travel Guide and Capri Attractions
For a cruise guest, a visit to the car-free town of Capri for a couple of hours can make a nice break from the usual busy and hectic destinations.
Although it may be small, we cannot promise you Capri town will be less crowded than other destinations you might have been to on your itinerary (on the contrary, this little town is flooded with tourists).

Nevertheless, it still has the air of peace and slow living around it.
As you make your plan for visiting Capri attractions, it is smart to study our Capri Italy travel guide Capri map and plan your route in this small but spread out village.
Make sure you get the glimpse of the iconic rock called The Faraglioni of Capri, too!
If you have a very long day here, you can even think of visiting the magical Blue Grotto cave.
And most importantly, slow down, enjoy the views, have a cappuccino on its central square (the Piazzetta), admire the windows of the luxury shops and facades of the grand hotels, do all those little things you can not find out about in official Capri Island travel guide books but you can in our article What To Do In Capri In A Day… and we promise you, Capri will be on the list of your places to come back to one day!
If you decided to spend the whole day on the isle of Capri you should also think of exploring beyond the Capri town itself. Read about the attractions around the island in our Capri Island Travel Guide Capri Italia Attractions article. 
 Aaah, la dolce vita!
Have A Great Story About This Topic?
Do you have a great story about this? Have you been to this port of call? Have tried out any of the shore excursions I recommend? Do you have any tips that might help your fellow cruisers? Share them with us!