Rome Vacation Travel Guide -
Cruises From Civitavecchia Italy
You will absolutely love your mini Rome vacation… the only worry you will have when thinking of your cruise Rome visit to the Italian capital is the fact that your ship isn't staying there longer!
Are you planning a mini Rome vacation before or after your Mediterranean cruise? Or just hoping to learn more about Rome Italy culture during your 12 hour visit?
You must be so excited! I know I was, as I dreamed of visiting the Eternal city since the times I learned about it from the history books back in school and had no idea Rome could be visited by cruise ship.
But, dear cruisers, I am not going to write much about the anticent Rome architecture, art, artifacts and buildings here.There are so many websites you can read more about that.
What I want to focus on here and drive into your head is how important it is to…organize your time in Rome well! To arrange and book everything you can ahead of your trip!
You can start with booking your:

From here you can either jump straight to the pages below or keep reading to get a better understanding of the problematics of staying in Rome...
Why plan ahead? Regardless of how much time you have in this city, there will never be enough and you are setting yourself for frustration if you find yourself standing in just another two-hour long line, unnecessarily!
I am writing the new and imporoved version of this page at the very end of 2019 and just at the end of October this year, my hubby and I visited Rome on our honeymoon. Here's us on the flight to Rome...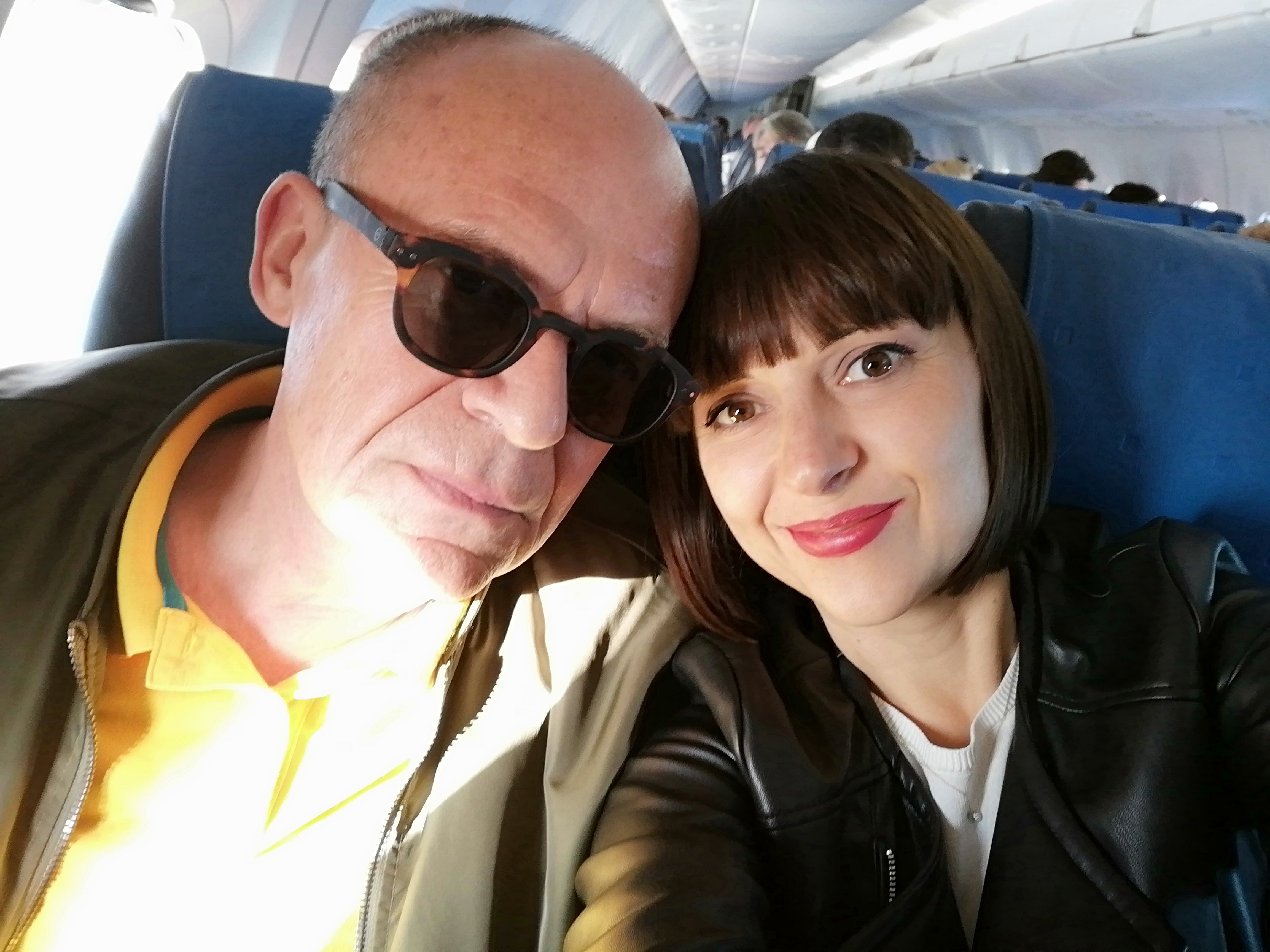 Namely, my husband has always believed he was a Roman soldier in one of his past lives (hope he never finds out I am telling your that).

He is fascinated by the law and oder of the ancient Roman army and gets goosebumps just by watching Viasat history channel programmes about ancient Rome, especially the ones about the legionaries.
So, what a great opportunity to combine pleasure (his big desire to see Rome, celebrating our wedding) and business (me updating my Rome web pages)!
What does all of this have to do with you? Regardless of how much we enjoyed our little honeymoon Rome vacation, we were both so stressed by…

the amounts of tourists swarming the streets of Rome (everywhere and anytime)

the length of lines to enter ancient Rome attractions (lines to enter St Peter's square to see the pope, hours long lines to the Colosseum and Vatican museums, line to St Peter's basilica, lines, lines and more lines everywhere)

the time it took us from our Rome airbnb accomodation to the centre (it all looked well on the map)

the Time to get from point A to point B in the very centre of Rome (there are very few sporadically positioned metro stations)

The fact that sometimes we couldn't find our way with the help of two paper maps in our hands and two GPS' on our mobile phones
And I don't want the same thing to happen to you dear cruisers!
Here's just one of my 'queueing in Rome' photos...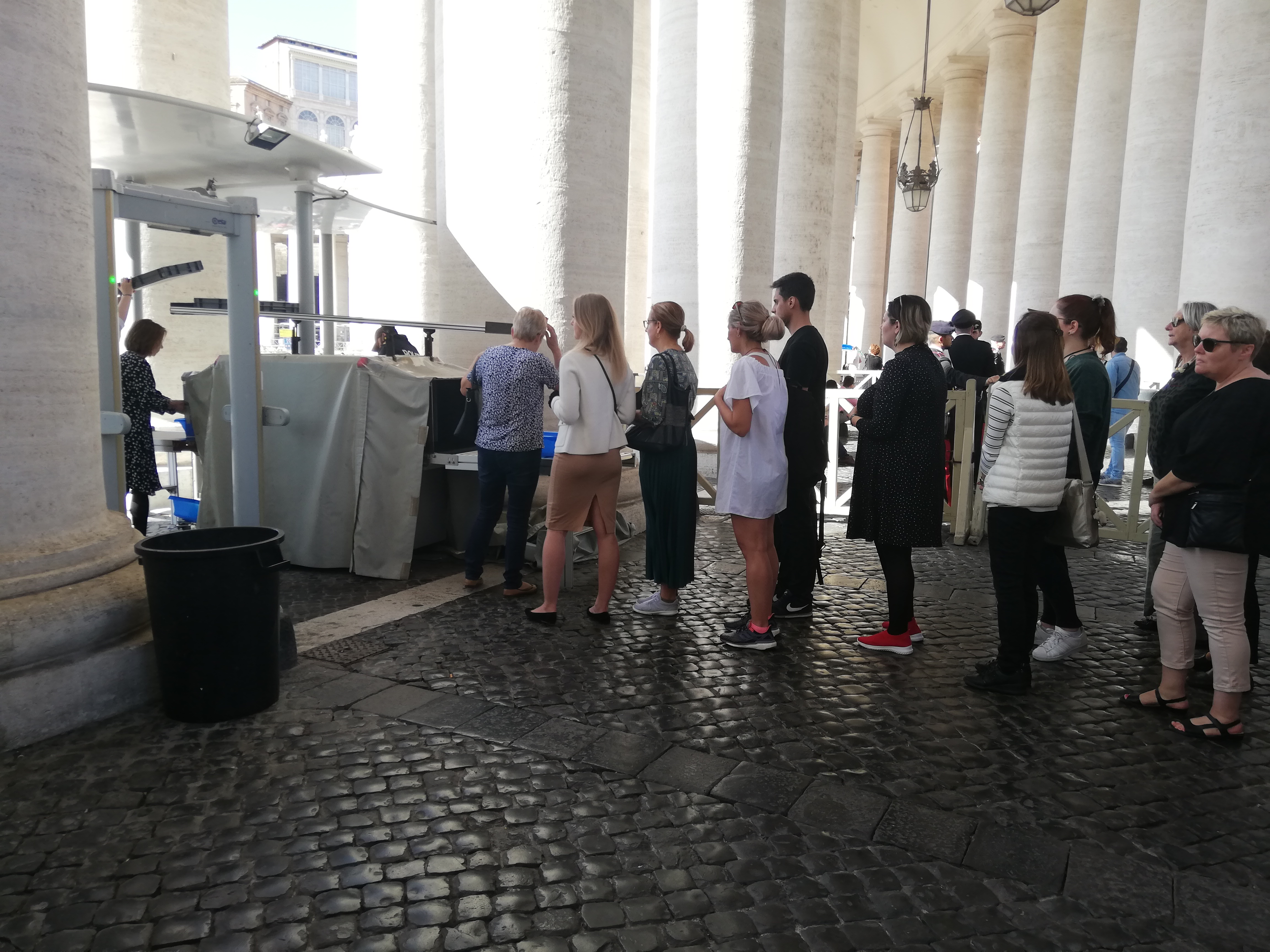 Security check to see the Pope at the Sunday Angelus in St Peter's square
You may think I came unprepared…oh, no, I spent two months planning everything ahead online:
buying tours

transportation tickets from the airport

planning our morning and afteroon activities.
Still, at one point, it all led to my husband's total meltdown: he was stomping his feet at the pavement and crying in despair: 'I refuse to go anywhere anymore! I am tired! I've had enough of walking up and down and getting lost!', just like a little child.
It took a cold beer at Rome's legendary Mariani cafe and a promise that after this next Airbnb experience (organic cheese and salami tasting) we'd go straight home, for him to calm down.
And my husband certainly isn't a couch potato: he is very fit, he wanted to be out and about exploring. It's just that the distances, the lines, the physical strain and rushing all the time got the best of him.

So, if you know you and your loved ones want a relaxed pre/post-cruise Rome vacation, do yourselves a favor and do the following steps ahead of your visit…
---
5 tips for a stress-free mini Rome vacation before or after your cruise:
Lucky you! You get to experience all the major attractions of Rome, feel the spirit of this amazing city, taste pasta Carbonara, see the best museums in Rome, maybe even visit an archeological location a little outside Rome (we loved Ostia Antica)!

Jump to the page that tells you What to do in Rome before or after your cruise for a well structure guide to your mini Rome vacation, as well as detailed tips on getting to and from the airport or cruise port before or after your stay.
Or just get a quick overview here:
Purchase your transfer tickets from or to Rome airport:  I will tell you all about your transportation options in my article Getting from the Fiumicino Rome airport to Rome. No time to explore more pages? Jump right to the point here:
2. Book a sightseeing tour: don't be fooled you will see all of Rome in a few days all by yourself...and understand everything you're looking at. 
I have a Masters degree in archaeology but I couldn't make sense of all those Rome's layers before a really good local guide explained it all.
If you are visiting Rome from Civitavecchia, my page Getting from Civitavecchia Port to Rome on a Tour will help you filter out a tour suitable for you.
If you are staying for a few days before or after your cruise, you will find everything you need on my page What to Do In Rome.
No patience to explore more pages to find what you need?
Here's some most loved and best selling tours, either starting from Rome or from Civitavecchia:
3. Purchase tickets to all the famous Rome attractions online: if you want to spare yourself waiting for two and a half hours in line to get into the Colosseum or Vatican, book a skip the line tour...not just a skip the line ticket (you will still wait in the skip-the-line queue). Why?
Find out more in my article about What to do in Rome before or after your stay. 
In short: if you are coming for a short visit from Civitavecchia, you DON'T have time to stand in skip-the-line lines!!! Only the professional tour guide can swish you in without the wait!
Hurry and book one right here, I hand-picked the most trustworthy bestsellers:
4. Even if you have to pay more, pick your accomodation close to Rome attractions. A few dozen dollars saved is not worth stressing over rush hours on the metro and kilometers of walking from one platform to the other. Find out what the most desireable neighbourhoods are in my article Where to stay in Rome. 
Do not try to squeeze too much into just a few days: leave some time for  strolling the streets of Rome, having a gelatto and stopping by for a real espresso and a corneto con marmelata (a marmelade croissant). 
I planned one major event/attraction in the morning and one in the afternoon. Still, walking from point A to B, standing in lines and having to eat something occasionally ate up all the rest of the time and wore us down.
If I remember well, this was a charming balcony in Piazza Navona
When planning the activities during your mini Rome vacation, keep in mind that some of you will be:
visiting Rome for half a day, when it's part of your cruise itinerary
visiting Rome for a few days before or after your cruise, if Rome/Civitavecchia happens to be your embarkation or disembarkation port. 

It would be a real shame not to take the oportunity to spend a few days here when you do find yourselves in this part of the world.

Still looking for Rome accomodation before or after your cruise? Take a look at the options on this map...
Rome Vacation Tips: visiting Rome Italy in the middle of your cruise, for a few hours:
So how do you fit everything into a 12-hour 'mini Rome vacation'?
Cruise ships dock in the small seaside town of Civitavecchia Italy which is just over an hour away from the centre of Rome.
Your major concern will be...
1) getting from the port of Civitavecchia to the city of Rome
2) maximizing your stay here i.e. seeing as much as possible in this short time
Of course, there are always cruise line organised tours to cover both but today independent tour operators have perfected their tours to suit the needs of the cruise passengers...which gives you more choice and lesses the risk of coming to the ship only to hear your favourite tour has been 'sold out'!
My page Getting from Civitavecchia Port to Rome on a Tour saves you time trying to pick the best one among hundreds of them.
---
ROME VACATION ARTICLES TABLE OF CONTENTS:
---
Home

> Rome vacation
Have A Great Story About This Topic?
Do you have a great story about this? Have you been to this port of call? Have tried out any of the shore excursions I recommend? Do you have any tips that might help your fellow cruisers? Share them with us!