Cruise to Taormina Italy
"Taormina Italy, is exactly that… a quaint little place you cannot but fall in love with."
The Mediterranean is full of beautiful, historically important and exotic ports that's for sure.
But there is only a handful of them that make you feel mesmerized the moment you walk in… spellbound… hypnotized with a certain 'Je ne sais quoi' that infuses the air.
And all that in spite of the fact that there may not be any world-class museums, their church frescoes aren't documented in art history books and their monuments are very far from being one of the 7 Wonders of the World!
Taormina Italy, is exactly that… a quaint little place you cannot but fall in love with. And when you see the list of famous people, artists and celebs who couldn't help but visit Taormina and fall in love with it too, you'll know it's not all just in your head!
As much as it's popular with the regular travellers, it is a must see spot in Sicily for cruisers in the know, when docked in Messina Italy.
Taormina is a little hilltop town embedded on a plateau on the slopes of Taormina Monte Tauro.
As if the town isn't beautiful enough as it is, its heightened position gives it yet another attractive aspect: dramatic views of both the Ionian coast down below and Mount Etna volcano!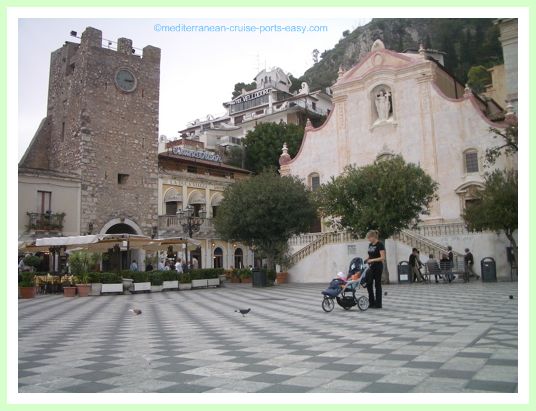 To sit on one of the Taormina Sicily sunny terraces sipping on a coffee and nibbling on some fresh cannoli made from the traditional Sicilian cannoli recipes looking at the little clouds of smoke billowing from Mount Etna is just priceless!
As we mentioned already, Taormina is the favorite destination for cruise guests docked in Messina Italy. There are a few different ways you can reach Taormina from Messina port and you can learn it all in our article on Travel to Taormina.
Now, apart from this magical feeling that speaks to your soul but you cannot really pin it down, Taormina will also be a real treat for your eyes: as you can see on our Taormina map, the town is full of winding medieval streets hiding many secrets, charming squares, colourful facades, lovely churches and fountains!
For those who want to experience as much of ancient European history as they can, there is a Taormina Greek theatre to be seen, the biggest and most tangible of Taormina monuments, an important witness of Taormina history
If you are just out of a compulsive shopping rehab, do not visit Taormina! :) Apart from the typical Sicilian souvenirs: Taormina ceramics, decorations in the shape of the trynacria symbol, Mt Etna volcano lava jewelry and Godfather T-shirts… the main shopping street, Corso Umberto is lined with fashion brand shops too! Your day there simply cannot go without some Taormina shopping!
Enjoy your day in Taormina Italy and if you manage to pin down that irresistible feeling that makes this town so special… let us know what it is!
TAORMINA ITALY ARTICLES TABLE OF CONTENTS:
TRAVEL TO TAORMINA: Find out what is the easiest and most cost effective way of getting to Taormina
GETTING FROM MESSINA SICILY TO TAORMINA BY TRAIN: Detailed instructions for taking a train from Messina to Taormina
TOP 10 TAORMINA MONUMENTS: Taormina attractions and sights to see in the couple of hours you'll have there as a cruise guest
TAORMINA MAP: Taormina map helps you locate all the Taormina attractions
TAORMINA GREEK THEATRE: Learn all about the most remarkable of Taormina attractions
TAORMINA HISTORY IN 10 EASY STEPS: Learn basics of Taormina's turbulent history
CANNOLI RECIPES: You think you've had cannoli before? Wait to try the real Sicilian cannoli!
From TAORMINA ITALY CRUISE to Mediterranean Cruise Ports Easy
HOME PAGE