Hotel Danieli Venice -
one of Venice attractions
'As you walk through the revolving doors of Hotel Danieli Venice, you will feel like you're going through a time warp!'
Hotel Danieli is one of the most famous hotels in the world. Synonymous with the splendor and romance of Venice, Hotel Danieli Venice is a must see for every Mediterranean cruiser who wants to experience this city to its fullest!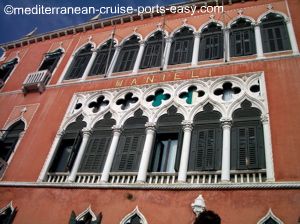 Let's say you decided to take the cruise ship organized transportation from the Marittima cruise terminal to downtown Venice.
After a breathtaking arrival past the Doge's Palace, you will be dropped off at the Riva degli Schiavoni, right there near the monument of King Vittorio Emanuelle II on his horse.
As you rush to your left, eager to join in the hubbub around the Piazza San Marco… don't miss stopping by the old building of the Hotel Danieli Venice.
Although it can be very easy to just walk right by it from the outside, as it pretty much blends in with the rest of the architecture around it, it's important to remember to keep a look out for its name and to make sure you actually at least pop your head in to get a little peek inside.
As you walk through the revolving doors of Hotel Danieli Venice, you will feel like you're going through a time warp! You will find yourself in its gorgeous lobby, with the Concierge to your right and just round the corner to your left, the Grand Salone with its rich furniture.
Now raise your eyes up! You will be left breathless, looking up at the dramatic ceiling and the majestic staircase.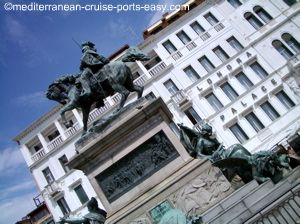 This hotel is decorated in pure luxury with Murano glass chandeliers, carved marble floors and columns, intricately frescoed ceilings, stained glass, hand-woven rugs, couches and chairs covered in the finest silk and damask, and precious antiques.

As such, this beautiful Venice palazzo often times looks more appropriate to house a museum. Interiors of Hotel Danieli Venice are simply spectacular and it's quite amazing at how much history it has. And no, it doesn't suffice to say it's old… it's ancient!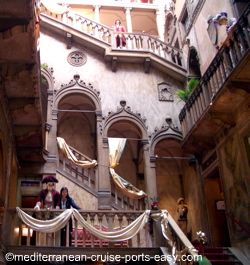 Every time we visited Venice we loved taking a few of our cruise-ship guests into this beautiful palace. It was so funny watching their jaws drop in awe! A couple of times we even had people thinking this was just a setting, a Las Vegas style replica they were looking at.
I know, I know… if you are not from Europe, you might find it hard to believe… but the interior of Hotel Danieli Venice is 100% authentic. :)
It's no wonder it is actually also a protected site by local authorities, as it is one of the historical Venetian hotels and buildings in general.
Situated basically right next to the Doge's Palace, it is just a very short walk away from St. Mark's Square. It even has views of the Bridge of Sighs!
---
History of Hotel Danieli Venice Italy
The hotel today is made up of what used to be three separate palaces in the past. It has typical Venetian Gothic style architecture and has over 230 rooms.
The Dandolo Palace is at its centre and was built at the end of the 14th Ct by the Dandolo family, who were the family of the very first Doge of Venice, Enrico Dandolo.
DINING-ROOM TABLE TIDBIT: Doge Enrico Dandolo conquered Constantinople in 1204 and brought back to Venice some of its greatest treasures… from gold and marble to Byzantine sculptures and artworks (some of which are incorporated into the Dandolo Palace's interior).
Although the Danieli Hotel has changed hands a few times, it's most interesting to know that it was a Venetian hotelier/businessman, Giuseppe Dal Niel, who once rented the second floor and then eventually purchased the whole palace in 1824.
He turned it into a beautiful hotel, and his nickname stuck, "Danieli". He actually originally named it Le Royal Danieli which he thought gave a more glamorous ring to it! :)
When turning the palace into the hotel, great care was taken that its artistic beauties and historic details stay preserved.
That's why even today we can admire Danieli's frescoes and stuccos from the 16th and 17th Centuries, as well as the portraits and heraldic shields of famous Venetian families.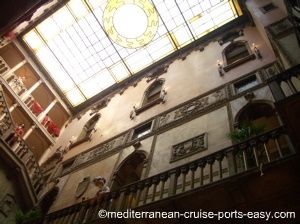 Apart from countless Doges and Senators, Kings and Ambassadors, Hotel Danieli Venice has hosted many a famous person like Charles Dickens, Balzac, Alfred de Musset, Marcel Proust, Johann Wolfgang von Goethe, Richard Wagner and Truman Capote.
More recently, it has had guests like Steven Spielberg, Bruce Willis and Harrison Ford.
Now that you will have seen the Danieli Hotel Venice from the inside too, make sure you share it with your dining-room party that night. I'm telling you, they will go green with envy!
Staying in Venice after of before your cruise? Having an overnight? Check the availability of Hotel Danieli Venice
---
Deals on Hotels and Shore Excursions:
Hotels in Venice - HotelsCombined.com allows you to instantly search and compare room availability and prices from all major travel websites!
Viator Venice Tours and Shore Excursions - Compare prices to the ship offered shore excursions and book your own tours online!
---
RELATED ARTICLES:
---
Like This Page?
---
VENICE ITALY ARTICLES TABLE OF CONTENTS
From HOTEL DANIELI VENICE to Mediterranean cruise ports easy
HOME PAGE