Italy Sorrento Travel - Cruisers' Tips on Getting to Sorrento Italy
"Italy Sorrento Travel - As most ports in the Mediterranean, Sorrento is easy to reach on your own..."
Adequately situated on the famous Sorrentine peninsula, Sorrento Italy is one of the most visited locations in the Bay of Naples.
Being so close to other places of interest in the area, it is very easy to combine Sorrento with at least one more destination… whether it will be Capri Italy, Pompeii Italy, Amalfi or Positano or Naples itself it will all depend on your personal preferences.
And we definitely do suggest you do combine it with at least one more destination, as Sorrento is a smallish town and Sorrento attractions don't really abound… it's more about enjoying the atmosphere: having a coffee on one of the terraces in the main square, enjoying the vistas and great Sorrento Italy weather, tasting a superb pizza…
As with most ports in the Mediterranean, Sorrento is easy to reach either by means of local transportation, through the cruise line organized shore excursions or tours booked online. In this article we will provide you with all the options when it comes to getting to and Italy Sorrento travel.
---
Italy Sorrento Travel from Naples
Most ships will dock in the city of Naples and this will be your starting point for Italy Sorrento travel.
If you're wondering how to get from Naples to Sorrento, here's a few options:
1. ITALY SORRENTO TRAVEL: TAKING A TRAIN – This is definitely the most cost effective way of getting to Sorrento, perfect for those who don't mind venturing out into ports of call and interacting with the locals. You can read more about taking a train to Sorrento, cost of the tickets and getting to the train station in Naples in our article Italy Sorrento train.
2. ITALY SORRENTO TRAVEL: TAKING A TAXI TO SORRENTO – Once you get outside of the cruise terminal building in Naples, you will immediately be surrounded by taxi drivers eager to take you for a half-day tour around the Bay of Naples.
Most of them would rather take you to Sorrento, Amalfi, Positano or Pompeii Italy and bring you back than just one way to Sorrento.
Although you will be quoted anywhere between 60-100 Euros for a one way ride to Sorrento, to them it's still not worth losing the time if they can get you on a half-day tour and rip you off for it. So, it will be virtually impossible to find a taxi driver willing to take you to Sorrento only.
If, for some reason, a one way ride to Sorrento is still all you want, you might have more luck with the regular taxis you can hail, not inside the cruise terminal area, but on the main road.

For more information see the Naples Italy Map of the cruise terminal area.
Considering it really is better to combine Sorrento and one of the other popular destinations in the Bay of Naples, we suggest you check this private transfer from Naples to Sorrento and Amalfi coast. At 120 euros for a group of three, this is a fantastic deal!
3. ITALY SORRENTO TRAVEL: NAPLES TO SORRENTO FERRY HYDROFOIL – Taking a ferry hydrofoil from Naples to Sorrento is quite enjoyable and exciting as you will have great views of the Bay of Naples and Vesuvius Volcano from the sea. Read about how to go about taking a hydrofoil to Sorrento in our article Sorrento ferry.
4. ITALY SORRENTO TRAVEL: BOOKING A PRIVATE SHORE EXCURSION ONLINE When booking private tours online you definitely get more flexibility with regards to the itinerary than with the ship shore excursions, an authorized guide that will treat you like royalty and the more people there is in your party, the price drops considerably! Most of these will include more than just Sorrento in their itinerary.
5. ITALY SORRENTO TRAVEL: TAKING A CRUISE LINE ORGANIZED SHORE EXCURSION TO SORRENTO – If you like to play it safe, then you should take one of the ship's organized shore excursions to Sorrento. Interaction with the locals will be minimal as you will be surrounded by your fellow cruisers most of the time, there is no flexibility when it comes to the itinerary and times spent at certain stretches of the trip, but you are guaranteed the ship will not leave without you.

---
Italy Sorrento Travel: Ships anchoring in the Bay of Naples in front of Sorrento
If you are taking a Mediterranean cruise on one of the smaller luxury ships, your ship might be anchoring in front of Sorrento. In that case, you will take the ship's tender boats ashore.
Your ship's tenders will land in the area called Marina Piccola, which is the port of Sorrento from where hydrofoils and ferries to Capri Italy, Naples and Positano leave.
If you wish to visit the town itself and visit some of the Sorrento attractions or take a train further to Pompeii Italy, Herculaneum or Naples, you will need to get to the top of the Sorrento cliff, which is where they are situated.
To reach the top of Sorrento Italy cliff you can either: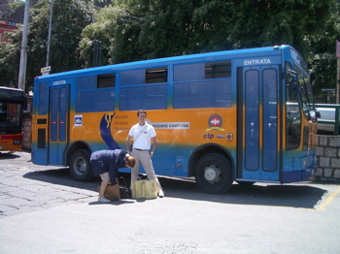 Take a small orange town bus. The port bus stop/pick-up is on a little square just a few steps from the docks of Marina Piccola.
You will get your €1 tickets in the little kiosk by the square. The only problem is these buses don't follow any particular timetable.
They leave when they fill up so you can wait for 10-15 minutes before your bus leaves. The ride up to the top of the cliff (get off at the second stop for Piazza Tasso, the main square of Sorrento, one of the Sorrento attractions) takes only about 5 minutes.
If Sorrento is the point of departure for your daily shore excursions in the Bay of Naples, take a look at some fantastic tours you can pick from:

Deals on Hotels and Shore Excursions:
Hotels in Gulf of Naples - Planning to stay in or around Naples? HotelsCombined.com allows you to instantly search and compare room availability and prices from all major travel websites!
Viator Bay of Naples and Amalfi Coast Tours and Shore Excursions - Compare prices to the ship offered shore excursions and book your own tours online!
---
Like this page?
---
RELATED ARTICLES:
SORRENTO ITALY ARTICLES TABLE OF CONTENTS
From ITALY SORRENTO TRAVEL to Mediterranean Cruise Ports Easy
HOME PAGE