Lindos Rhodes Greece photos
If you are headed for a Mediterranean cruise and Rhodes town is one of your ports of call, you must be wondering how to plan your time-limited day in port.

Apart from Rhodes Old town and its numerous sights, museums & mysterious streets which can easily keep you busy for the whole day, there are also the Rhodes beaches to enjoy and the little quaint town of Lindos on the eastern side of the island to see.

Here's some photos from one of our visits to Rhodes that might inspire you to visit this little town.
Whether you take a taxi, rental car or one of the ship's organized tours, it's always worth putting aside a couple hours to visit Lindos town.
Lindos town is a nice mixture of typical Greek white washed houses and mysterious medieval streets and houses. This is the view of the town from the Lindos Acropolis.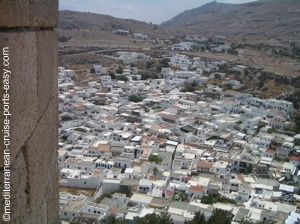 View of Saint Paul's Bay on the other side of Lindos and the Acropolis. This is where the Apostle took shelter during his travels. If you are here with a taxi or a rental car, you can always stop by for a little dip before you return to Rhodes town or the cruise ship dock.
The big blue of Rhodes... view from the Lindos Acropolis.
Byzantine cross detail at the entrance to the church of the Panagias in Lindos, Rhodes, Greece.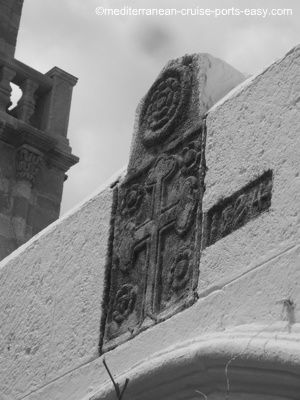 Detail of a door entrance.
As you walk up to the Acropolis, you will pass by the ladies selling hand made table-cloths.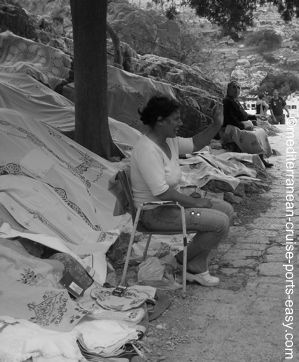 Another view of Lindos town from the way up to the Acropolis.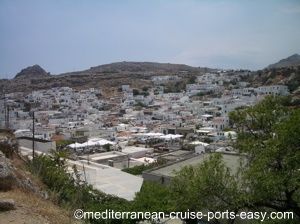 Church of Panagias bell tower...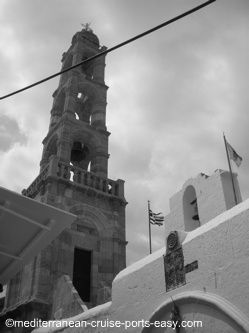 There is no lack of souvenir shops along the narrow streets of Lindos town.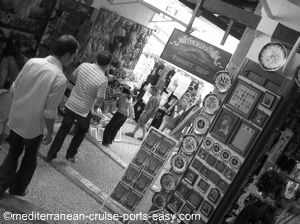 View of Lindos harbor and Lindos beach at the foot of its Acropolis.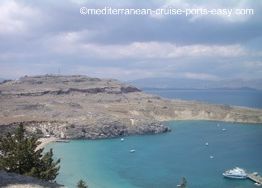 Lindos town souvenirs...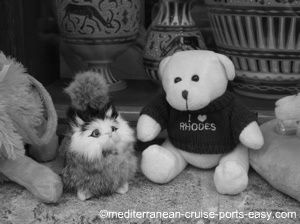 More souvenir shops in shaded streets.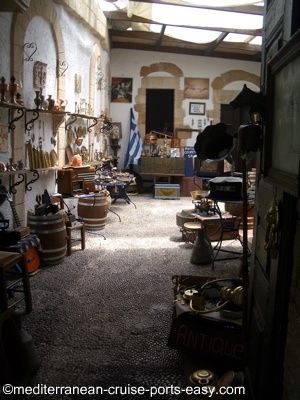 Typical black and white pebble mosaics, the so called choklakia, that you will see along Lindos streets and especially adorning house or shop entrances.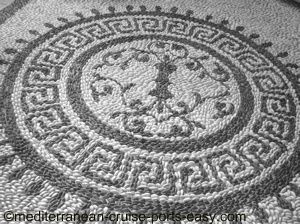 Shopping for postcards on the streets of Lindos Rhodes Greece...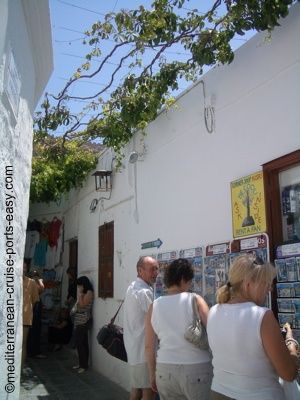 RELATED ARTICLES:
From LINDOS RHODES GREECE to HOME PAGE