Top 5 things to do in
St Mark's square

"When you get tired of the heat, people and pigeons in the central part of St Mark's square, walk under its shady colonades..."

As a Mediterranean cruiser, your time in St Mark's square may be limited but you can easily combine the following 5 things to do in a short period of one hour…
We know, they are all very touristy but hey… you don't come to Venice every day, and on your first visit to Venice you simply have to check them off your list.
As mentioned on the previous page on Piazza San Marco, the best time to hang around the square is when the square is not so crowded.
That would be earlier in the morning (before shops and cafes open at 10 am) and later in the afternoon.
From 10:30 am to 3 pm, try to branch out from St Mark's square and avoid the biggest crowds.
---
1. Pose for photos in St Mark's square
It's a must. Put that camera into the hands of your friends or family and fix a big smile on your face.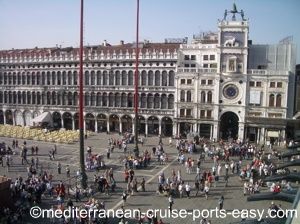 You are at one of the most famous spots in the world and you need to have some kind of proof you were there. :-)
Don't be shy, as you'll be just one of the hundred or so people probably doing it at the same time: kids posing with the pigeons, couples kissing to create their own piece of history, teenagers jumping in the air to be caught in a moment…
---
2. Walk under the colonades in St Mark's square
When you get tired of the heat, people and pigeons in the central part of St. Mark's square, walk under its shady colonades.
If you're not in a rush, join the train of tourists milling around as impatient waiters try to cut through with steaming cappuccinos on their trays.
---
3. Listen to the duels of the St Mark's square café orchestras
Sometimes it literally feels that's what they are – duels.
As if they are competing which one is going to be louder and attract more listeners.
Which one is going to play a catchier tune, the one that people can clap to and attract attention of even more passers by.
Although listening to the orchestras play is free, many people will decide to sit down in one of the oldest cafes in the world and really savour the atmosphere.
4. People watch over a cup of coffee in St Mark's
Be warned… whether it's in café Florian, Quadri or Lavena, it will probably be one of the most expensive cups of coffee ever, but it is so worth it.
At least once in a lifetime. When you look at the prices on the menu remember to add the music charge if you're sitting outside in the square or under the arcades.
Yes, next time you will maybe go inside the café and have your espresso standing up at the bar (no service or music charges) but for now… you have to experience it sitting right there in the square.
5. Window-shop and shop in St Mark's square
Stores around St. Mark's square are where Venice shopping starts… from luxurious jewelry, famous watch brands, art work, Murano glass and the finest lace, it's all right there, waiting for you to commemorate your stay in Venice with.
What NOT to do in St Mark's square in Venice, Italy
I know, it sounds funny that there's actually things that shouldn't be done in St. Mark's square but it's true.
When walking around the piazza San Marco, you will probably see the signs on activities that have been banned, and we're listing a few of them:
1. FEEDING PIGEONS – At the moment, this is probably the #1 no-no activity in St. Mark's square in Venice. I know, I know… you've seen it so many times on TV and in travel magazines: smiling tourists holding a little bit of corn in their hand and an avalanche of pigeons flying down on their hands and head.
But sorry, since May 1st 2008 this activity has been officially banned in an attempt to lower the number of pigeons in the city.
Since that day, official vendors selling corn in the square have been banned too. You can try and feed the pigeons with something else but you can face a hefty fine if caught!
At the moment there are about 120 000 pigeons in Venice and that's twice the amount of people.
The main reason why the city is trying to lower pigeon numbers is because they are becoming too expensive for the tax payers.
Namely, the pigeons are eating away at the city's marble statues, the building facades and mosaics in search of food blown into little nooks and crannies, and their cleaning and restoring has become way too expensive.
2. PICNICKING – this is another thing not welcome on St. Mark's square. We know it's very convenient to sit on the stairs that encircle the piazza, take a sandwich out, rest your tired feet but… it's not a welcomed activity in Saint Mark's square!
---
Deals on Hotels and Shore Excursions:
Hotels in Venice - HotelsCombined.com allows you to instantly search and compare room availability and prices from all major travel websites!
Viator Venice Tours and Shore Excursions - Compare prices to the ship offered shore excursions and book your own tours online!
---
RELATED ARTICLES:
Like This Page?
---
VENICE ITALY ARTICLES TABLE OF CONTENTS
From ST MARK'S SQUARE to Mediterranean cruise ports easy
HOME PAGE