Turkish Souvenirs to Buy in Kusadasi
"Kusadasi souvenirs: learn how to take care of all your friends and family back home."
After you have taken care of yourself when it comes to Kusadasi shopping and stocked up on Turkish rugs, leather, jewellery and ceramics, it's time to take care of all your friends and family!
One great thing about Turkish souvenirs you buy in Kusadasi is they will be very different from your regular Made In China souvenirs that you often pick up in other parts of the world. You know what we mean… they all look the same it's just that the logo is different.
Another great thing is, when shopping here, you can take care of everyone… your sister's newborn baby and your aunt Mabel, your co-workers and your next-door neighbour.
So what are some typical Turkish souvenirs and what to buy in Turkey, you must be wondering.
---
Turkish Souvenirs: Turkish Kilim Rugs
Of course, when you're getting a Turkish rug for yourself, you will go with a nice wool or silk rug. But Turkish kilim rugs are a perfect gift for anyone back home that just bought their first home, someone who is redecorating an old one or even your kids who just moved to college and need something to personalize their dorm room with.
They are not just something made en masse the other day in a factory, and this fact will add to the value of your gift.
They come in different sizes and can be used in numerous ways: they can be thrown on the floor, used as sofa covers, hung up on the wall… another one of our favorites is old donkey grain/salt bags made in the kilim technique.
As they have two big pockets on them, we love to use them as newspaper/magazine/TV remote holders when thrown over the sofa or hung up on doors.
Find out more about what the difference is between a Turkish rug and a kilim in our article Turkish kilim rugs.
---
Turkish souvenirs: Leather Items
After you have raided the leather stores in Kusadasi for yourself, think of everyone back home: get a leather belt for your uncle, a wallet for your sister and knock-off logo bags for all the teenage girls in your family. They will love you for it!
---
Turkish Souvenirs: Spices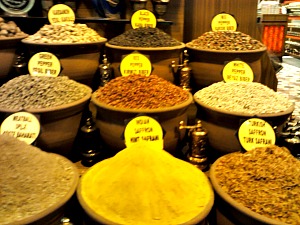 As you walk through the labyrinth streets of Kusadasi, you will come across shops selling colourful packs of different spices and herbs.
From clove and cinnamon to turmeric, peppercorns, vanilla, lemon salt, mint, cumin, oregano, coriander and dill, they are a great gift for someone who loves to try out different aromas in their cooking.
Or it could even be a great gift for yourself, if you're planning to invite your friends over for a Turkish night and dinner in honour of your new rug.
---
Turkish Souvenirs: Ceramics
Turkish ceramics are mesmerizing: with their colours and rich ornamental motifs, no woman that loves home decorating can walk out of the store without getting at least one piece.
When shopping for yourself and your home it's recommended you get museum quality plates, bowls or tiles. But when it comes to gifts and souvenirs, you can always get cheaper version ceramics, that the streets of Kusadasi are full of.
Your friends won't really know the difference but will appreciate a gift that is so different from anything they can see back home.
---
Turkish Souvenirs: Turkish Delight
In Turkey, sweets have been an important and distinctive element of Turkish cuisine since Ottoman times!
They also have an important social and ritual function.
For instance, Helva, a famous type of confection is offered on the occasion of major changes in peoples lives: a birth, a death, introduction into the army, settling into a new home, enrolling in and graduating from school etc.
Sweets are also connected with religious holidays: one of the most important Islamic holidays is the month of Ramadan, when no food or drinks are consumed after sunrise or before sunset! But, that's why elaborate deserts are prepared to be had for the sundown meals!
If you have, as a kid read C.S. Lewis' "The Lion, the Witch and the Wardrobe" you will remember that it was Turkish Delight that The White Witch tempted Edmund with!
To find out more about it read our article What is Turkish Delight?
---
Turkish Shopping: Turkish Apple Tea
Along with Turkish coffee, Turkish apple tea could be called a national Turkish drink!
Just like offering a cup of coffee, offering a cup of apple tea is a sign of friendship and hospitality!
So, again, if you get offered a cup at a rug demonstration after your Ephesus tour in Kusadasi, accept the offer!
To learn more about what's so special about it, read our article Turkish apple tea.
---
Turkish Souvenirs: Turkish Evil Eye Beads
Whether it comes in the form of a charm, a fridge-magnet, a set of beads in a bracelet or combined with precious metals and stones, the evil eye is, contrary to its ominous name, the strongest good luck symbol not just in Turkey but in the whole of the Mediterranean!
Find out more about it in our article Turkish Evil Eye.
---
Turkish Souvenirs: Turkish Coffee
For someone living in the eastern Mediterranean area, Turkish coffee is an every day occurrence. That's what is considered REAL coffee, as opposed to all these powdered instant coffees so often consumed in other parts of the world.
But when someone from the other part of the world comes to visit, for them, having a cup of this coffee can be quite a shock.
First of all, this coffee is very, very strong… second, they have no idea what to do with all this ground coffee that settles at the bottom of their cup.
But trust us, once you learn to appreciate the taste and authenticity of Turkish coffee, you won't go back to that artificial stuff you might be drinking right now.
Getting coffee to make this kind of coffee isn't a problem really anywhere you go in the world: it can be any Arabica coffee as long as it's very finely ground.
But it's important to have a real, preferably copper-made, Turkish coffee pot. You will have a chance to get one of them in most souvenir stores in Kusadasi.
To learn more about Turkish coffee read our article How to Make Turkish Coffee.
If you are looking for a reputable tour agency and guide that would be your host in Ephesus and Kusadasi and get you to the best shopping places, check our page Daily Ephesus Tours.
Kusadasi Hotels and Shore Excursions:
Hotels in Kusadasi - Planning to stay in Kusadasi to explore Ephesus even more? HotelsCombined.com allows you to instantly search and compare room availability and prices from all major travel websites!
Magical Steps Travel - this is a five star private tour provider for Kusadasi and Istanbul. Check out why they have a 100% guests' satisfaction guarantee and Trip Advisor's certificate of excellence for many years in a row now. 
Like Turkish Souvenirs Page?
---
Pages related to Turkish Souvenirs:
Home

›
Kusadasi Tours – Cruise Kusadasi
› Turkish Souvenirs