What is Turkish Delight?
"What is Turkish Delight: Pink, green, brown or yellow and dusted with flour or icing sugar... they are a real magnet for the eyes and make your mouth water. "
Wondering what Turkish Delight or Rahat Lokum is?
When you come to Turkey, it won't be possible not to notice these colourful little jelly-like cubes you will see everywhere.
Pink, green, brown or yellow and dusted with flour or icing sugar... they are a real magnet for the eyes and make your mouth water.

---
What is Turkish Delight: What is Rahat Lokum made of?
Rahat Lokum is a confection usually manufactured from starch and sugar, often flavoured with rosewater, cinnamon, mint, mastic or lemon. Additionally, chopped hazelnuts, dates, pistachios or walnuts, are mixed in to make it even more rich and tasty.
---
What is Turkish Delight: History of Rahat Lokum
There is actually a very interesting story connected to the creation of the Turkish Delight.
It was in the late 1700s that the confectioner to the Imperial Court in Istanbul, Ali Muhidin, one day heard the Sultan complaining about all these tough-as-nails candies he was having. He was sick and tired of breaking his teeth on them.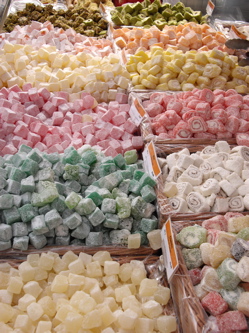 The confectioner was determined to impress his Sultan so he rushed off to his shop and he thought up a recipe: he mixed water, sugar, corn starch, cream of tartar and rosewater, poured it into a pan and let it set for a while.
He sprinkled it with powdered sugar, cut it into little chunks and offered them to his Sultan.
As the Sultan bit into this novel desert, his face lit up… the candy was soft and easy to chew. From then on, the confectioner was in his good books.
Thanks to this royal approval, Rahat Lokum became an instant hit and in Istanbul, you can still buy it 250 years later in the shop of the Imperial confectioner Ali Muhidin Haci Bekir!
Today, there's Turkish Delight made with walnuts, pistachios, oranges, or chocolate but the plain rosewater original is still a favourite!
---
Turkish Delight: Where to get Rahat Lokum?
Turkish Delight is definitely one of the Turkish souvenirs to buy in Kusadasi.
You will find it in many souvenir stores around Kusadasi, already cut into little bite-size chunks and boxed up, ready to take home to friends and family. Try to avoid those sold on the outside stalls as they may have been displayed in the sun for some time.
You can also buy Rahat Lokum freshly made, sold by the piece, if you want to eat them immediately! Enjoy!
If you are looking for a reputable tour operator and a private tour guide in Kusadasi to be your hosts in Ephesus and direct you to the best places to buy souvenirs, check our page Daily Ephesus Tours.
---
Kusadasi Hotels and Shore Excursions:
Hotels in Kusadasi - Planning to stay in Kusadasi to explore Ephesus even more? HotelsCombined.com allows you to instantly search and compare room availability and prices from all major travel websites!
Magical Steps Travel - this is a five star private tour provider for Kusadasi and Istanbul. Check out why they have a 100% guests' satisfaction guarantee and Trip Advisor's certificate of excellence for many years in a row now. 
Like Turkish Delight Page?
---
Pages related to Turkish Delight:
Home

›
Kusadasi Tours – Cruise Kusadasi
› Turkish Delight