We have chosen a little selection of Rhodes images of the Rhodes Archaeological museum for you.
Situated in the medieval Knights' Hospital, this museum is a must-see for two reasons: for its exhibition of archaeological finds from all periods of Rhodes history and secondly, the ambiance of this amazing and mysterious stone building.
These Rhodes images don't do it justice really, so make sure you visit the museum once in Rhodes.
We're going to show you the outside courtyard which is interesting as it is, and we'll keep the actual exhibitions for you to discover! Enjoy!
The Rhodes Archaeological museum courtyard is surrounded with a two-storey colonnade behind which are porticos. Great spot for taking photos!
In the courtyard you will see medieval stone statues like this Hellenistic lion, and catapult projectile balls which are left over from at least a dozen sieges that Rhodes has experienced in its turbulent past.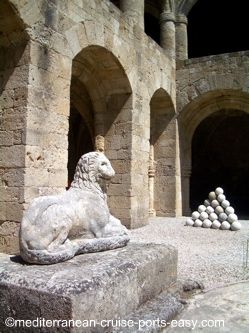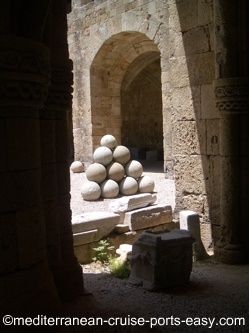 Walking along the cloisters around the courtyard of the Archaeological museum you will see different inscriptions, funerary stelae and other fragments of ancient and medieval stone sculptures and architecture.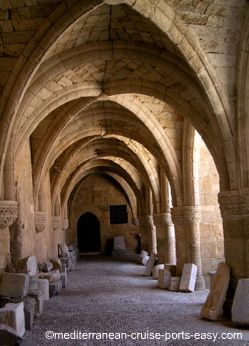 There is also a smaller courtyard which houses funerary monuments. This particular one is a reconstruction of a tombstone in front of a small temple housing a trophy.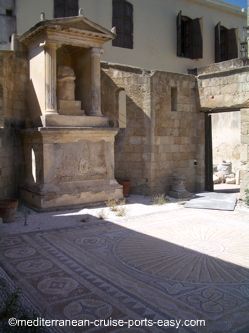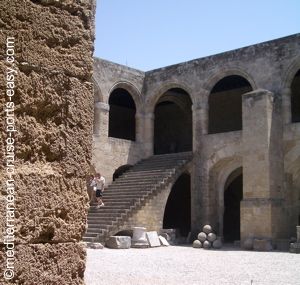 This early Christian mosaic is best seen from above, from a terrace which can be accessed from one of the rooms on the first floor of the Archaeological Museum.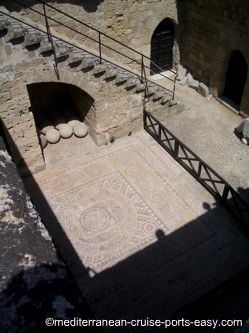 The Refectorium is the biggest room on the first floor of the Rhodes Archaeological museum. Although there aren't many or any important finds to be seen here, simply enjoy the mystic atmosphere.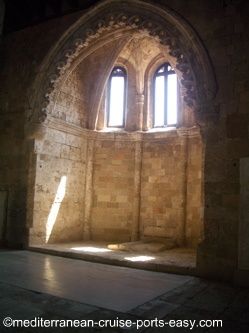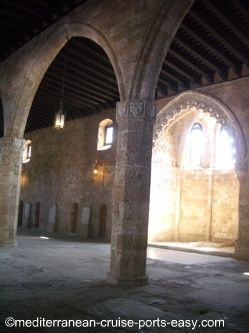 RELATED ARTICLES:
From RHODES IMAGES to Mediterranean Cruise Ports Easy
HOME PAGE
Join us on Facebook!
Head on over to the Mediterranean Cruise Ports Easy page on Facebook and become a fan.
You will receive notices whenever something new is added to the site and never miss a thing!
Feel free to leave comments on the page and interact with other fans, Post your photos and any other links that might interest our visitors too!
See you on Facebook!