Basilica Di San Marco - tips and tricks when you cruise Europe
If you do decide to see Basilica di San Marco from the inside, the length of your visit to it will depend on a few factors...
How to get to Basilica di San Marco in Venice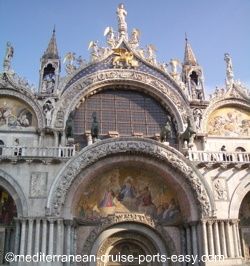 Basilica di San Marco is placed right downtown Venice, in St. Mark's square. You'll easily recognize it if you approach Venice by water, by its big cupolas.
You have a few options when reaching St. Marks basilica from Venice port:
If you are staying in Venice after your cruise and want to see the basilica after dropping your luggage off at the hotel check the Viator's water taxi boat transport in Venice for a hassle free delivery to the Hotels in Venice.
Planning your time for a visit to Basilica di San Marco
Being a cruise ship passenger, with only a day or two in Venice, you may be a bit limited with time.
So after you've shot the life out of this stunningly beautiful structure (by the way, have you ever noticed how many pictures we sometimes take but when we show them to our friends back home, to them it's just "more of the same"? It's so hard to actually capture the essence of something so beautiful!)… you can go about seeing the basilica in two ways:
enjoy it only from the outside and leave exploring it from the inside for some other time

take an hour of time and see it from the inside too.
If you do decide to see it from the inside, the length of your visit to the Basilica di San Marco will depend on a few factors:
1. Length of the line - there always is one. Especially if you're visiting in high season (April to October). Sometimes going as far as the middle of the Piazzetta San Marco. Except maybe very very early in the morning. An average wait is about 15 minutes.
2. Whether you only want to visit the free-of-charge part of the church – the main part of the church where you will see the mosaics and marble floors.
3. Or… you want to visit the 3 different museums inside. There will be a couple of Euro charge to enter each one of them.
4. You really want to learn all you can from a professional guide and book one of the Viator Basilica di San Marco Tours online.
MONEY SAVING TIP:

In high season, from April 1st to October 31st, it is possible to pre-book your entrance to Basilica di San Marco.

Know your exact time of visit (take into account your possible cruise line shore excursions on that day, their duration time and place of drop off), how many people will be joining you and pre-book your visit here.

Reservations can be made up to 10 minutes ahead of your visit.

You can book for up to 5 people. If there's more people in your party, simply make multiple bookings.

There is a € 2,00 fee for this service for each ticket and €0,70 per ticket for Religious Groups and Organized Tours.

Print out your voucher and present it at the door of Saint Pietro, which is just to the left from the main entrance to the Basilica.

Officially, you are only allowed to visit the Basilica for 10 minutes with the pre-booking voucher but no-one has ever been kicked out for going over that time, so consider it just a tip, not a severely enforced rule.
Basilica di San Marco: tickets, fees and cost of entering St. Marks Basilica
However, there are 3 separate museums incorporated into the building
and the charges to enter them are as follows:

The Treasury: €2 (includes the audio guide but you need to inquire about it)
Golden Altarpiece (Pala d'Oro) - €2
San Marco Museum - €3
Basilica di San Marco: General tips
As in any other church in the world, it is recommended that visitors respect this sacred place:
Your clothes must be appropriate - your knees and shoulders should be covered

You cannot enter with big pieces of luggage/backpacks – it is very unlikely you'll have any, as a cruise ship passenger.
But, if you happen to have any with you, make sure you check it in first before standing in line for 15 minutes for nothing! The bag check is in a different location, Ateneo S. Basso.
Standing facing the Basilica San Marco, go round its left corner, across the piazzetta with the lion statue, and then first street to the left, Calle San Basso 315A.
No filming and photos are allowed
No loud explanations are allowed
Be aware of pickpockets!
You can read more about St. Mark's Basilica on the Basilica di San Marco official website.
If you would just like to relax, learn more and have some fun with the locals, check these tours before booking your shore excursions online: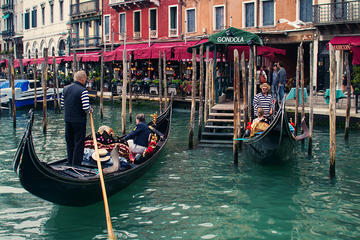 Highlights: Seeing all the Venice attractions in one day, small intimate groups, all the tickets and a gondola ride included!!!
Duration: 7hrs 30min
Departure Point: Central Venice
Meeting Time: 9:15 AM
Departure Time: 9:30 AM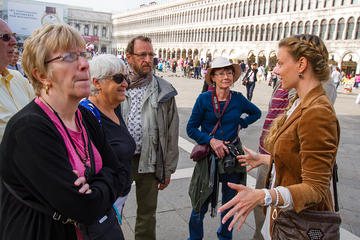 Highlights: Getting to know both the touristy highlights and the authentic neighbourhoods of Venice, exploring by both walking and gondola ride
Duration: 3 hours
Departure Point: Central Venice
Meeting Time: 9:15 AM
Departure Time: 9:30 AM
Highlights:

A look at iconic sights of Venice in a very short time, can be upgraded to involve the water taxi ride down the Grand Canal or seeing the Doge's palace

Duration: up to 3,5 hours
Departure Point: Central Venice
Departure time: 9:00AM (be there strictly 15 min before)
Afternoon Departure time: 1:30PM – Only Sundays (be there strictly 15 min before)
---
Deals on Venice Hotels and Shore Excursions:
Hotels in Venice - HotelsCombined.com allows you to instantly search and compare room availability and prices from all major travel websites!
Viator Venice Tours and Shore Excursions - Compare prices to the ship offered shore excursions and book your own tours online!
Custom Search
---
RELATED ARTICLES:
---
Home

>

Cruise Venice

> Venice Honeymoon
Like Basilica di San Marco Page?