Canals of Venice - how to explore them and where to get the best photos
We think the most exciting thing about the canals of Venice is that they catapult us out of our day to day life, they stir up our imagination…
Even if it weren't for the canals of Venice, this city would still have had it all: lace-like palaces, winding streets, magnificent churches, a never ending list of museums, charming campos, old-world hotels… having all of those would have been enough to make her a top world attraction already.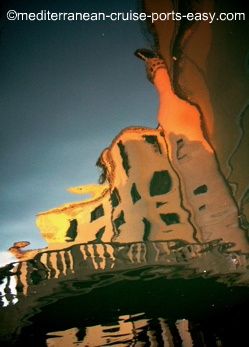 But then, on top of all that… it's ALSO got the canals! When God was giving out blessings, this city must have been the first one in line.
So, all of those… the museums, churches, palaces… can be enjoyed floating on the canals of Venice.
We think the most exciting thing about the canals of Venice is that they catapult us out of our day to day life, they stir up our imagination…
In our real life we ride a car to do our weekly shopping, take the metro or local bus to go to work, take a taxi to get from point A to point B downtown.
On the other hand, in Venice, where streets are replaced with over 150 canals everything is so much more romantic and out of this world! It makes us feel like kids again! Yippeeee! We're taking a boat ride!
A gondola, a vaporetto, a water taxi, a traghetto… there's even different ones we can choose from! A really slow one, or a really fast one that makes us feel like in an action movie, or one that someone will row just for us!
But although we might see them as a tourist attraction, the canals of Venice are something the locals take for granted, and getting around in boats is a necessity of life: the police use boats, the ambulance, the mail man, garbage is picked up by boats, boats are even used for funerals…
So don't get surprised when your romantic gondola ride on the Venice Grand Canal gets disturbed by one of those motor boats rushing past… they're just trying to get somewhere and get there fast!
DINING ROOM TABLE TID-BIT: THE CANALS OF VENICE FACTS
There are about 150 canals in Venice
There are 400 bridges in Venice
Depth of the canals: 10 – 15 feet
The biggest canal: Canal Grande
---
Best ways to experience canals of Venice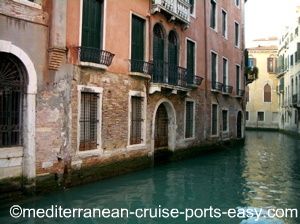 Taking a boat ride is one way of experiencing the canals of Venice. But actually, they can be equally experienced by foot! And we don't need to spend a penny for it!
To experience the smaller canals, simply get lost in any of the districts of Venice. Try and get away from the usual touristy paths and into smaller alleyways and dead ends. They are easy to reach from the cruise terminal on foot, especially if you use the Venice people mover.
Notice the little docking areas where, in the past, house owners would park their boats just like you park your car in front of your house. From there, they would step right into their homes.
Notice the windows and old facades, listen to the quietness… until suddenly there's a gondola oar splashing from round the corner.
---
How to experience the Grand Canal for free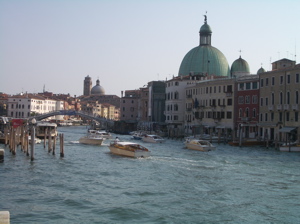 The Grand Canal is the most impressive of all the canals of Venice.
Being the widest and most commonly used waterway of Venice, it was the perfect place for the noble families to show off their richness. They flanked it with more than 170 multi-colored palaces from the 13th to 18th Century. In the past, if you had your home on it – you were big!
Being so beautiful, for someone cruising to Venice Italy for the first time, it can be a bit disappointing that it hasn't got any walkways!
So if you're hoping to walk, shop and romance on the shores of the Grand Canal – it won't be possible.
There are only a few openings that allow you to walk to the canal itself. It's mostly flanked by palaces whose facades directly border the water.
That's why, if all you want is to quickly take some nice photos of the Grand Canal and its lavish palaces, and you don't have time for a boat ride, it's best done from one of its bridges. The ones that will give you the best vistas are the Rialto Bridge and the Academia bridge.
You can find out more about taking a boat ride down the Grand Canal, about Venice bridges and how to reach them in the articles listed below.
If you would just like to relax and have someone else organize your ride down the Grand Canal, book one of the online tours offered by Viator. Here's our choice of a few...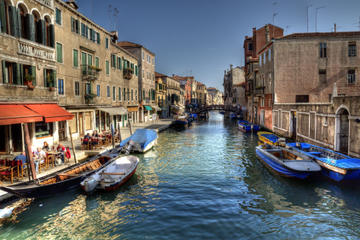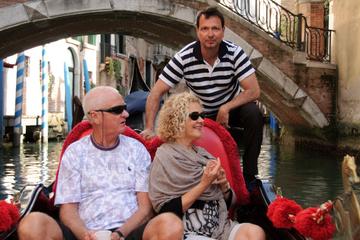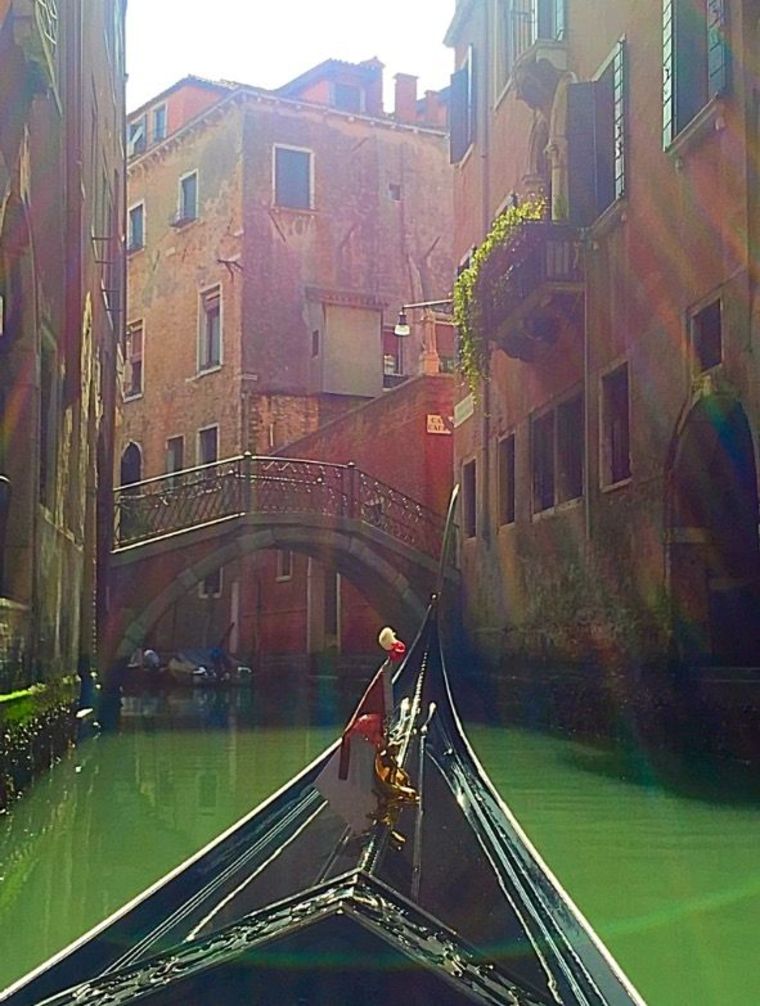 ---
Deals on Hotels and Shore Excursions:
Hotels in Venice - HotelsCombined.com allows you to instantly search and compare room availability and prices from all major travel websites!
Viator Venice Tours and Shore Excursions - Compare prices to the ship offered shore excursions and book your own tours online!
---
RELATED ARTICLES:
---
Home

>

Cruise Venice

> Venice Honeymoon
Have A Great Story About This Topic?
Do you have a great story about this? Have you been to this port of call? Have tried out any of the shore excursions I recommend? Do you have any tips that might help your fellow cruisers? Share them with us!