Florence Italy Sights for Cruisers – Top 10 Florence Tourist Attractions and Things to Do
"Being docked at the cruise ship dock in Livorno, getting to Florence Italy Sights and back will take at least 3-4 hours of your day so and you can expect about 4-5 hours net time in Florence for sightseeing, shopping and tasting the local specialties..."
It would be ideal to have at least a week to experience all of the top Florence Italy sights: the museums, the galleries, churches, gardens and squares. However, with some good planning, it is possible to visit and get a good idea of many of them in a day, too.
To make it easier for you, here at Mediterranean Cruise Ports Easy, we have provided a list of our top 10 Florence Italy attractions.
Some of these sights do take a bigger portion of time to see and they are not recommended for those visiting Florence for the very first time as cruise guests. Rather leave them for your next visit to Europe and focuse on those that are easy to enter and see as you walk around.
Being docked at the cruise ship dock in Livorno, getting to Florence and back will take at least 3-4 hours of your day (depending whether you are getting there by bus, train, taxi, your cruise ship's shore excursion or your private tour) and you can expect about 4-5 hours net time in Florence for sightseeing, shopping and tasting the local specialties.
That's why, for you first time cruisers to Florence, read our article on What to do in Florence in a Day and you will learn what the things to see in Florence are, how to organize your day and get the maximum out of it in just 5 hours!
Those who visit Florence once are very likely to return to it again. That's why it's no wonder that many Mediterranean cruise guests have been to Florence once or twice before and have seen some of the major things to see in Florence already.

They will be in a position to focus on particular sights like the Uffizzi Gallery or the Accademia more and check off the list of other top Florence Italy sights they might have missed first time round (keep reading if you are visiting for the first time and still want to see these two, we have a soulution for you!)
---
1. Uffizi Gallery – Galleria degli Uffizi - situated inside what once used to be offices for the Florentine magistrates, Uffizi is one of the world's oldest and most famous art museums and one of the most famous Florence Italy sights.
Everyone would love to see it but maybe it's not the best choice for your first time ever visit to Florence. Before you go ahead booking your tickets, decide on the means of transportation to Florence.
Are you taking a bus from Livorno? Your time in Florence is definitely too limited to go to the Uffizi. You'll be better off walking the town and enjoying the atmosphere outside, in the squares and streets.
Taking a train to Florence? Well, that may give you half an hour more than taking a bus but still not recommending spending any of your limited time on the Uffizi.
Taking a private tour or a taxi? That will give you most time in Florence but still, know exactly what you want to see in the Uffizi ahead of time so you don't just aimlessly walk through rooms and rooms full of Renaissance art! Booking your tickets ahead is a must in any case (you would wait for hours without them).
If you still really insist you wanted to see both Pisa, and the beforementioned galleries in Florence, this private tour below is your best bet to do it all in a day (and they will even pre-book tours for you!): 
---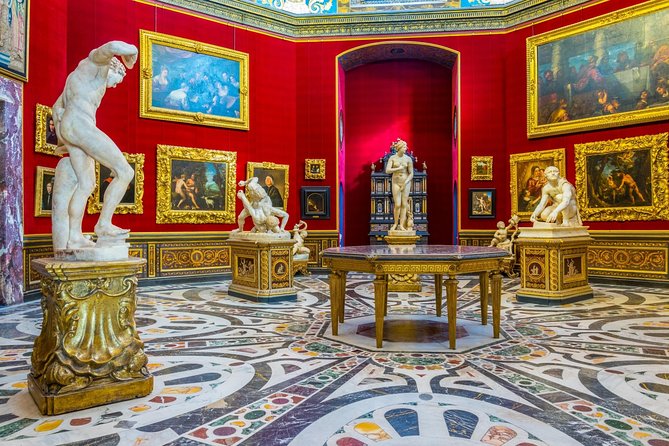 This 8 hour tour that caters to cruisers (and gets you back onboard on time) offers you:
a quick visit to Pisa
travel to Florence and a stop at Piazza Michelangelo (the best view of Florence from a hill just outside the town!)
a pick-up and drop-off at the ship
skip-the-line pre-tickets (reservation) to either one of the museums (you will pay for them at the museum)
private guidance around the town of Florence and it's must-see spots!
Keep in mind that getting the museum tickets is subject to availability, so book this tour ahead (we're talking at least a month ahead!)
Just keep in mind: museums are closed on Mondays!
---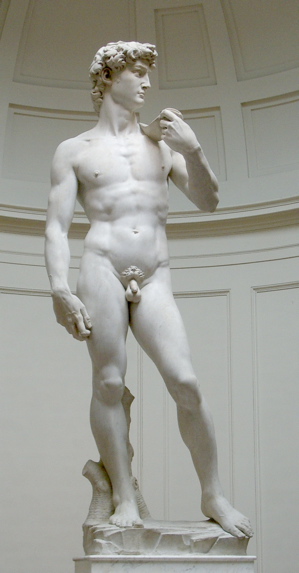 2. Galleria dell' Accademia & Michelangelo's David – this is usually the second thing to tick off on your "to see list in Florence". Just like with the Uffizzi, do it only if you have your tickets pre-booked.

The Accademia started as the first academy of drawing in Europe and later grew into a more general academy of arts and was christened the Accademia di Belle Arti.
It became the home of Michelangelo's David in 1873 when the statue was moved from its first position in Piazza della Signoria.
Just like the Uffizi, it is best recommended when taking a private tour to Florence from Livorno, the one that includes a visit to either Uffizi or Academia. Book way ahead, there are so many ships visiting Livorno each day, you might be left without your tour or the museum tickets may get sold out!
If you want to combine your own transport and just a quick 1-2 hour visit to either of the museums, here's some suggestions:
---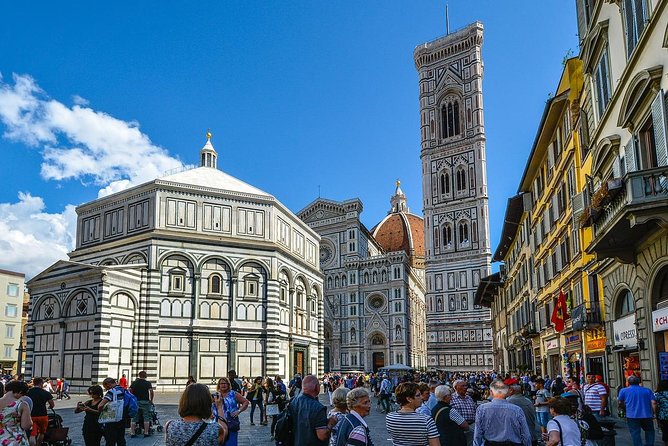 3. The Duomo – Cathedral of the Santa Maria del Fiore – together with the Baptistery and Giotto's Campanille, it is a UNESCO World Heritage site and one of the major Florence tourist attractions. Its dome is the largest brick dome ever constructed. If this is your second visit to Florence you might consider climbing the dome of the campanile to get some nice shots. The quickest way to do it is to book the Skip the line Duomo tour ahead. Otherwise, you might be standing in line for hours!
Here's a few more short visit options you can pick from:
---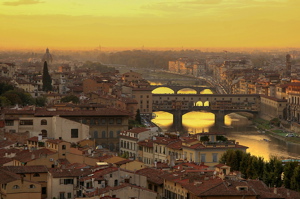 4. Ponte Vecchio bridge – it is the oldest bridge on the Arno river and one of the most romantic Florence Italy sights.
Today, the Ponte vecchio bridge is famous for its glittering gold shops but take some time to take a look at it from the side, too, and admire how the little yellow and orange façade shops overhang its edge.
It is on the way to Palazzo Pitti, home of the Medicis, with the beautiful Bobboli Gardens in the back.
---
5. Pitti Palace and Boboli Gardens – once the home of the Medicis, Palazzo Pitti is a great alternative to the long lines at the Academia and the Uffizi.
And it's only about three-four minute walk from Ponte Vecchio bridge (which is only two minutes walk from the Uffizi).
It houses 5 different museums/collections:
Gallery of modern art

Royal apartments

Silver museum

Porcelain museum

Costume gallery... which could actually give you more satisfaction than visiting and seeing only the Renaissance art in the Uffizi (unless you are an art historian).
Having a walk in the Boboli gardens is a nice alternative to the crowds downtown.
If you are quick and well organised you will have an hour or so to visit it if you are taking an early train from Livorno to Florence or cruisers special bus transfer to Florence and back.
Or you can just combine one of these tours into your day in Florence: 
---
6. Piazza della Signoria and Palazzo Vecchio – you cannot miss these two Florence Italy sights as they are right in the middle of everything… half way between the Ponte Vecchio and the Duomo, Santa Croce Florence square and Academia!
It's always fun to be here with all the entertainers and artists, horse carriages waiting to take you for a ride, tourists taking photos with the original copy of the David.
If this is your second visit to Florence,  you might consider visiting Palazzo Vecchio on the inside.
---
7. Basilica Santa Croce – Santa Croce church is the biggest Franciscan church in the world, is also a resting place of many an illustrious mind born in or around Florence (Michelangelo, Galileo, Machiavelli, Rossini).
It is located in Santa Croce square (about 5 minutes walk from the Piazza della Signoria) and visiting it is a must do on your first visit, so you get to see the church from the outside, for sure.
If you won't be visiting any other museums or galleries or if this is your second visit to Florence, visit the church on the inside, too and enjoy the Giottos frescoes. Here's a few recommendations to maximize your visit:
---
8. The Baptistery of the Duomo– when you manage to turn your eyes away from the Duomo's façade you will see the baptistery right across from it!
Put your shades on as you will be blinded by the relief bronze door that Michelangelo thought was so perfect he said they might as well be "The Gates to Paradise". A must see on your first visit!
Of course, just seeing the door and the building from the outside is free, but if you wish to explore them more in depth, here's a few suggestions:
---
9. Santa Maria Novella – famous for its Leon Batista Alberti façade which is a Renaissance art masterpiece, it is a must, especially for those arriving from the train station.
The complex is also famous for the monks' pharmacy, today turned into a little museum and 400 year old perfume shop you can actually see and shop in.
Don't miss it, it is a unique experience for all of your senses. If you are looking to stock up on some very special and sophisticated gifts from Florence, it's a must even on the first visit.
---
10. The National Museum of the Bargello – although right there, in front of everyone's nose, in Piazza della Signoria, this museum is often times overlooked although it houses sculpture masterpieces by Michelangelo, Donatello and Sansovino.
Located right behind the Palazzo Vecchio, it is an easy find. Easy to get into and a must see if you are a real art lover, even on your first visit.

---
Custom Search
Hotels in Florence - Planning to stay in Florence in future? HotelsCombined.com allows you to instantly search and compare room availability and prices from all major travel websites!
RELATED ARTICLES:
---
FLORENCE ITALY ARTICLES TABLE OF CONTENTS
From FLORENCE ITALY SIGHTS to Mediterranean cruise ports easy HOME PAGE