Rhodes Weather for Cruisers
"Rhodes Weather - find out all about weather in Rhodes Greece and know what to pack before you head for your cruise to Rhodes!"
There are always Mediterranean cruise guests who love to have things under control. They don't necessarily want to wait for the captain's announcements to find out what the weather will be in their next port of call. :)

Or they simply like to know what to pack before they even head for their Mediterranean cruise holidays.
For them, we have prepared a little rundown on Rhodes weather and climate.
The Rhodes climate ensures hot, dry weather in Summer and mild Winters.
Summer in Rhodes (June, July, August, September) is naturally its busiest time with flocks of tourists visiting the island and hitting its sunny beaches.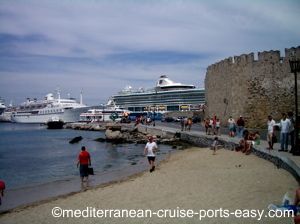 Temperatures rise from May – August, often getting up to the
mid-thirties °C.

It hardly ever rains during Summer, with most rainfall between October – March and up to 140 mm in December and January.
With its 300 days of blue skies throughout the year, you are very likely to have a sunny day during your visit to Rhodes.
Winters are mild, and during the Winter season from December – February it is still mostly sunny with temperatures averaging 12°C - 14°C, however the sea is definitely too cold to enjoy a swim unless you're going to brave it!
So, if all you care about is swimming and hitting a beach, the best time to cruise to Rhodes will be June, July, August and September.
Many people prefer visiting the island in Spring (March/April/May) or Autumn (October/November) when it's a bit cooler, fresher and somewhat more enjoyable. Another plus of visiting during these months is that there are much less tourists.
For a current 10 day weather forecast for Rhodes click here.
Rhodes average temperatures year-round:
January - Max: 12°C (54°F) Min: 5°C (41°F)
February - Max: 14°C (57°F) Min: 6°C (43°F)
March - Max: 16°C (61°F) Min: 7°C (45°F)
April - Max: 18°C (64°F) Min: 10°C (50°F)
May - Max: 26°C (79°F) Min: 15°C (59°F)
June - Max: 29°C (84°F) Min: 17°C (63°F)
July - Max: 30°C (86°F) Min: 20°C (68°F)
August - Max: 31°C (88°F) Min: 21°C (70°F)
September - Max: 27°C (81°F) Min: 18°C (64°F)
October - Max: 23°C (73°F) Min: 13°C (55°F)
November - Max: 17°C (63°F) Min: 10°C (50°F)
December - Max: 14°C (57°F) Min: 7°C (45°F)
RELATED ARTICLES:
From RHODES WEATHER to Mediterranean Cruise Ports Easy
HOME PAGE
Have A Great Story About This Topic?
Do you have a great story about this? Have you been to this port of call? Have tried out any of the shore excursions I recommend? Do you have any tips that might help your fellow cruisers? Share them with us!