Travel to Taormina from Messina - Cruisers' Travel Information, Transportation and Tourist Guide
"Travel to Taormina: Learn how to get from Messina Italy to Taormina to enjoy all the Taormina monuments, shopping and those breathtaking views"
Travel to Taormina is on everyone's mind when planning your day in and around Messina Italy. The good thing is you have plenty of options when it comes to getting from Messina to Taormina and they will satisfy everyone's budget! This cruisers' travel information and tourist guide will help you decide what is the best option for you.
TIP: Before planning your travel to Taormina, check your calendar and what day of the week it is that you call in to Messina. If it's Sunday, your bus and train timetables will be very restricted and you might need to consider other forms of transportation.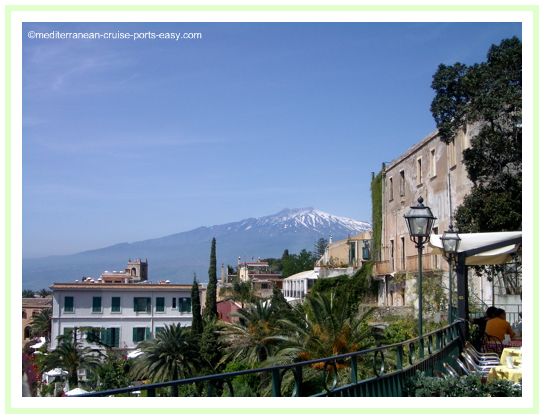 1) Travel to Taormina: Taking one of the independently booked tours.
Taking a tour from Messina to Taormina is great as you will be getting an individual approach!
You and your party will be the super stars for your tour guide who will bend over backwards to make you happy. They love to share little secrets only the locals know and are flexible to your wishes!
Remember that these people's business depends mostly on word of mouth advertising and web mentions, and they will do everything to make you a satisfied customer.
Another advantage is you will be arranging the time that suites you: there's no depending on timetables, no waiting on the bus for your fellow cruisers who are running late… you are completely in charge of the time you are spending in the port of call.
Here's our selections of tours that will get you from Messina to Taormina, but also those that you can take once you reach Taormina by some other means of transport.
---
2) Travel to Taormina: Taking a cruise  organized shore excursion
Just like booking one of the online tours… it's convenient. No need to think or worry about a thing. You get led from the departure lounge on board the ship straight into the hands of your local tour guide, follow the lollipop around, get transported back. Easy peasy. We will leave the decision whether or not you're willing to pay for ship organized tours up to you, as they depend on your budget.
TIP: Taormina is a small place where no one has been lost yet… very easy to get around! Also, there is also a myriad of little winding medieval streets that cry to be explored, antique and souvenir shops are tempting you to succumb to some exciting Taormina shopping, fresh ricotta Canoli cakes are begging to be eaten.
So if you do decide to go with one of the ship shore excursions, our recommendation is to take the Taormina On Your Own tour… it provides safe transport there and back but you have complete freedom to explore all the Taormina monuments and attractions for about 3 hours once you're there!
Also, before taking one of the ship tours check out the tips provided by Marianne Schwab, the famous TV travel producer in her article on Cruise Vacations and Booking Shore Excursions.
---
2) Travel to Taormina: Taking a local taxi.
Again, pretty straightforward: in Messina you will walk off the gangway onto the cruise dock which is right by the main road. There you will find a number of taxis willing to take you to Taormina Italy.
They will charge approx. €150 per taxi (for 4 people) to Taormina and back with an approximate two hour wait.
If you are a couple, you can always split the cost with another couple so make sure you ask your dining-table party or post a note on the ships message board!
TIP: The good thing about taking transportation into your own hands is you don't depend on anyone else for the time of departure, there's no delays and unnecessary waits.
But do remember, you are responsible for getting back to the ship on time!
All aboard time is usually half an hour before your ship's scheduled departure time! To be sure when your ship departs always remember to check the board with the time posted as you're walking off the gangway.
3) Travel to Taormina: Taking a train from Messina to Taormina
This is definitely the cheapest way of getting to your destination, and thanks to this no one will have the excuse they didn't visit Taormina because it was too expensive to get there.
Make sure you read our tips and tricks on Taking a train from Messina Sicily to Taormina for your day to go smoothly!
---
5) Travel to Taormina: Taking a local bus.
Interbus is the name of the company running the buses from Messina to Taormina.
While the good news is that the buses are also relatively cheap, €4.30 one way, and take you all the way up to the town of Taormina, the downside is that with all the stops along the way, the ride can take up to two hours (officially it's 1h45min).
That's why most cruise guests will still go with the train. The bus terminal is right in front of the Messina train station in Piazza della Republica and you will find the directions to get there in our article on Taking a train from Messina Sicily to Taormina.
If you still decide to take the bus, plan your departure and arrival times carefully as the buses don't run that often.
It looks like there are only two buses in the morning, the 9.40 and 11.40 one.
For the most up-to-date timetables use Checkmybus.com or Interbus page (for some reason the English version of the site doesn't work properly!). Be especially careful if you travel on Sunday as some buses may not be in service then.
Like this page?
RELATED ARTICLES:
TAORMINA ITALY ARTICLES TABLE OF CONTENTS
From TRAVEL TO TAORMINA to Mediterranean Cruise Ports Easy
HOME PAGE