Alexandria Taxi - Exciting Alternative to Alexandria Tours
" Enjoy your Alexandria taxi ride, one of the most memorable taxi rides ever!"
To be honest, taking an Alexandria taxi is not for the faint-hearted! But if you're a little bit of an adventurer, you might enjoy the experience!
First, to clear some things: if you wish to go for a Cairo tour, do not wait for the moment you get off the gangway at Alexandria port to decide on how you're getting there!
The best way to get to Cairo and the ancient pyramids are definitely: one of the ship organized Cairo tours and shore excursions, or a privately booked tour online. Why, you can find out more in our article Cairo tours.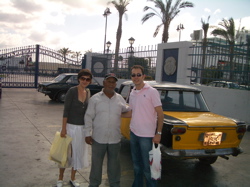 You definitely don't want to get off the ship, catch a taxi and have a three hour ride to the Pyramids in a non-air conditioned little taxi just waiting to collapse on the street. Even riding a camel all that way would be more enjoyable! :)
The only case in which we suggest you take a taxi is if you want to go around Alexandria and you haven't managed to book one of the Alexandria tours. In that case, taking an Alexandria taxi will be better than walking.
---
How do I get Alexandria taxi?
There are two options when it comes to getting a taxi in Alexandria: first, you can take one of the official blue taxis inside the cruise terminal area. Do not pay them more than approx. $20 per hour per cab. That's probably the lowest they will go when you haggle anyway.

Or, you can walk all the way out of Alexandria port and find and hire one of the little yellow/black taxis in front of the Alexandria port gate. If you haggle a little bit, these guys will charge you about $10 per hour per cab, which isn't too bad.
So, these taxi drivers will basically serve as your personal drivers for the day and often serve as your bodyguards (we definitely needed one when we wanted to enter the house Lawrence Durrell once lived in, and we thought was deserted), your personal money exchange service, your translators (although many do not speak very fluent English), etc.
An average Alexandria tour will take about 5 hours, but then again, it all depends what there is on your Alexandria attractions preference list. Maybe you love to see every single display inside the Alexandria museums or sip your coffee for hours in one of the historical Alexandria cafes.
So, considering the price, we always thought it was better to hire one of these Alexandria drivers for the day than use them for a single ride and then hail another taxi on the street returning to the ship.
Although it's very easy to do that, it can be a bit tricky: what happened to us once is we couldn't find a taxi driver who spoke a word of English!
After some time of holding up taxis and seeing if we can communicate, we gave up and got into a taxi hoping he would understand one single word: ship! But he didn't. We even tried in French...didn't help. Then we drew a ship for him. He understood but had no idea where the cruise passenger port was although it was right there downtown. In the end we had to find a peerson who spoke English in the street to translate between us and our taxi driver!
Apart from this little incident, our experiences with Alexandria taxi drivers were always fun: some of them have special music tapes ready to play with western hits recorded to suit the taste of their customers, while others are pretty sure we will enjoy the local music.
No matter how little English they speak they always love to find out where you're from and are generally very restpectful. We often took them for a cup of coffee with us and enjoyed talking to them.
Then again, there are those who are a little bit mor stubborn and don't like you to disrupt their plans for your day! So if you prefer to visit Cavafy's house over Montazah palace, be insistent.
Once we really wanted to visit the Trianon cafe but our taxi driver probably couldn't be bothered to drive us around anymore and insisted the cafe was closed. He got a bit upset when we insisted on him taking us there to see for ourselves. It turned out, the cafe was open and we enjoyed our coffee and cakes there!
Since there are no traffic lights in Alexandria, when taking an Alexandria taxi ride, be ready to have one of the most exciting rides of your life: your taxi driver will be honking and swearing, dodging horse carriages, pedestrians, coaches with passengers spilling out the doors...one of the most exciting things is finding yourself in the middle of an intersection, together with another five or six cars trying to get through to the other side. Watch them get out of the muddle!
Whether or not you want to stay somewhere for an hour or two (for instance in one of the Alexandria shopping malls), your taxi driver will wait for you in his car or in one of the nearby cafes. They are so trusting of you they won't even charge you anything until the very end!
So if you choose to give it a shot...enjoy your Alexandria taxi ride, one of the most memorable taxi rides ever!
RELATED ARTICLES:
ALEXANDRIA EGYPT ARTICLES TABLE OF CONTENTS
From ALEXANDRIA TAXI to Mediterranean Cruise Ports Easy
HOME PAGE