Bibliotheca Alexandrina - the New Alexandria Library
"Bibliotheca Alexandrina – the new Library of Alexandria, one of the must see spots for every visitor. Learn what to see and do in the Alexandrian Library."
Once home to the ancient Alexandria Library, Alexandria is trying to revive the idea of the pursuit of knowledge in the new Bibliotheca Alexandrina.
If your Mediterranean cruise ship is having an overnight in Alexandria, make sure you venture out and, among other Alexandria attractions, visit this impressive new building.
Getting to the new Library of Alexandria from the Alexandria port is very easy: if you are not on one of the organized Alexandria tours, you can easily catch an Alexandria taxi… the Bibliotheca Alexandrina is a mere 15 minutes ride down the famous seafront, Corniche.
Just across the street from the waterfront the Bibliotheca Alexandrina will present itself as an impressive, giant sun-disk, symbolically illuminating the world and humanity.
That is the 32 m high, and 160 m wide, glass panelled roof within which is the main reading room covering 70,000 m2 and cascading on eleven levels like a large amphitheatre.
Looking from the outside, one of the interesting features of the Library of Alexandria is also the walls made of grey Aswan granite and carved with characters and symbols from 120 different human scripts. But, don't limit yourself to looking at Alexandrian Library from the outside only. On the backside of the whole structure, there is a booth where you will be able to purchase tickets to visit this striking building.
Roaming its galleries, freely browsing through its books or sitting side by side with students, evokes the times when Alexandria attracted the intellectual elite of ancient times.
If you are not so much of a bookworm, then you will enjoy one of the 4 museums inside the structure itself. We found the Antiquities museum the most attractive as it gives a nice overview of the history of Egypt. FYI, there's some mummies there too! ;-)
There's also 4 art galleries for temporary exhibitions and 15 permanent exhibitions, a planetarium, a manuscript restoration laboratory, conference center, specialized libraries for maps, arts & multimedia, the blind and visually impaired, young people, for children, rare books and special collections etc. All in all, enough for you to keep busy for at least a couple of hours!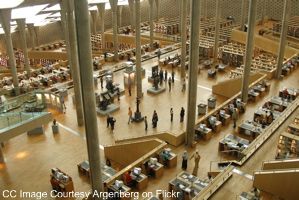 The construction of the Library of Alexandria began in 1995 and was inaugurated on October 16 2002, after USD$ 220 million spent.
Its book inventory is still far from its maximum shelf space of 8 million books but with many donations pouring in from all over the world, Bibliotheca Alexandrina is well on the way to becoming a major library and cultural center of the area.
Opening hours:
Saturday to Thursday: 11 am - 7 pm
Friday: 3 pm - 7 pm
RELATED ARTICLES:
ALEXANDRIA EGYPT ARTICLES TABLE OF CONTENTS
From BIBLIOTHECA ALEXANDRINA to Mediterranean Cruise Ports Easy
HOME PAGE