Athens weather for Athens Greece cruise guests
"Know Athens weather and what to pack before you head to visit Athens Acropolis, Parthenon and Plaka!"
If you've been to Athens in July or August before, it's very likely that what you would have remembered most, when it comes to Athens weather, is the excruciating heat when climbing the Athens Acropolis Greece.
If you haven't been… we're telling you now: heat is what you can expect! And, somehow, in Athens it feels even worse than on the Greek islands as here you will be surrounded by lots of asphalt and concrete.
You will be elbowing through the crowds (why did everyone have to come on the same day you decided to visit?!) puffing as you're trying to master the ascent to the Athens Parthenon, sun reflecting from all that marble and piercing your eyes, you will feel like you can fry an egg on the polished cobblestone.
So before you leave your Mediterranean cruise ship for the day, have a few items packed: your shades, a hat, a bottle of water, a fan or a bottle of water in spray. You will be glad you did.
And… talking about smooth, polished cobblestone on the way to the Athens Parthenon…wear flat, closed, comfortable shoes with a good rubber grip sole!
However, do not let this Athens weather and heat stop you from further exploration of Athens! We know, it is very luring to stay sitting on the air-conditioned bus on the way straight back to port of Piraeus and never get off for the exploration of the Athens Plaka (some tours will give you the option to get off at Syntagma square and come back to the ship at your own cost).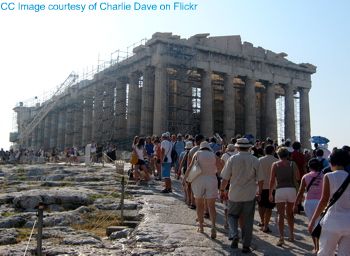 If you do decide to make the most of your day in Athens, you will be greatly rewarded the moment you sit down in one of the Plaka restaurants/taverns that have light water mist spraying on their patios!
For those who are planning to visit Athens on their own, either by taking an Athens taxi or Athens train, we suggest you leave the ship as soon as possible, you might even beat them on the way to the Athens Acropolis Greece and avoid all the crowds.
Athens weather: Average temperatures
July: 33.5˚C / 92.3˚F
August: 33.2˚C / 91.8˚F
Average temperature may be a good guideline, but be aware that July and August are also notorious for heat-waves when temperatures can go well over 38˚C / 100˚F.
DINING-ROOM TABLE TIDBIT:
According to the World Meteorological Organisation, Athens holds the official highest temperature record in Europe of 48.0°C (118.4°F), which was recorded in the Elefsina and Tatoi suburbs of Athens on 10th July 1977.
We know that some of you cannot really choose the time of your Athens Greece cruise due to business or school duties but if you can, in spring (May/June) or autumn (September/October) Athens weather is perfect for visiting and sightseeing.
In those months temperatures are much more pleasant, rains are not so common still, days are nice and clear… but do pack a warm sweater or a windbreaker just in case!
Also, there is way less local tourists in those months too. However, do not hope for lesser crowds at the Athens Acropolis Greece. You just can't beat them, no matter when you come by.
Athens weather: Average temperatures
May: 25˚C / 77˚F
June: 30˚C / 86˚F
September: 29˚C / 84˚F
October: 24˚C / 75˚F
April is the real, true springtime in Athens but maybe you won't be so lucky to enjoy the flowers in bloom in the middle of the city… yes, as we mentioned before, lots of concrete and asphalt everywhere. Still, it is a good time to take a cruise to Athens.
Athens weather: Average temperatures
April: 20.2˚C / 68.2˚F
In recent years it's been more and more common that cruise ships stay in the Mediterranean throughout the year and Athens is one of the ports they will visit.
So it is not unusual you would visit Athens perhaps in November, December, January, February or March. These months are wintertime in Greece.
Although Greek winter is generally mild, do have a thick winter jacket and waterproof shoes on you as colder temperatures can be expected. And don't be surprised if you see the Acropolis under snow in December or January, it's not an uncommon sight in the past decade.
December and January is also when the rainfall reaches its peek at around 70mm per month.
Athens weather: Average temperatures
November: 18.1˚C / 64.6˚F
December: 14.1˚C / 57.4˚F
January: 12.5˚C / 54.5˚F
February: 13.5˚C / 56.3˚F
March: 15.7˚C / 60.3˚F
Click here for the 10-day weather forecast for Athens, Greece!
Athens Weather Forecast, Greece
RELATED ARTICLES:
PORT OF PIRAEUS - ATHENS PORT FOR CRUISERS
From ATHENS WEATHER to Mediterranean Cruise Ports Easy
HOME PAGE