Kusadasi Shopping - 
Tips and Trick for Cruise Guests
Kusadasi shopping - learn where to buy both original and fake souvenirs in Kusadasi and Turkey
Kusadasi Shopping - Is It Worth It?
Kusadasi offers an incredible shopping experience that is sure to be one of the highlights of your Mediterranean cruise vacation! Just strolling through the bustling streets of Kusadasi and taking in the vibrant array of goods spilling out of shop windows is a feast for the senses.
Even if you've planned to spend your day exploring the ancient ruins and holy sites on one of the Ephesus shore excursions, such as the House of Virgin Mary or the spot where Saint Paul preached to the Ephesians, don't feel guilty about indulging in more worldly pleasures like Kusadasi shopping.
The truth is, Kusadasi Turkey boasts a unique collection of authentic Turkish souvenirs and goods that you won't find anywhere else on your trip.
You'll regret it if you miss out! Be sure to check out our article, "Kusadasi Shopping: What to Buy in Kusadasi," for more information on what to look for.
---
Kusadasi Shopping: Where to Buy Souvenirs in Kusadasi
The great thing about Kusadasi is that the shopping area starts very close to the Kusadasi harbour. In fact, it starts inside the harbour area. The shops you see a few steps from the cruise dock terminal area are part of the new Scala Nuova duty free shopping village.
If your bags have been lost/delayed and you're looking for some regular clothes to get you through, if you're looking for some smart shoes and a new tie for the formal night, or simply want to buy a pair of really cool Turkish jeans, this is the place to do it.
But shopping here is very similar to shopping on the High Street of your town… it's outside of the terminal area that you can experience the real Turkish shopping experience.
In Kusadasi, there are literally thousands of shops crammed into a very small area: it all starts the moment you walk across the street from the port entrance.
As you walk up the Liman Avenue, a wide street ending with the big stone structure of Caravanserail, you will have your first encounter with the first Turkish oriental rugs stores and jewellery stores.
From Caravanserail, you have two options. First is that you can go to your right and explore the Oriental and Grand Bazaars, which are two half-enclosed streets lined with shops.
Or… you can turn round the left corner of Caravanserail and walk up the pedestrian only Barbaros Blvd, which you will recognize by the water-fountain and many stalls selling packs of Turkish delight and Turkish Apple tea in its middle.
If looking for a rug, you will also find a few prominent Turkish carpet stores along the Ataturk Boulevard which is the waterfront street on the left from Caravanserail.
Now, although it's all right there and easy to find, your shopping experience will be much bettere if you have a local tour guide by your side.
There are thousands of shops out there in Kusadasi and all of them are fighting for your dollar. If you want to be sure you're getting the real deal and there is no high pressure on you, do book yourself on one of the Daily Ephesus Tours or take a specialised Kusadasi shopping Tour.
If you have been to Ephesus or Kusadasi before, you can also add some value to your stay by taking one of the gourmet tours:
Get a little taste of Turkish gastronomy Rick Steves enjoyed in Kusadasi...
---
How to Buy in Kusadasi: Haggling and Bargaining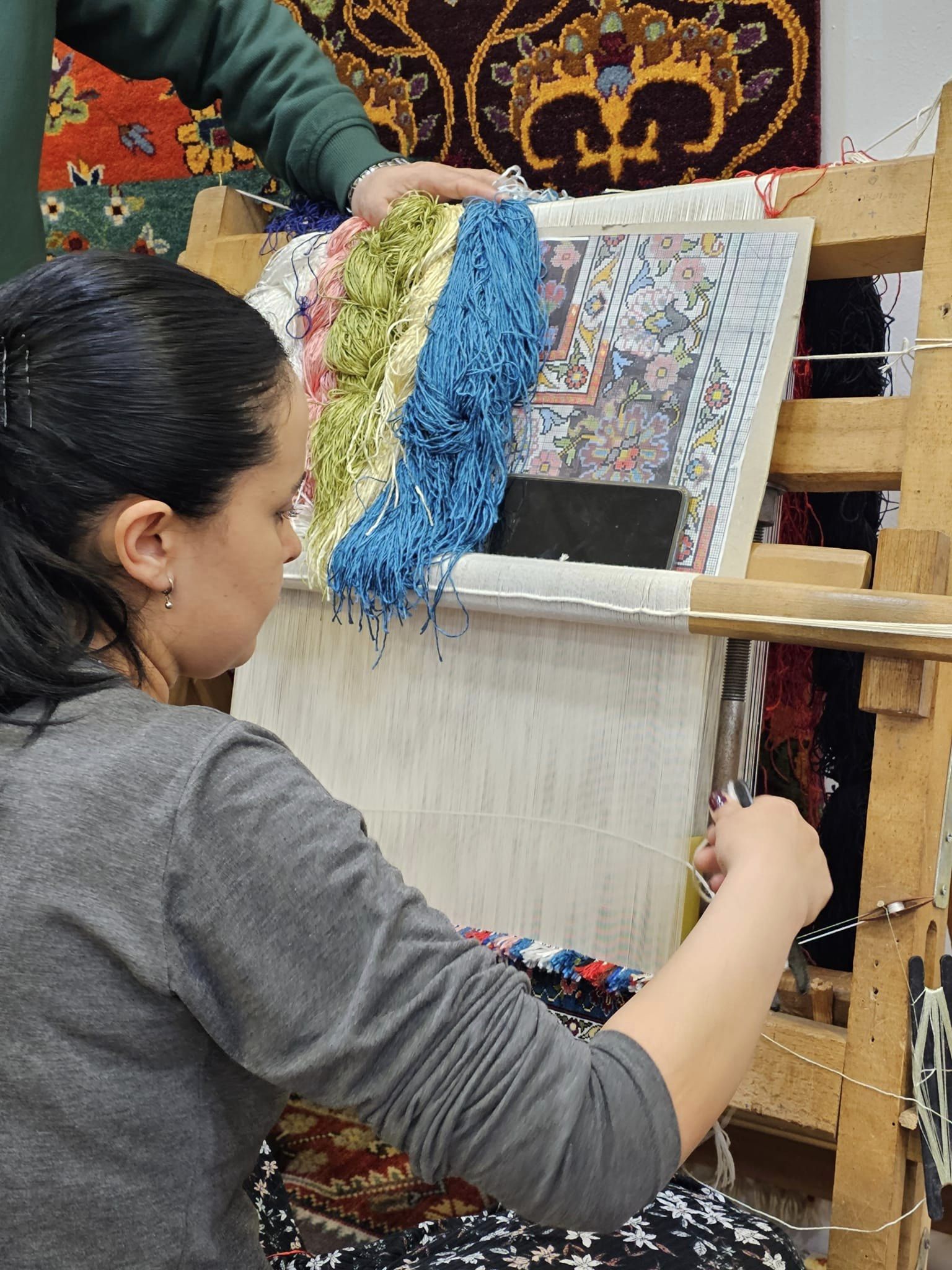 Throughout all the years I spent working on Mediterranean cruise ships as a Port Lecturer, there's one thing that really seemed to scare people off Kusadasi shopping: the fact you need to haggle!
And yes, you are right, you are expected to haggle but it's nothing you should be scared of! You should relax and look at it as a fun experience you will tell your friends and family about when you return home.
The first thing passengers were always really confused about was how far they could go in this game. Now, there's no rule really and it depends what you are bargaining for, so we won't give you any figures here.
Another thing was being terrified you have to make sure you get the BEST DEAL. There's always this fear of "being taken advantage of".
In general, these few Kusadasi shopping tips can be helpful when it comes to bartering:
1. Accept that Turkish apple tea, Turkish coffee or raki they're offering in the store during your Turkish rug demostration. Why? Well, it's going to be a long process.
2. Find out more about your merchants… they love to get really personal with tourists and you're very likely to find out they have a cousin living just a block down from you back home. Maybe you "get a few extra points" for this.
3. Pretend you're not so into the item you're looking at. They will know you're just playing the game but play it all the same. It's fun.
4. The last test of whether you're getting a "good deal": walk out the door. If they don't stop you, that means they really cannot go lower than the last quote they gave you. In that case, have a little walk down the street, turn around and go back and get that rug or the piece of jewellery you fell in love with.
But even better tips we can give you concerning those fears of "How low can I go?" and "Am I getting a good deal?" are these:
1. First of all, you should think of the real value of the item you're buying and learn to appreciate it. For example… if you are buying a silk Turkish rug which took two women to weave, sitting next to each other, 4 hours a day for 6 months… think about it… how much would you value your work that took you 6 months to finish? You will be buying a piece of artwork, and what is the REAL price and the real value of a piece of art?
On the other hand… if you are buying a machine produced rug, made of cotton that looks like silk, and your merchant was fair enough to tell you about it, instead of selling it to you as genuine silk (and you won't know the difference, trust me), you can expect to bargain more. After all, you will already have an idea what a machine made item like that could cost.
When it comes to making sure you got the best possible deal when Kusadasi shopping… if you are buying a wonderful silk rug that looks as if painted with the finest paint brush or the warmest wool rug your feet have ever touched and you're going to agonize over a few hundred dollars… just forget about it, you shouldn't even be buying them.
In the long run these items will be paying off a hundred fold with the pleasure they give you when you don't even remember the price you paid for them.
If you bought a leather jacket and that night at the dining room table you realize a friend of yours bought an almost identical one for $20 less and you get really upset you've been taken advantage of… you should remember that it was all about the fun experience of shopping in Turkey!
It was all about you visiting a beautiful country, your charming and flattering merchants complementing you on your beautiful blue eyes and the jewellery you're wearing, about that cup of apple tea you shared and the speed with which they had someone tailor that jacket to fit you perfectly.
So, don't cry over $20 but take the item you bought and whenever you see it remember your Kusadasi shopping and the fun times you had getting it!
Remember, to make the most of your shopping in Kusadasi is to take an Ephesus highlights tour with shopping or take a Kusadasi shopping tour.
If you just want to take it easy on Kusadasi day and experience the traditional Turkish bath, this is your chance:
---
Money Tips for Kusadasi Shopping
Still not 100% confident when it comes to Kusadasi shopping? Let your tour guides help you and direct you. The ones on the Best of Ephesus and shopping and Kusadasi shopping tours will be very helpful.