Naples Italy Cruise Port -
A Gateway to Exquisite Adventures
Discover the Naples Italy Cruise Port, your gateway to extraordinary culinary, artistic and historical experiences in this enchanting city. Learn about different port locations in Naples, distance from the city center, and fantastic shore excursion options available for cruise passengers.
Is there a cruise port in Naples?
Yes, there is a cruise port in Naples and this port is where seafaring explorers and cruisers embark on unforgettable journeys through the beautiful Bay of Naples and Amalfi coast.
So, if you've been thinking about booking a cruise that calls to the port of Naples, go ahead, find that perfect itinerary and over a million of cruise passengers who visit this unique city.
---
What does Naples Italy cruise port consist of?
The Porto di Napoli, or Port of Naples, consists of several parts or areas that serve different purposes within the overall port complex. Here are some of the main parts of the Port of Naples:
Stazione Marittima

: The Stazione Marittima is the primary terminal area of the Port of Naples. It is a large passenger terminal complex where cruise ships dock and embark/disembark passengers. This area provides facilities for customs and immigration, luggage handling, check-in counters, and other passenger services.

Molo Beverello

: Molo Beverello is a specific pier within the Port of Naples that serves as a major hydrofoil terminal. Hydrofoils (fast boats) departing for nearby islands such as Capri, Ischia, and Procida often operate from this area. If you are planning to visit Capri, you will be happy to hear this pier is only 2 minutes walking from your cruise ship.


Calata di Massa

: Calata di Massa is another section of the Port of Naples primarily used for cargo operations. It handles the loading and unloading of goods and containers from commercial ships.

Mergellina

: Mergellina is a smaller port area situated to the west of the main port complex. While it is not as extensively used as the Stazione Marittima, it also accommodates some cruise ships and provides access to the Chiaia district and waterfront promenades.
These are some of the main parts of the Port of Naples, each fulfilling a specific role in handling cruise ships, ferries, cargo, and passenger services.
The port code for the Naples Italy Cruise Port is "ITNAP."
---
What port do cruise ships dock at in Naples?
As I have mentioned above, you will be docking at Stazione Maritima, the primary cruise terminal. To make sure, just double check with your pursors/guest services when you get onboard the ship.
The terminal building at Stazione is one of my favourites - it was constructed in the early 1930s, in the architectural style of Art Deco (predominantly), a popular design movement that emerged in the early 20th century.
What is really great about Stazione Marittima - it's strategically located near the city center, allowing cruise passengers convenient access to the vibrant streets, historical landmarks, and popular attractions of Naples - it's literally across the street.
Also, from there you can reach Naples train station to get to Sorrento or to take a train ride to Pompeii on your own.
Getting to the isle of Capri is even easier as the hydrofoil dock is just a few steps away from the cruise ship.
But just keep reading for more info on getting from Naples Italy cruise port to the most attractive spots in the Bay of Naples or Amalfi coast!
---
Where is Naples Italy cruise port located?
Naples cruise port is located in the city of Naples, Italy itself. It is situated along the coastline of the Bay of Naples, specifically in the southern part of the city. 

That's why there are no long travel times from the port to the city, as it is the case with the port of Livorno and the city of Florence, or the port of Civitavecchia and the city of Rome.
---
How far is Naples cruise port from the historic town?
Stazione Marittima, the port of Naples where big cruise ships dock is located in the heart of the city, just a short distance from major attractions, such as the historic city center and the iconic Piazza del Plebiscito. 
Can you walk from the port into Naples center?
Yes, you can. The distance between the Stazione Marittima and the historic center of Naples is approximately 2 kilometers (1.2 miles), which is a walkable distance for many people.
Also, it's a very scenic walk so you have the feeling you are right there the moment you step outside the terminal building.
As a matter of fact, Castel Nuovo, a castle built in the 13th century that has served as a royal residence, a fortress, and a seat of power throughout its history is just across the street from the cruise ship!
The most direct route from the Stazione Marittima to the city center is typically along the waterfront promenade called Via Partenope or Via Caracciolo.
If you don't feel like walking, taxis, buses, and other public transportation options are available as well for convenience and efficiency.
---
How far is Naples cruise port from the airport?
The distance between the Naples Cruise Port (Port of Naples) and Naples International Airport (NAP) is approximately 6 kilometers (3.7 miles).
The driving time between the two locations is typically around 20 minutes, depending on traffic conditions.
It's important to note that travel times can vary, so it's advisable to account for possible delays and plan your transportation accordingly when traveling between the cruise port and the airport.
---
How to get from Naples cruise port to the airport?
To travel from the Naples Cruise Port to Naples International Airport (NAP), you have a few transportation options to choose from:
taxis
private transfers
and public transport
You can read more about getting there in our article Naples Italy Airport Transportation. 
---
How far is Naples cruise port to the train station?
The distance between the Naples Cruise Terminal (Stazione Marittima) and the main train station, Napoli Centrale, located in Piazza Garibaldi is approximately 3 kilometers (1.9 miles). 
That's why some passengers, who feel confident about getting around cities they haven't visited before, choose railway as a means of getting to Sorrento; Herculaneum and Pompeii. 
---
How to get from Naples cruise port to the train station?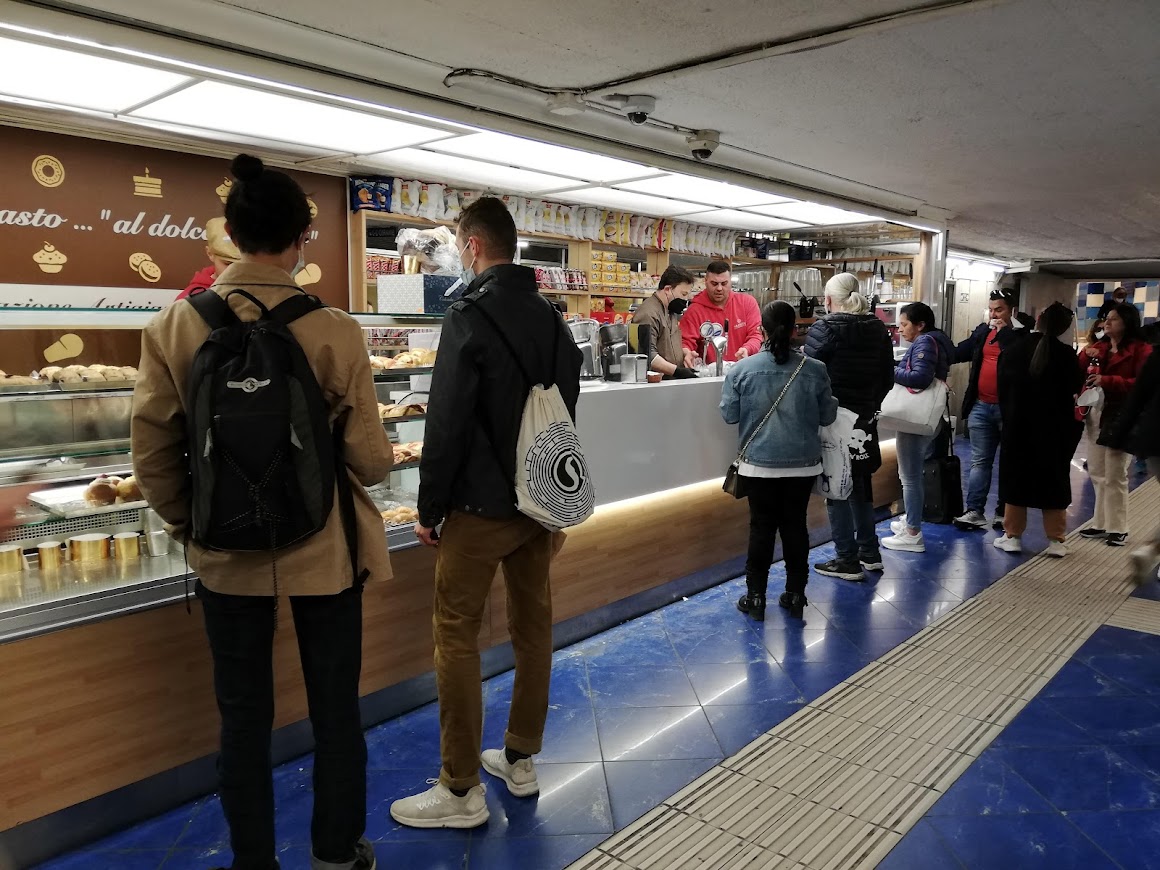 Italians like to keep their espressos close by: this cafe is just above the Pompeii and Sorrento train platform
Here are a few options to consider when traveling between the cruise terminal and Napoli Centrale:
Taxi: Taking a taxi is a convenient and direct option. Taxis are available near the cruise terminal, and the journey to Napoli Centrale typically takes around 10-15 minutes, depending on traffic.
Walk: If you prefer to explore on foot and the weather permits, you can choose to walk from the cruise terminal to Napoli Centrale train station in Piazza Garibaldi. The distance is manageable, and it takes approximately 30-40 minutes to walk between the two locations. However, keep in mind that walking may not be suitable if you have a lot of luggage or if you are short on time. Check the route on the map here:
Public Transportation: Naples has a reliable public transportation system. From the cruise terminal, you can take a short taxi ride or walk to the Municipio Metro Station. 
From there, you can catch Line 1 (Linea 1) of the Naples Metro, which will take you directly to Napoli Centrale. The metro journey typically takes around 10-15 minutes.
You can find out more about getting to the train station, getting around it and finding the right ticket booth in Getting from Naples to Pompeii.
Namely, getting either to Pompeii or Sorrento, you will be using the same train, the so called Circumvesuviana, so the procedure is the same.
---
How to get from Naples cruise port to Sorrento?
Sorrento is something like a gateway to Amalfi coast, it's not too far from Naples and you can visit Pompeii along the way, too - that is why cruise passengers oftern pick Sorrento as a destination for the day.
Cruise passengers have several transportation options when traveling from the Naples Cruise Port to Sorrento:
Private Transfer - the most comfortable and the most flexible option, the price is set so there are no surprises.
Private Shore Excursions - always my favourite because you learn so much from the local guides! Here's a few of them created for cruise passengers and combining other destinations in the area, too (Sorrento is too close and too small to be the only destination to visit on this day).
3. Taxi: also flexible but your trip could depend on their availability in front of the cruise terminal. Language barrier could be a problem.
4. Shared Shuttle: safe, hassle free and affordable. I have found one for you, but it leaves from Napoli Centrale train station. 
Click below to find out more...
5. Train - some walking or public transport to the train station involved, very affordable. Find out more in Getting to Sorrento by train.
6. Hydrofoil - very scenic but departs only a few times in the morning. Find out everything about it in Getting to Sorrento by Ferry/Hydrofoil. 
When planning your transportation from the cruise port to Sorrento, consider factors such as travel time, cost, convenience, and personal preferences.
I recommend to research and book in advance to ensure a smooth and enjoyable journey to your desired destination - and you will get a chance to do just that in our article Travel to Sorrento.
---
How to get from Naples Italy cruise port to Capri?
The first thing I always do when I get to the village of Capri is - have an espresso in the Piazetta. This time it was with my husband :)
Whichever mode of transportation you choose, traveling from the Naples Cruise Port to Capri offers a fantastic opportunity to explore the idyllic island known for its stunning landscapes, charming villages, high-end shopping, and crystal-clear waters.
And there are only three options, as Capri is an island:
Hydrofoil: Hydrofoils are high-speed boats that offer a quicker journey to Capri compared to regular ferries (they are bigger and take cars). Similar to ferries, you can catch a hydrofoil from the Molo Beverello terminal in Naples. Hydrofoils typically take around 20-40 minutes to reach Capri. 
Private Boat: For a more luxurious and personalized experience, you can consider hiring a private boat from the Naples Cruise Port to Capri. This option offers flexibility in terms of timing and allows you to customize your itinerary. 
Shore Excursion: this option enables you to see not only Capri but also Sorrento, and even Pompeii in one day. Doing this on your own would be very stressful and ambitious. 
You can find out more about different options when getting from Naples to Capri in my article Naples to Capri - Getting to the Isle of Capri. 
---
How to get from Naples Italy cruise port to Amalfi coast?
Cliffside driving, lemon groves, stunning coastal views, white houses cascading down the cliff, charming towns - you've seen it all on travel influencers' Instagram profiles and fell in love with it.
Yes, Amalfi coast is like a dream come true, and it's only natural you want to visit one of the most beautiful corners of the world.
If you have a limited time frame of around 10 hours in port at Naples and wish to visit the Amalfi Coast, it's important to choose the most efficient transportation option. Here are a few options to consider:
How to get from Naples Italy cruise port to Pompeii?
To travel from the Naples Cruise Port to Pompeii, you have several transportation options available. Here are the most common routes:
Train: 
Start by taking a taxi or walking to Napoli Centrale, the main train station in Naples. There you will catch the Circumvesuviana line to Pompeii. Find out more in my article Getting from Naples to Pompeii by train. It's recommended to check the train schedules in advance and consider the duration of your visit to Pompeii to ensure you have sufficient time to explore the site and return to the cruise port in time for your ship's departure.
2. Cruiseline operated Shore Excursions:
Many cruise lines offer shore excursions to Pompeii from the Naples Cruise Port. These organized tours typically include transportation, a guide, and entrance to the archaeological site. They are a convenient option if you prefer a guided experience and want to ensure you make the most of your limited time in port. Just doublecheck the availability and prices - they can be way higher than booking a tour privately, on your own.
3. Private Tour/Shore Excursion or Driver:
Consider booking a private tour or hiring a private driver who can take you directly from the cruise port to Pompeii and provide guidance throughout your visit. And get you back in time!
Here's a few tours with great reviews and affordable prices that I have found for you:
Have A Great Story About This Topic?
Do you have a great story about this? Have you been to this port of call? Have tried out any of the shore excursions I recommend? Do you have any tips that might help your fellow cruisers? Share them with us!