Top 5 Turkish Customs and Traditions
"Turkish Customs - From haggling to drinking galons of Turkish apple tea and coffee..."
There are many beautiful Turkish customs and traditions: from belly dancing to going to hammams, from smoking nargile to playing backgammon.
But, here's a few you will come across for sure when you visit Kusadasi Turkey as a Mediterranean cruise guest:


1. Turkish Customs: Hospitality and politeness
Politeness in Turkey goes back to Ottoman times when great emphasis was put on using set and polite phrases in verbal communication and body gestures etiquette.
Although it is all much more relaxed today, you will still notice your Turkish hosts are pretty good at sweet talk.
People you will interact most with in Kusadasi Turkey will be the merchants you meet in stores, or standing in front of their stores.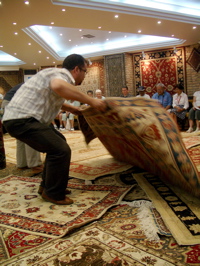 Listening to all the compliments and flattery they gush out at you can be quite fun… so if you're in the market for a Turkish rug or a piece of jewellery, accept the game and enjoy the imaginativeness of their language as they woo you to buy something.
Hospitality is something your hosts are very proud of… they will literally unroll the red carpet for you as you enter their store or their home.
First thing when you enter, they will offer you a drink… a cup of Turkish apple tea, Turkish coffee or raki, an anise-flavored spirit.
It's not unlikely they offer you food too.
No matter where in the world you come from and what religion you're of, it is one of the Turkish customs to treat you as "God's Guest", and you will sure feel this!
---
2. Turkish Customs: Drinking Turkish Coffee
For the Turkish, having a cup of coffee is more than having some strong caffeine on the go to wake you up in the morning.
The purpose of having a cup of coffee is socializing, catching up on news and gossip, discussing politics…
So, when in Kusadasi, take a few moments to have a cup of hot Turkish coffee and reflect on the impressions you had after your Ephesus tour or your Turkish rug buying experience.
To find out more about the importance of coffee in Turkish culture read our article How to Make Turkish Coffee.
---
3. Turkish Customs: Drinking Apple Tea
You can't go through the streets of Kusadasi without noticing the merchants sitting in front of their stores, holding little tulip-shaped cups in their hands, sipping on some Apple tea.
You see them doing it so often it's almost like their favourite pastime.
With its refreshing and fruity taste, whether hot or cold, having some apple tea is an absolute must-do when in Kusadasi.
To find out more about the importance of apple tea read our article Turkish Apple Tea.
---
4. Turkish Traditions: Turkish Evil Eye
The moment you step off your Mediterranean cruise ship in Kusadasi harbour you will be bombarded with Evil Eyes everywhere you look.
Turkish people take this good luck charm very seriously! To find out why, read our article Turkish Evil Eye.
---
5. Turkish Customs: Haggling
One of the Turkish habits that really drives some Mediterranean cruise guests crazy is – haggling.
For people coming from a Western Culture, not having a price tag on an item and never knowing how much you're really expected to pay for something can be bewildering.
On how to master the fear of haggling and enjoy the experience, read our article Kusadasi Shopping: Tips and Tricks.
If you still think you won't feel comfortable haggling on your own and are looking for a wonderful host and a tour guide for Ephesus, check our recommendation on page Daily Ephesus Tours.
Kusadasi Hotels and Shore Excursions:
Hotels in Kusadasi - Planning to stay in Kusadasi to explore Ephesus even more? HotelsCombined.com allows you to instantly search and compare room availability and prices from all major travel websites!
Magical Steps Travel - this is a five star private tour provider for Kusadasi and Istanbul. Check out why they have a 100% guests' satisfaction guarantee and Trip Advisor's certificate of excellence for many years in a row now. 
Like Turkish Customs page?
Pages related to Turkish Customs:
KUSADASI ARTICLES TABLE OF CONTENTS
From TURKISH CUSTOMS to Mediterranean cruise ports easy HOME PAGE