Capri ferry and hydrofoil -
from Naples to Capri

"What's the difference between a Capri ferry and a Capri hydrofoil?"
As a cruise guest who wants to travel to Capri for a day when docked in Naples, you must be wondering how to reach Capri town with a ferry or hydrofoil on your own.
The good news is…it can be done and it's very easy!

There's one circumstance really playing to your advantage…the Naples to Capri ferry/hydrofoil station is located within a hand's reach from the gangway of your ship. 
But first, let's clear some doubts... 

---
What's the difference between a Capri ferry and Capri hydrofoil?
Well, ferry is a larger boat that can take both passengers and cars and they leave from part of the Naples port called Calata Porta di Massa about 10 minutes walk from the cruise ship.

Duration of a ride with a Capri ferry is about 80 minutes. So, to put it into perspective for you…the Capri ferry station is located a bit further from your ship and the ride takes longer than the hydrofoils'.
Does it all sound confusing? Keep in mind there is always an alternative. There's nothing wrong to be on a vacation and decide to pay for a shore excursion and have someone else worry about it all and get you back to the ship in time.
I have been to Capri hundreds of times and of course the whole procedure is automated by now, but I do remember the stress when I tried to do it by my self the first time.
So I have picked some shore excursions for you (those that cruise lines sell on the ship get sold out quickly and you pay extra charge for the cruise line service, compare the prices yourself!)
---
What is Capri hydrofoil?

 
Hydrofoil or a jetfoil is a fast boat taking passengers only (no cars), it leaves from the Mollo Beverello part of the Naples port and the duration of the ride is about 50 minutes! It can take about 200-250 passengers at a time.
Now you understand why we give preference to Capri hydrofoil over the Capri ferry – it's a definite time saver!
So, let's forget about the Capri ferry now, as a cruise guest you will not be using it…from now on we'll focus on hydrofoils to the isle of Capri Italy only.
---
Capri ferry and hydrofoil: buying a hydrofoil ticket to the isle of Capri Italy
Let me take you through the whole procedure of buying a hydrofoil ticket and getting on the right hydrofoil.
First of all, if you are planning to visit more than Capri town on this day (e.g. you can add Sorrento or even Pompeii to your itinerary) it is advisable to know ahead exactly which hydrofoil you will be taking to the isle of Capri Italy.
Note: Spending a day or two in the bay of Naples, of course you want to see it all! And it is perfectly doable, however, it might get very, very stressful if you try to do it on your own! In that case I will recommend taking one of the shore excursions (these tours cater to cruisers only, and are guaranteed to get you back in port on time!):
You would like to combine Capri, Sorrento, Pompeii or Positano in a day? No problem, check these out:
And, again, I suggest it is one of the earliest ones. If your ship docks around 7:00am, on a working day, the earliest one you will be able to catch seems to be the 8:10 hydrofoil.
For up-to-date departure times timetable check here. When you're reading the table pay attention to Port of departure. If it says Molo Beverello, that's one of the hydrofoils. All the others are Capri ferry boats which are not practical for you to use.
Here at the Mediterranean Cruise Ports Easy we suggest you leave the ship at least 30 minutes prior to your hydrofoil's departure.
Although the ticket booth and the hydrofoil dock is only 5 minutes away from the ship's gangway, lines can get very, very busy. Keep in mind, that the port of Naples can accommodate up to 4-5 cruise ships in a day. If only one quarter of the people wants to visit Capri first thing in the morning, and they will, it's a lot of people.
Not to count the local tourists! On the hydrofoil you will notice the amount of the Japanese visitors…they loooove Capri!
TIP: Before you leave the ship do this: look through the window and see if the seas are calm or choppy. If they are even a little bit choppy, that means that on the open seas and onboard the little hydrofoil, it will be felt much more! If you are prone to a motion sickness, make sure you get a pill while still onboard the ship (ask the guest relations or in the infirmary) and take it ahead!
Is Naples your cruise ship's turn-around port? Check accomodation before you carry on reading about hydrofoils...
As you walk out of the huge building of Naples's Stazione Marittima cruise terminal, walk past all the taxi drivers that will surround you trying to take you for a whole day tour (they can't take you to Capri as it is an island ;)).
Walk towards the main street and Castel Nuovo you will see ahead of you. At the end of the big parking lot turn left towards the flat long building with a Mollo Beverello sign on it.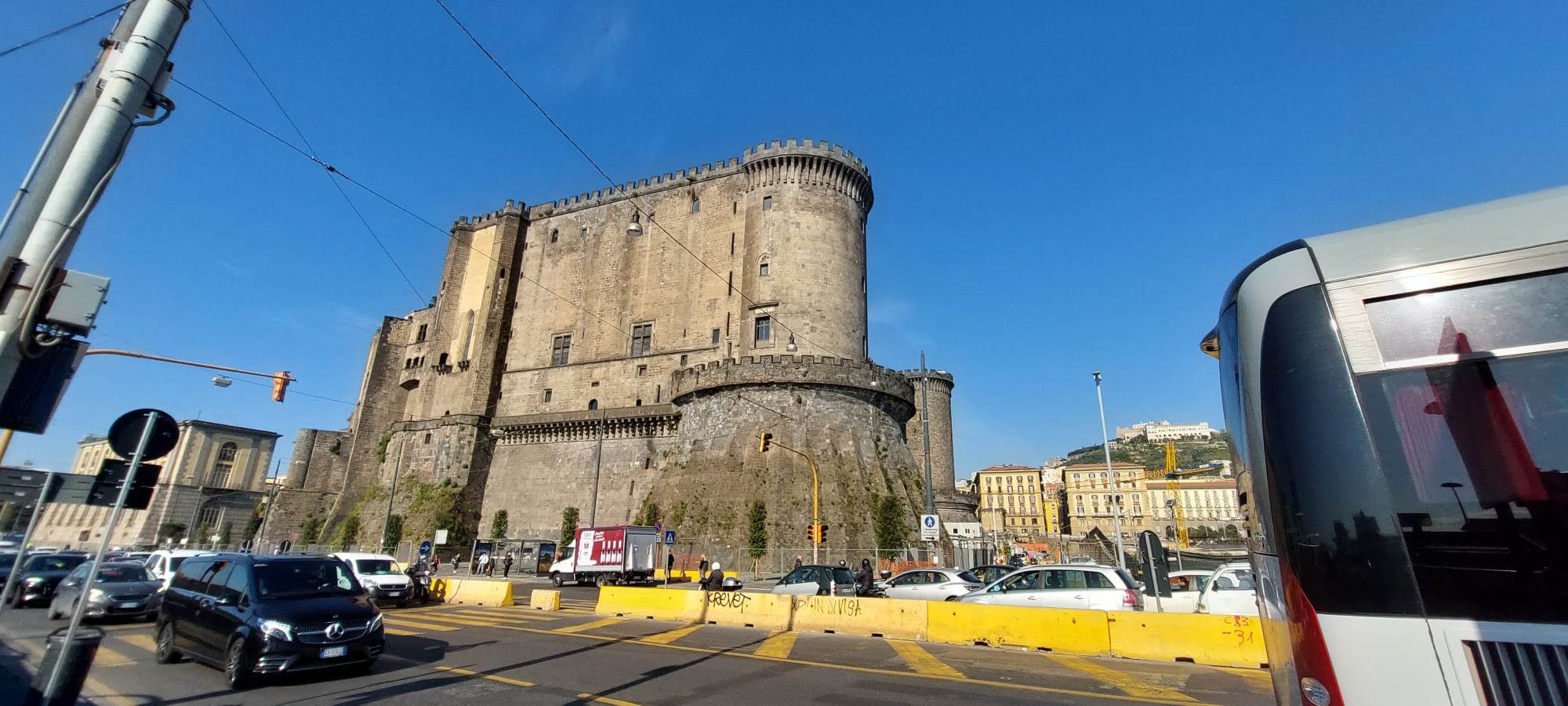 Castel Nuovo across the street from Stazione Maritima. Mollo Beverello is to the left (no need to cross the street)
This is where you will get your tickets for the Capri hydrofoil.

Should you get your tickets ahead of time, online? I will leave that decision to you, just keep in mind if the hydrofoil service gets canceled because of bed weather, it will take some time to get your money back.
In the back of the Mollo Beverello building you will see a number of different windows belonging to different companies selling tickets to Capri, Sorrento, Ischia and other destinations.
You should not worry about which company you'll be using, all you need to worry about is the destination and the time of the hydrofoil you want to use. So, if you want to use a 8:10 hydrofoil to Capri, that's the sign to look for in the window.
TIP: Before you stand in line of the booth advertising your preferred time, make sure you have euro cash on you!!! They do not accept credit cards.
TIP: Be very careful of your belongings when standing in line for the tickets. This area is like a magnet for pickpockets. Hold your purse under your arm or in front of you, do not have backpacks on your back.

Here you will also see a lot of beggars asking for change after you had purchased your tickets. Whether you want to give them something is up to you, they are not a real danger, but it's people who can sneak up on you from behind and take advantage of the crowded area.
The prices of the one way tickets for hydrofoils or fast ferries are somewhere between €21 and €24, depending on the company and timing.
You can buy the return tickets here, in Naples straight away. That is if you're sure you will be coming straight back to Naples (some people decide to take a hydrofoil to Sorrento and then take a train back to Naples from there).
---
If you're planning to visit Sorrento after your visit to Capri, you can only buy hydrofoil tickets for that second part of the trip only once you arrive to Capri. And do it BEFORE you take the funicolare up to the town of Capri! 

While you're still at the booth, ask the teller person which pier your hydrofoil will be leaving from. Sometimes they get it right but sometimes they're not sure until the last minute either so take this information with reserve.
The best way is to check each hydrofoil as they will be holding big signs with the destination and time of the departure.
FOR THOSE IN THE KNOW: If you still have about 15 minutes before your hydrofoil's departure, you can do a little trick that will save you some time upon your arrival on the island.

Namely, when you arrive to the port of Capri (Marina Grande) you will need to take a funicolare/cablecar ride up the cliff to the town.

People normally buy thicets standing in line at the booth in Capri's Marina Grande. But if you want you can also purchase them at the cashier of the little café with a terrace by the car park, 30 seconds walk from the Molo Beverello building. Just ask for a Capri funicolare ticket!
---
Capri ferry and hydrofoil: getting on the hydrofoil to Capri town
If you want to sit in the enclosed salon of the hydrofoil, make sure you're one of the first people to be in line to get on the hydrofoil as it gets pretty packed!
There are toilets available on hydrofoils as well as a little bar with snacks and drinks.
Now that you're on the hydrofoil relax and enjoy your little adventure.
As long as the seas are calm, you will be able to walk around the hydrofoil, go or stay on its open deck to enjoy the view of the Vesuvius and Sorrento peninsula, take a lot of pictures, have a little espresso and a cornetto (Italian version of a croissant) at the bar…a nice introduction to your day in Capri!
If you wish to experience something more culture or food related in Capri, I have hand-picked a few tours that start in Capri and would entail you getting to the island by hydrofoil. Check them out...
READ NEXT: 
RELATED ARTICLES:
CAPRI ITALY ARTICLES TABLE OF CONTENTS
From CAPRI FERRY to Mediterranean cruise ports easy HOME PAGE
Have A Great Story About This Topic?
Do you have a great story about this? Have you been to this port of call? Have tried out any of the shore excursions I recommend? Do you have any tips that might help your fellow cruisers? Share them with us!