Getting from Civitavecchia port
to Rome on a Tour
Getting from Civitavecchia port to Rome will be your major concern if...
Rome is one of the ports of call during your cruise 
or the port in which you disembark and want to spend a few days exploring the ancient city of Rome before your return home.
In this article I will talk about touring Rome during your short, not even a day-long stay in Rome.
Before you get down to planning all the fun stuff you will see and do in Rome, read our article about the port of Civitavecchia and getting from the ship dock to Civitavecchia train station if you are one of those cruise guests who wish to go into the Eternal city on their own.

Getting into Rome on your own by train certainly is an option. However, as I mentioned in the introductory page, if you want to spare yourself frustration and maximise the mere 12 hours (including the travel) in the ancient city of Rome, book yourself a tour!
Although your travel circumstances may differ (you may travel as a couple or in a party of 6, you want a private tour or you don't mind sharing the bus with other folks, too) I have hand picked a few Civitavecchia to Rome tour options that cover most of the scenarios. 
They are all intended specifically for cruise passengers and leave from the Civitavecchia cruise ship terminal.
---
1. VIP tour of Rome, Colosseum & Vatican Museum, Driver and Private Tour Guide with skip the Line tickets 

This tour's price is for up to 3 people and I think it gives you one of the most comprehensive experiences of Rome you could wish for in only 10 hours. Not only will you get transfer from Civitavecchia to Rome, see the Eternal City and have some free time to explore but also have a private licensed tour guide giving you personalised attention and a private walking tour of the Colloseum or both Colosseum, Roman Forum and Palatine hill and a private walking tour of the Vatican museum, Sistine chapel and St. Peter's basilica (sights' tickets not included). Find out more...
---
2. Civitavecchia Fullday Rome Including Skip the Line Vatican Museums and Colosseum 
With this tour you get the transportation from Civitavecchia to Rome's most famous attractions, touring around with a driver and tickets to the Coloseum and Vatican included! You can also go with the option of having a private Vatican guide incuded or another option with the local guide joining you for the full 6 hours in Rome and even a lunch included! Find out more about this Rome shore excursion...

---
3. Rome Small-group Experience No more than 8 Passengers Dock-Side Pick Up Included 

This is a great overview tour for a great price! Suitable for first-timers. You will share the minivan with a few other passengers – it is almost like a private tour but for much less! You will not enter the Colosseum, or any other attractions, but will get about 45 min to walk around it and take photos. Find out more about this Rome shore excursion...
---
4. Civitavecchia  Shore Excursion: Splendor of Rome
This experience is tailored for small groups so you get a personalized, VIP treatment. It includes a pickup at Civitavecchia Port, stopping at all the most prominent monuments like the Colosseum, Pantheon, Piazza Navona, fontana di Trevi etc. It finishes off at St. Peter's Basilica and takes you back to the port. A full day adventure with free time for lunch and gelatto, of course...All that for a really affordable price. Make sure to check it out here.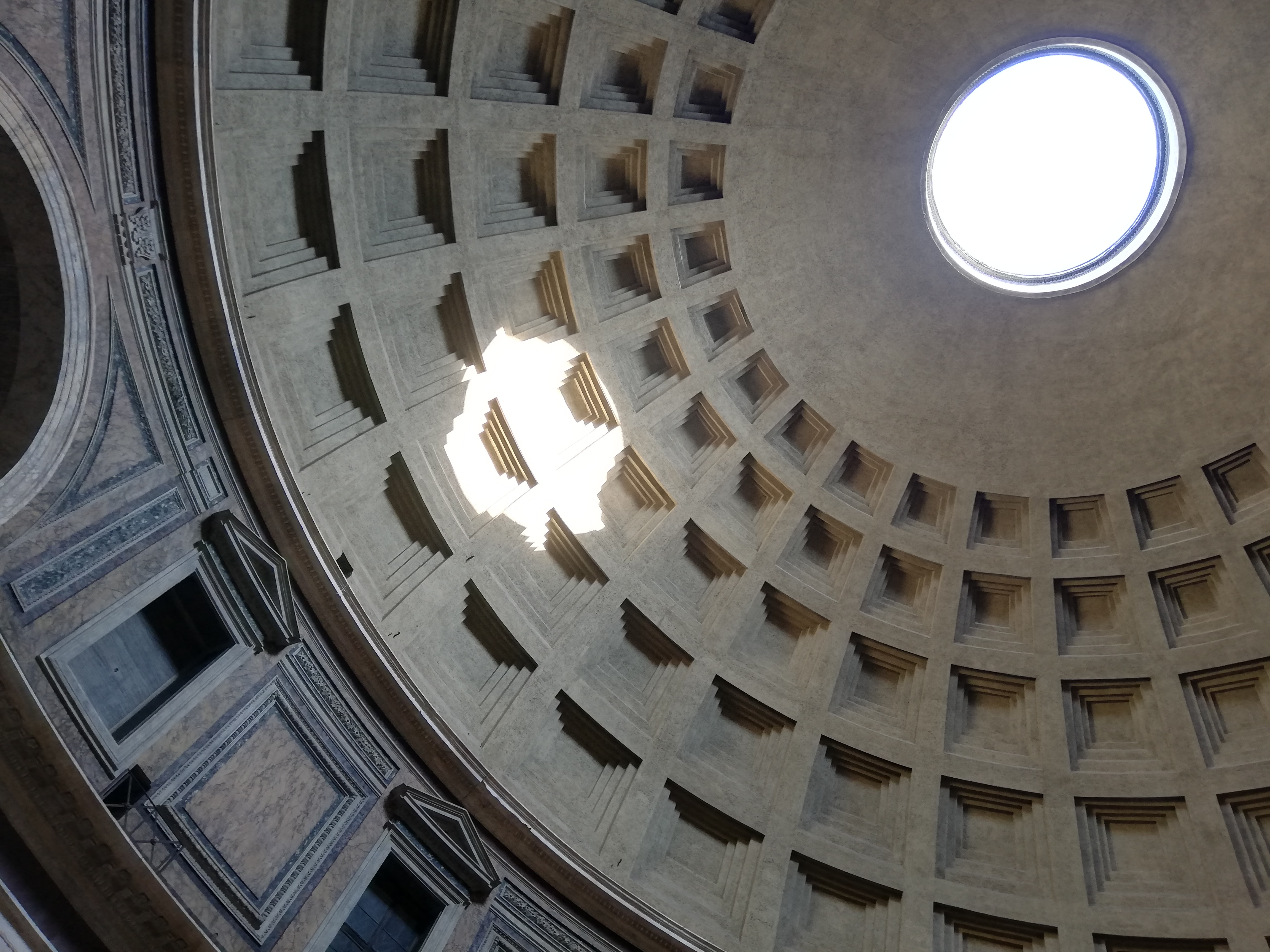 Interior of the Pantheon
---
Getting from Civitavecchia to Rome is easiest with one of the tours that set off from the Civitavecchia port terminal and drop you off back at the port at the end of your tour.

If you independently book a tour that sets off from Rome center, you are risking not getting back to the ship on time. If visiting Rome for the first time, it may be difficult for you to predict the time it takes from the spot your tour finishes to San Pietro train station to catch the last train back, so make things easier for yourself on that day.
So, go ahead and pick one of the tours, you will be glad you did when you come back to the ship and hear about all the dificulties independent travelers went trough trying to see Rome on their own.
Looking for Rome accomodation before or after your cruise? Check around...
Have A Great Story About This Topic?
Do you have a great story about this? Have you been to this port of call? Have tried out any of the shore excursions I recommend? Do you have any tips that might help your fellow cruisers? Share them with us!