Getting to Rome Italy Colosseum
from cruise ship
"Rome Italy Colosseum should be on your list of
top 3 sights to see in Rome."

Whether you are visiting for a day only, coming from the port of Civitavecchia or staying in Rome for a few days before or after your cruise – make sure you visit it!
Rome Italy Colosseum is an icon, a symbol of Rome, one of the most impressive buildings in the world, one of the best ways to transport yourself to the times gone past long time ago. It is a symbol of strength and power that Roman Imperium represented 2000 years ago.
The first sight of it is jaw dropping! Certainly was for my husband who first saw it emerging out of the Metro station, on our honeymoon in 2019. 
On this page you will find plenty of tips for visiting Rome Italy Colosseum, and all from the perspective of a cruise passenger! Keep reading…

Are looking for Rome accomodation before or after your cruise? Look around...
---
What is the Colosseum called in Rome?
Its original name was Amphitheatrum Flavium or the Flavian Amphitheatre. It is also called the Colosseo or the Coliseum.

---
What is the Rome Italy Colosseum Location?
If you have heard about this impressive building but were not sure where in Italy the Colosseum is…you are very lucky to find out it is right there, in Rome, once the heart of the Roman Empire, today - the capital city of Italy.

If you still haven't booked your cruise but you know you want to visit Rome Italy Colosseum, the port of Civitavecchia is the name you should be looking for on the cruise itinerary list.
---
Is the Rome Italy Colosseum in the centre of Rome?
Yes, it is located on the east bank of Tiber, in the valley between Palatine, Esquiline and Caelian hills of Rome. It is situated in what is today considered the historic center of Rome (everything within the Aurelian walls).
It is located right next to the ancient Roman forum. If you know that a forum of any typical Roman city was both the physical as well as commercial, religious, economic, legal and political centre then yes, the Colosseum was in the centre of Rome and still is, close to all the other touristy areas.

Rome Italy Colosseum is about 2.5 miles from the Vatican,  1.25 miles from Spanish steps and 1 mile from the famous Roma Termini train station (one of the two train stations you can get off at if taking a train from the port of Civitavecchia) or taking the shuttle bus from Civitavecchia.
---
How can I get to the Colosseum from Civitavecchia cruise port?
How do I travel from Civitavecchia to Colosseum without a car?
You have a few options. However, first you need to set your expectations for your 12 or so hour visit to Rome.
How many sites do you wish to see?

Is the Colosseum and the ancient Roman area around it what you want to focus on?

Or you want to see the Vatican, the Pantheon, the Spanish steps and other famous sights?
1) If you want to focus on only one or two major sights (that are within walking distance from each other) on that day, you can take a train from Civitavecchia to Rome's Termini station. The procedure is described in our article getting from Civitavecchia to Rome.
2) A much more stress-free way of getting to Rome and the Colosseum is taking a shared shuttle from the cruise port to the Termini station in Rome.
3) However, if you wish to see both the Colosseum and many other points of interest in Rome, do take a tour. It really maximizes your time on this short day.
4) Third, and the most flexible option is taking a private transfer from Civitavecchia to the Colosseum. It's like taking a private taxi, but for a set price.
---
What's the best way to experience Rome Colosseum?
The best way to experience a place so full of history is, of course, to have a professional guide by your side.
For cruise passengers that is crucial, especially if Rome is just one of your cruise stops and all you have is 12 hours in Rome.
If you don't take an organised tour from Civitavecchia, make sure you get your Colosseum skip-the-line tickets ahead, online. Just keep in mind that without a tour guide, who takes you straight into the Colosseum through the back stage door, you will wait in the Skip-the-Line queue for at least an hour. If it's of any solace to you, those without the skip-the-line ticket wait for two hours at least!
Seeing Rome Italy Colosseum and having lunch is pretty much the only thing you'll get to do during your day in Rome if you choose to do it your way.
My husband and I stayed in Rome for five days and didn't bother to take a tour but I have to say I was very jealous when I saw all those groups following their guides telling them so much stuff I didn't know.
I tried to make up by listening to some Rick Steve's audio downloads but after 15 minutes got tired of sitting and listening while there was so much to see around.
Wondering what shore excursions to the Colosseum to take? Here's a few bestsellers, cruise excursions tailored specifically for cruise line passengers:
1. Civitavecchia Shore Excursion: Splendor of Rome Tour - this five star tour does not include getting inside the Colosseum, just seeing it from the outside.  But it gives you time to see many other must see sights in Rome, including the Saint Peter's basilica in Vatican. Perfect for the first time visitors! 
2. Civitavecchia Cruise Port Shore Excursion: Fullday Rome Including Skip-The-Line Vatican Museums and Colosseum - A more indepth tour that takes you inside the Colosseum and inside the Vatican museum. A full satisfaction tour of Rome!
3. Civitavecchia Shore Excursion: Independent Rome Day Trip - this is a private van transportation from Civitavecchia to Rome, around Rome and back. No tour guide, just you and your party doing your thing, creating your itinerary as you wish.
---
How long does it take to get from the port of Civitavecchia to the Colosseum?
The road distance is 78.5km but it all depends on your means of transportation. The train takes about 1h37min. But do take into account the time for:
1) getting from the ship to the port exit, and then to the train station
2) waiting for the train
3) taking a train from Civitavecchia to Rome
3) getting from Termini to the Colosseum.
All in all at least 2hr30 minutes.
Riding a bus, taxi or shore excursion bus will take from one to two hours (depending on traffic). Plan your time wisely when coming back in the afternoon. Take into account you have to be back on the ship half an hour before its departure. Allow at least a two hour bus trip from the Centre of Rome back to Civitavecchia.
---
What are the best tours of the Colosseum?
The best shore excursions to the Colosseum for cruisers who only have some 12 hours in the port of Civitavecchia are already mentioned above.
For those lucky ones that are staing in Rome before or after their cruise here's a few great, highly rated picks...
1.    Colosseum Underground and Ancient Rome Small-Group Tour
2.    Colosseum Underground with Arena Floor Access Guided Tour and Roman Forum
3.  Arena Floor Access Tickets for Colosseum and Roman Forum (Skip the Line)
And here are some really, really affordable ones...
---
What neighbourhood is the Colosseum in?
Rome Italy Colosseum is situated in the heart of Celio, a working-class borough if compared to  the adjacent Monti, a chic residential area. Due to the Colosseo, Celio today is full of hotels, B&B's and Airbnbs and is a safe area just like the rest of the Rome is.

---
Why do people visit Rome Italy Colosseum?
On average, 7 million people visit the Rome Italy Colosseum each and every year. The Colosseum is the largest ever built arena in the Roman Empire and is one of the greatest and most impressive works of Roman architecture and Roman engineering. We all know it from postcards, travel magazines, movies like the Gladiator and the James Bond's night time chase in Spectre…but these just can't compare to a personal experience.

We have all heard all about the gruesome gladiators fights and games that took place there,  it is one of the most recognised landmarks in the world, a place where history was made, a place we can feel the instant connection with the people that lived 2000 years ago. It's amazing, isn't it?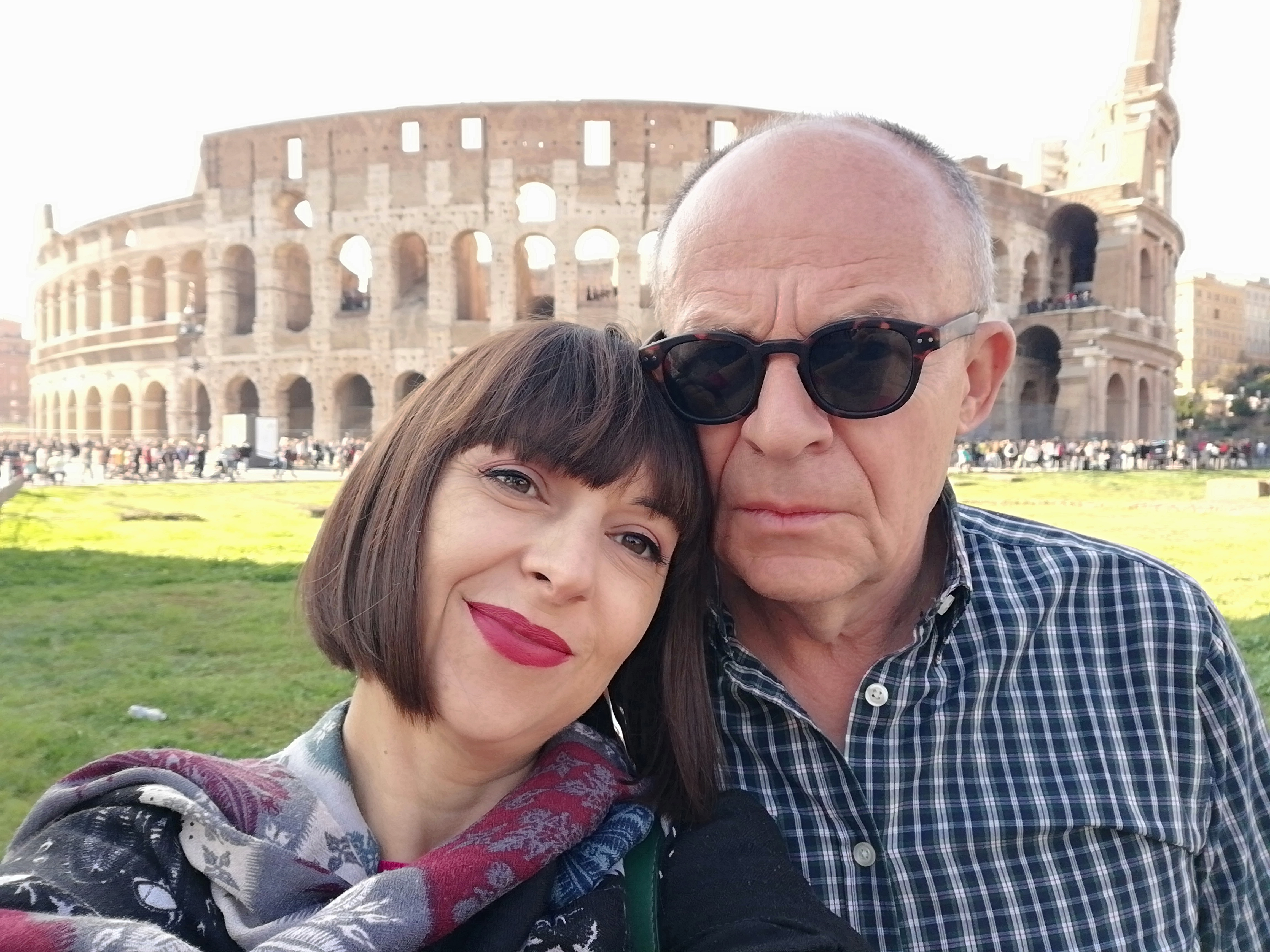 ---
What was the Rome Italy Colosseum used for?
It was actually an arena, an amphitheatre that could hold 50,000 – 80,000 spectators. It is amazing to think that that's how many residents there are in my whole hometown plus the villages around it.
Rome Italy Colosseum served for the same purpose stadiums serve for today: staging different forms of entertainment. And you would be surprised to hear they were not just the wrestling games, gladiator contests where two men fought against each other or against wild beasts. It was also reenactments of famous battles, mock naval battles (yes, they had water in it), classical drama performances in which tragic heroes would be played by condemned prisoners and executed on the spot, animal hunts and well…public executions in which people would be thrown to lions or roasted alive. When it came to killing, Romas were very imaginative people.
---
Why was the Colosseum built in Rome?
In short, it was built to keep people happy. Life back then was really hard: people were working without a day off, non stop and their frustration was growing. To prevent any uprising, Roman emperors had such entertainment arenas built – it would give the citizens the feeling there were always those less lucky then them.

But it was also built as Vespasian's attempt to restore Rome to the glory it had prior to the civil war and show the world Rome was still the centre of the ancient world.
---
Rome Italy Colosseum description
It is a free standing, oval (egg shaped) building, different from earlier Greek theatres that used to be built into the side of hills.
It is 189 meters long and 156 meters wide. In the past it was all white, covered in travetrine stone. The outer wall is 48 meters high.
It consists of two rings of walls, the interrior (encircling the inside arena) and the exterior wall (still standing on the northern side).
There are two circular corridors per floor between the two walls. The exterrior wall (the facade) consists of three stories with arcades.
The arcades are framed by Doric, Ionic and Corintian half-columns. Each of the arches on the second and third floor once held statues of divinities.
The fourth level didn't have the arcades, only small windows. But there were masts protruding from the summit that held a shade cloth that kept the spectators in shade.
---
How was the Colosseum built?
It took 10 years to built this magnificent piece of Roman architecture, which isn't even such a long period for those times.
It was mostly built by Jewish slaves and financed by the loot that Vespasian brought back from the siege of Jerusalem.
This grand design must have taken some extensive planning and good architectural drawings but today we do not know who the person responsible for those was.
The tools the stonemasons, engineers and artisans used are typical of those used for other constructions of that times: cranes, drills, hammers… The main construction materials were wood, cement, limestone, tuff and marble. Bronze was used to bind the stones together.
---
How much of the Colosseum is left?
If you're wondering how much of the Colosseum is still standing we've got some good news and some bad news: a portion of the original Colosseum is preserved but about 2/3 of it is has been damaged due to natural disasters, vandalism and neglect.
In the 7th century it's rapid decline started and since then its massive stones were used to build other structures in Rome. It was in the 18th century that various Popes started its conservation. In 1874. and 1875. consollidation was made for collapsing structures.
At the moment, Italian government is rebuilding the arena floor of the Colosseum and that is why we saw construction workers working on it when visiting in Octber 2019. But proper 'full restoration' has not been done.
---
Rome Italy Colosseum History and Interesting Facts
The construction of the Colosseo, the most visited archaeological site in the world, started in 72 AD under emperor Vespasianus.
It was a gift to Roman people, funded by Vespasian's looting of Jerusalem. It was completed in 80 AD, under his son Titus.
The grand opening was grand indeed. It lasted for 100 days of non stop gladitorial combats and wild animal fights.
It was during the rule of Domitian, from the Flavian dynasty,  Colosseum underwent some changes and that is why it was called after him, the Flavian amphitheatre.
In the 5th century the public taste started to change, gladitorial combats and executions were not something people would enjoy so much and they were abolished by Emperor Honorius. Also, the costs became too high.
The last shows took place in the 6th century. So, it saw some four centuries of active use. After that it was left to neglect and used as a source of building material for other monuments and buildings.
It was damaged by earthquakes throughout history, repared, hit by earthquakes again, repaired etc. The place was actually leased as a quarry by pope Alexander VI and its statues were melted.
It was in 1749. that Pope Benedict XIV consecrated it and begun its restoration. Tourists on Grand tour sparked the interest in ancient Roman architecture and ruins in the 19th ct. It was declared a momument property of the State of Italy and opened to public in the second half of the 19th century.
---
Can you go inside the Colosseum?
Yes, you can go inside the Colosseum if you purchase a ticket. There a few types of tickets and the standard one includes the standing area around the arena but not the underground area.
Read more about getting a ticket in my article Colosseum tickets. Entrance is free on the first Sunday of a month only, but as a cruiser with limited time, do not even think about doing this because the line is hours and hours long.
---
Rome Italy Colosseum Map
If you take a look at the Colosseum map below, you will see this grand monument is located at the southern tip of the ancient Rome centre.
Other points of interest can be reached on foot if you are staying in Rome for a few days.
If you are visiting for a day only, take a tour bus or a hop on hop off bus that will shuttle you between the major points of interest. You will maximize your time that way.

---
Rome Italy Colosseum inside - is it worth going?
The first time I visited Rome, some time in 2005, my time was very limited and didn't get to visit it on the inside. And that is ok. You don't have to either if:
there are other places in Rome you are looking forward to visiting
you are visiting Rome for a couple of hours only, as cruise guests normally do. 
If you decide to go in, make sure you're on a shore excursion with a tour guide that takes you inside directly through the back door. If you are doing the Skip-the-line ticket (not tour) thing (that you purchased online or with Roma pass) the line is still a very long line, and the wait is about an hour. As opposed to the regular line where you wait for more than two hours!
I first visited the Colosseum inside in 2019 and I was happy I did. Although the whole structure is more impressive from the outside, and much more intimate looking from the inside, I loved seeing the underground area, even just from the standing area around the arena (we only had a standard ticket) and shopping in a souvenir shop. Again, I wish I had a tour guide to find out more then I did just by looking at.
---
What is the current use of the Colosseum?
Today, the Colosseum is a tourist site, one of the most visited in the world. It is not really used as a concert arena, as are some other Roman colosseums in the world. But it is often used as an event backdrop. However, Italian culture minister says once the arena restauration is done, cultural events will take place.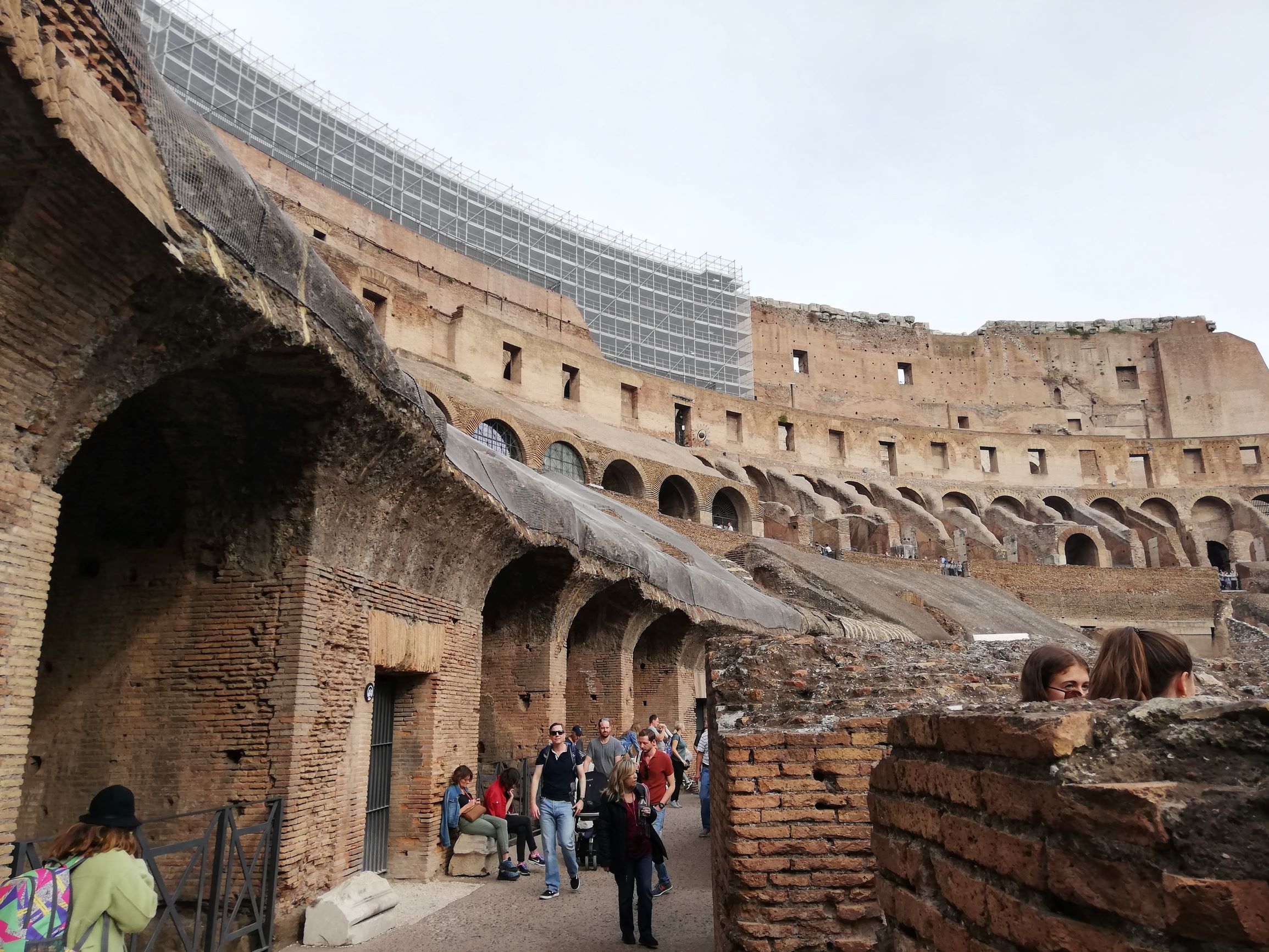 ---
Visiting Colosseum Tips and Tricks
Some of the things you need to know before visiting the Colosseum are:
always buy your Skip the line tickets beforehands or book a tour with direct entrance
don't try to save money and visit for free on the first Sunday of the month if you are visiting Rome for a day only. You will be waiting for hours. 
Skip-the-line queue is at least an hour long, and that is in the off season. You also need to wait in line at a little booth to get your exact entrance time (actually the time you can join the line...and wait), especially if purchased by Roma Pass. 
The best time is to visit at opening (8:30am) or a few hours before closing which depends on the season. 
This is not a site to save money on – pay the guide and save yourself long hours in line. 
Wear comfortable tennis shoes, bring a hat and water.
---
How long is the visit to Rome Italy Colosseum?
First, there's waiting in line. Plan to spend about an hour standing in Skip-the-line queue if you are not on a tour. The visit itself is anywhere from 45 minutes to 1hour30 minutes, depending on the type of the ticket you have, whether you are with a guide or not, how long you wish to linger reading your materials or listening to downloaded audios, or how long you take to shop in the souvenir shop.
The whole experience of the Colosseum, the Roman forum and the Palatine hill will be anywhere from 2-4 hours.
---
Should I prepare myself for the Colosseum visit and study ahead?
It's always good to explore ahead, you will get a more wholesome experience, that is for sure. I like the free Ricke Steve's audios on the Colosseum or watching educational video slike this one…

---
What is the cheapest way to get from Civitavecchia to Colosseum?
The cheapest way to get from Civitavecchia to Colosseum is to take a train to Termini station. The whole procedure is described in my article Getting from Civitavecchia to Rome. Keep in mind getting to Termini station is just one portion of the trip, the train does not take you directly to the Colosseum!
Taking a bus is also cheap for sure but you need to be very careful with timing because you will get stuck in traffic and go crazy sitting stuck on the bus somewhere between Civitavecchia and Rome. Don't take the local buses, only the tourist shuttles.
---
Is there a direct line between Civitavecchia and Colosseum?
No, not really to the Colosseum but there is a SIT bus service (the same one we recommended to get from the Fiumiccino airport into Rome) that gets you to the Termini station.
It is comfortable and affordable, however, do plan your time cautiously so you don't miss your ship on the way back (traffic is just crazy in the afternoon hours).
Also, this service can be quite frustrating because the pick up point and the drop off point are not marked propperly so it does take a little bit of getting lost. Because of that, and getting stuck in traffic, taking one of the shore-excursions is still the safest bet.
Rome on Your Own bus from Civitavecchia seems so have some more structure but the drop off is quite far for seeing the Colosseum, it's in the Vatican so you would have to take a taxi. Which may not be such a bad idea. 
---
Getting from Termini station to the Colosseo
So you decided to take either the train or a SIT bus to the Termini Station? Here's directions for getting from the Termini station to the Colosseum:

1)       take a taxi (6-8 euros for a few minutes ride)
2)      take subway – Walk from the train stop (if coming by train) through long corridors following the Metro sign. Take Line B in the direction Laurentin, get off at Colosseo station. It is 2 euros for a 4 minute ride, but if you purchased your BIRG ticket at the Civitavecchia train station, all the public transport is included.
3)      or walk (1.8 kilometer).
---
Where do I catch the Civitavecchia to Colosseum bus from?
As mentioned before, there is no direct bus connection between Civitavecchia port and the Colosseum, just one with stops at Vatican and Termini station. The SIT bus is waiting at the port exit, at the Welcome centre.
As for the Rome on your own bus. Your coach will be in the car park at the Cruise Terminal "Largo della Pace", just opposite of the fire brigades station. Your assistant from Civitatours, the touroperator, will be waiting for you.

---
Where do I catch the Civitavecchia to Colosseum train from?
The whole procedure of getting from your cruise ship's dock, to the port exit and then to the train station has been described in my article Civitavecchia train to Rome. Keep in mind there is no direct train to Colosseum but to the Termini train station from where you'll be catching Metro to the Colosseum.
---
How much is a taxi from Civitavecchia to Rome Colosseum?
Taxis from the Rome port of Civitavecchia to Rome Colosseum are metered and on a regular working day expect to pay around 140 euros for the one way journey. Keep in mind the fare is different on weekends.

---
Hotels near the Rome Italy Colosseum
If you'll be staying in Rome for a few days before or after your Mediterranean cruise, check these hotels for staying near the Colosseum:

---
Restaurants near the Rome Italy Colosseum
It takes a few hours to see the whole Colosseum and Roman Forum area, so no surprise one easily get hungry after that. Check out the Divin Ostilia Wine Bar, Contrario Vineria con Cucina or Gran Caffe Rossi Martini for just some of good restaurants in the Rome Colosseum area.

---
---
What attractions are near the Colosseum?
The closest one is the Roman Forum. When purchasing the Colosseum tickets, you get to enter the Roman Forum as well as the Palatine hill (where Rome was founded) for free.
Just keep in mind it is a vast area and it takes a lot of time to see them. If you are staying in Rome for a day only, I suggest you leave those for your next visit.
Domus aurea, Nero's residence is another famous site near the Colosseum, also located in the Palatine hill.
St Peter in Chains (San Pietro in Vincoli) with Michelangelo's Moses statue is another place to see near the Colosseum. Again, watch your time!