Daily Ephesus Tours -
Highlights, private and other types of Ephesus tours


We have picked the best rated daily Ephesus tours for you. Remember, your Kusadasi day will not be maximized without a shore excursion! Even if you are not a tour type person, this is the day to get on one!
The summer of 2013 was the last time I was sitting at the desk by the Crystal Symphony gangway, seeing the guests off on the way to their daily Ephesus shore excursions. As always, I was handing them local maps and giving the last minute info on Kusadasi, Turkey, the port we were docked in.

Just like many times before, the welcome in Kusadasi did not disappoint: the red carpet was rolled out and the magical sounds of the local entertainers and dancers on the pier got us all goose bumps, promising a very special and exciting day.

Sitting there, I was very happy to see that a big majority of people understood the importance of taking an organized tour when seeing this spectacular site. 'They must have read my website' I thought jokingly.
Because, although this website primarily focuses on getting around on your own, Kusadasi and Ephesus are one of the port days when we highly recommend taking an organized tour, the reasons of which we thoroughly explained in our article Why Taking an Ephesus Shore Excursion is a Must.

I noticed that apart from taking ship organized tours, many people decided to go with private daily Ephesus tours they booked online.
Namely, the interest is so big the local tour operator that cooperates with cruise lines finds it hard to supply the number of buses for a cruise ship with 3-5000 passengers.
When working on cruise ships, before heading out in the port, it was my job to check the number of passengers left onboard.
On Kusadasi mornings, by 9am, there would be only about 200 left onboard (out of 3000), probably waiting for their afternoon tour.

That's how many passengers take daily Ephesus tours in Kusadasi!
To make things easier for you, I have scanned hundreds of tours available online, divided them into a few categories and picked best of the best in each.
So, roughly, Ephesus tours can be divided into:
1. Daily Ephesus Tours - Highlights Ephesus Tours
1.Highlight tours - there is so much to see in Ephesus that even a highlights or half-day tour takes 5-7 hours. With this type of tours you will typically see all the main points of interest inside the locality except for the Terrace houses as they take some extra time and an extra admission fee to that part of the locality.
Do not be surprised if you get taken for a visit to a Turkish rug factory for a rug making demonstration. It's part of Turkish culture and you won't be sorry for it.
Here are our top suggestions for Ephesus highlights tours, and we tried to find the shortest ones in case you don't handle the heat well:
Half Day Group Tour to Ephesus from Kusadasi Port - in only 4 hours you get to see a lot: Baths of Scholastica, the Library of Celsus, the Temple of Hadrian and The Grand Theater. This tour even manages to make a stop at Virgin Mary's house for 40 minutes and a stop at the Temple of Artemis! It's very afordable too!
Ephesus Tour from Kusadasi - people adore this tour's lady guide. They find her so informative they even decide to join her for another tour in the same day! This tour has an open buffet lunch at Selcuk included, too! Looove Turkish food!
---
Daily Ephesus Tours - Full Day Tours
These tours usually include visit to Virgin Mary's house and lunch.
They usually take 7-8 hours so you can expect to come back to your ship in the late afternoon.
As these tours are for small groups only, be quick to book the tour you like before it gets sold out:

Full Day Small Group Ephesus Tour from Kusadasi

-

even those who are not the tour type of people are exhilerated to have taken this tour. OMG is anothere three words they use to describe both the tour and hillariously funny tour guide.
---
3. Private Daily Ephesus Tours
---
3. Shopping Daily Ephesus Tours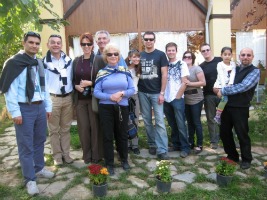 Let's face it, shopping will be a big part of your day in Kusadasi. With some of the finest rugs, leather, gold jewellery and pottery in the world on offer here, without taking time for shopping, you would be missing out big time!
That is why we have also prepared a selection of tours that will give you enough time to shop.
If you think you will just go and shop by yourself, remember there are thousands of shops fighting for your dollar out there.
So it can get a bit intense. Have an experienced tour guide by your side to guide you through the whole experience. You won't be sorry!
1) Ephesus and wholesale shopping Tours from cruise port of Kusadasi - this tour gives you a chance to see the carpet weavers, have a go at pottery making and model leather in a leather factory. And all that with no pressure to buy!
2) Kusadasi Ephesus Shopping Tour - this tour is a shopping only tour. Small intimate groups guarantee you personalised attention while exploring authentic turkish crafts.
3) Private Ephesus Tour with Cultural Shopping - this tours gives you enough time to really experience all the major sights within Ephesus and then shop at Selcuk handicrafts market.
All of these tours sound great and it's hard to pick 'the best one?' It's because they really are great. Turkish people are some of the most hospitable people in the world, the guides are all supeer qualified and have a degree in history, art or archaeology.
Besides, they all have a great command of English language.
That's why, no matter what dialy Ephesus tour you pick, you can't go wrong.
For more ideas on what to do in and around Kusadasi, check this blog post by Pia.
Enjoy your daily Ephesus tours!