Dubrovnik Old Town for tourists and cruise guests
"Dubrovnik Old Town - where you will find all Dubrovnik attractions and the famous street of Stradun"
Breathtaking! Dazzling! Marvellous! These are only some of the adjectives that Mediterranean cruise ship guests use to describe Dubrovnik Old Town.
As your cruise ship docks at Dubrovnik port be ready to shoot off the gangway early in the morning and head to the Old Town which is Dubrovnik's #1 attraction and which became a UNESCO World Heritage site in 1979.
There are many different ways of getting to Dubrovnik:
No matter how you decide to get there…this is definitely where you want to spend most of your day!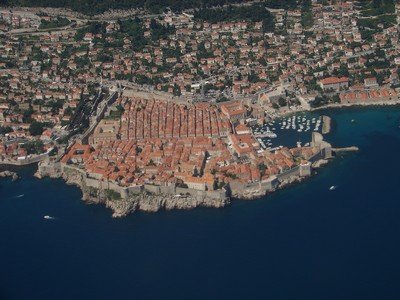 George Bernard Shaw, the famous writer said, "If you want to see heaven on earth, come to Dubrovnik. Because the beauty there will leave anyone breathless."
So, if you weren't excited about it before, we're sure you must be dying to see it now!
So here's how to go about seeing the Old Town of Dubrovnik: no matter what means of transportation you would have chosen to get to Dubrovnik old city, your first encounter with it will be as you take a glimpse of its monumental walls, one of the highlights of Dubrovnik sightseeing!
But talking of transportation, I have to say that in the past 3-5 years cruisers have become much smarter and don't blindly depend on the shore excursions offered by their cruiselines. 
Today, shopping for services like accomodation/transportation and experiences online has become an integral part of our travels. Not to mention you are saving by cutting out the cruise line's percentage out of the equasion.
It is my job to make your travels easy and cut down the time you use to prepare for your days in port. That is why I suggest these Dubrovnik shore excursions that will take you from the ship to the Old Town and secure the sightseeing:
Only just seeing the walls from the outside will be enough to take your breath away… and you haven't seen anything yet!
Although the most interesting sights are inside the walls, I have to tell you a little secret: the wall itself is one of the top sights of Dubrovnik - you can climb it and walk around the whole town, enjoying the breathtaking views. It is my personal most favourite activity I have ever done in Dubrovnik.
Here are the guided tours of Dubrovnik walls that will maximize this experience for you (some have a meeting point at the cruise port, the others in the town, some include the wall ticket, the others don't!):
To enter the Old town, you need to walk across the 16th Ct. wooden bridge that spans across the moat. There used to be water in the moat long ago but now it's just a green area.

There are stone seats on the side of the bridge if you need to sit down and take it all in.
Before you enter, notice the Statue of St. Blaise above the arch of the entrance, that is the patron saint of Dubrovnik and you'll be seeing a lot of him once inside!
Also, take a photo with the honorary guards in period costume that stand at the very entrance during summer!
Once you enter past the guards… you've entered a pedestrian only area. From here on, relax, forget the stress, cars, noises and your busy stressful life back home and enter the pure magic zone, Dubrovnik Old Town…
As you walk through the second gate you will be literally blinded by the sun reflecting off the shiny marble of its main street, Stradun, one of the most beautiful streets in the world.
Dubrovnik's beautiful Gothic, Renaissance and Baroque churches, monasteries, palaces and fountains are just a part of its charm… another big factor, something that really makes it stand out is its atmosphere!
Here, the inborn slowness of the natives quickly brushes off on you… your feet naturally start to drag along that shiny marble, the biggest effort you can make as you walk is lick your gelato, and every 20 minutes you simply have to sit down at a terrace of one of the many cafes and restaurants.
After you have absorbed all the beauties of Stradun, its buzz and shine, its "to see and be seen" atmosphere, get into and explore all the little side streets that sprawl out to its sides.
There, you will find a surprise round every corner, so have your camera ready… Dubrovnik Old town is one of the most photogenic places in the world!
Little hidden restaurants, pubs, wine bars, souvenir shops, art galleries, jewellery shops can keep you wandering in this labyrinth for quite a long time… but don't worry, you can't get lost… the city is completely walled in so you can't get too far!
And it's not that big either, it takes maybe 10-15 minutes to walk from one side to the other.
Now that you know this, you should not be surprised Dubrovnik old town was the main filming location in Croatia for King's Landing, the capital of the Seven Kingdoms in The Game of Thrones.
Tours that let you experience these fantastic locations are always best-selling tours for our cruisers, and have great reviews:
Once you've seen the inside of Dubrovnik Old Town and all of its sights and attractions, you should now see it all from a different perspective… from its famous walls that can be walked all around.

Walking the wall really is one of the top attractions of this amazing place. It will give you a chance to get some amazing shots and enjoy a warm breeze from the crystal clear Adriatic sea!
But I have to say, in case you like taking the 'birds view' of the world, you shouldn't miss the ride with the cable car and taking shots of this Mediterranean jewel from above!
Have a great day in Dubrovnik Old Town!
---
Deals on Hotels and Shore Excursions:
Hotels in Dubrovnik - Planning to stay in Dubrovnik in future? HotelsCombined.com allows you to instantly search and compare room availability and prices from all major travel websites!
Viator Dubrovnik Tours and Shore Excursions - Compare prices to the ship offered shore excursions and book your own tours online!
---
RELATED ARTICLES:
OTHER USEFUL LINKS:
DUBROVNIK CROATIA ARTICLES TABLE OF CONTENTS
From DUBROVNIK OLD TOWN to Mediterranean cruise ports easy HOME PAGE