Livorno Italy - Florence Cruise Port Guide,
Things to Do and Tourist Attractions
'If Livorno is one of the regular ports of call in your itinerary, not your ship's homeport, your ship will dock far away from the cruise terminal buildings.'

As you're checking the itinerary for your upcoming Mediterranean cruise you may come across the port of Livorno in Italy. Never heard of it? Don't worry… the port of Livorno isn't a typical touristy port, but more a gateway to Florence, Pisa and the rest of Tuscany.
As you're taking a peek through your stateroom's porthole, or standing on the open deck of your cruise ship as it slowly glides closer to its berth, you might be a bit disappointed… no sunflower fields or medieval hilltop towns of Tuscany anywhere in sight!
No wonder, the port of Livorno, Italy is a multipurpose port in which all kinds of cargo are handled, from cars and forestry products to cruise ship passengers! As a matter of fact, over 3 million of them each year.
As your ship finally docks right smack in between all those containers you might feel you are in the middle of nowhere. And you kind of are… that's why it is so important to have planned your transportation to Florence Italy well ahead, preferably before even setting foot on your ship.  
Livorno Italy, Florence port, is certainly not a day when you should leave planning your travel to Florence to the last moment when you get off the gangway.
If Livorno is one of the regular ports of call in your itinerary, not your ship's homeport, your ship will dock far away from the cruise terminal buildings.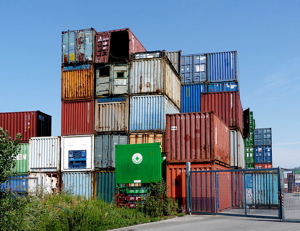 As you walk off the ship, all you will most likely see is:
a few tables set up by car rental companies

a few taxis ready to take you to longer destinations (all day or half-day tours to Florence, Pisa, around Tuscany)

Private tour vans that take you to your private 
- Florence and Pisa shore excursions
- San Gimignano and Siena shore excursions
- Cinque Terre shore excursions
For the pros and cons of each one of those ways of getting to Florence, read more in our article on Getting to Florence. Or see direct links to the best options below:
The cruise ship port of Livorno in Italy is about 2 miles away from the center of Livorno town. But that's just from the port entrance to the center. Depending where your ship actually docks within it, you can easily add a few more kilometers.

If you're asking yourself, "Is it possible to walk from the cruise ship dock to the center of Livorno or to the train station?" the answer is- no!  And that's if your ship docks at the new industrial wharfs. And it's a 99,9% probability it does.

That's for two reasons:
1st - walking around the cargo port of Livorno, where you will be, is strictly forbidden due to the dangers of the port traffic (trucks, forklifts etc.)

2nd - even if you were allowed to walk, it would take you about an hour and a half just to get to the train station. On this super-short day, you don't have the time.
Only some very, very small ships (read: yachts) may be able to dock at the old Medici port of Livorno (Porto Mediceo), which is within easy walking distance from the centre of Livorno.
LIVORNO, ITALY THE PORT OF FLORENCE FACTS:
Position: NW part of Tuscany, on the shores of the Tyrhennian sea
Residents: 160,000
Distance from the city center: 2 miles (3.2 km)
Closest airport: Galileo Galilei, International airport of Pisa, 8 miles (13 km)
Distance to Florence: 50 miles (80 km)
Railway station (Livorno Centrale): 15 mins. in a taxi
If you haven't already done so, make sure you read our article Getting to Florence to help you make decisions on how to get to Florence on this day. 
---
Short history of Livorno, Italy – The port of Florence
During Roman times, there was a small port here, called Liburna.
Throughout the Middle Ages, the place was under the domination of Pisa.
In 1421, under the reign of Genoa, the port was sold to Florence. From this time, it was ruled by the Medici family who worked on expanding Florence and also needed a port to support it.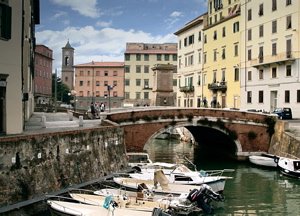 From then on, during more than 3 Centuries of Medicean rule, they turned this little port into one of the most important ports of the Mediterranean.
In the 16th Ct. the town was given the title of city and was big enough to house 20,000 people inside its walls, and had docks for up to 300 ships in port.
But that was just the beginning… in the 16th Ct, the city was presented with the "Constituzione Livornina", a legal document which encouraged merchants from everywhere to settle here.
Thanks to the new laws, the port was now duty free, there was freedom of religion and amnesty for some penance. Armenians, Dutch, English, Greeks and Jews moved to Livorno to live and trade here and the city quickly became a real little cosmopolitan center.
In the 17th Ct a new quarter was built in Livorno, called Venezia Nuova and it was comprised of 23 islands, interlaced with canals and connected with bridges. The area was built to house the mercantile class and store goods. Namely, the canals made it easy to connect the port with the store houses. Although damaged in WW II, this part of town is one of the rare authentic areas.
In the 18th Ct, with the end of the Medici family, Livorno was under the rule of the House of the Habsburgs.
In the 19th Ct, the city of Livorno in Italy witnessed its second golden age. Everything was flourishing… economy, literature, arts, architecture and publishing. It even became one of the local vacation centres, although it looks nothing like a resort town today!
Livorno became part of what we call Italy today in 1860 (Italy as such didn't exist before that year).
At the beginning of the 20 Ct. the port of Livorno began its decline and as mentioned above, suffered great damages in WW II.
RELATED ARTICLES:
From LIVORNO ITALY to Mediterranean Cruise Ports Easy
HOME PAGE