How to Make Turkish Coffee
"How to Make Turkish Coffee - Turkish coffee has had an important role in Turkish lifestyle and culture since Ottoman times through to the present!"
If your idea of coffee is a watery brown liquid with lots of milk and artificial sweeteners in it, that you chug down out of big paper cups, you shouldn't miss trying some real coffee in Kusadasi Turkey.
You can ask them to make coffee for you when at one of the Turkish rug demonstrations after your Ephesus tour or have one at the end of a nice meal in one of the Kusadasi restaurants.
Coffee has had an important role in Turkish lifestyle and culture since Ottoman times through to the present!
Arabica bean coffee was first introduced to Istanbul in the 16th Century and by the 17th Century it was consumed in large quantities in the Ottoman court.
The sultan would have special people whose job would be to make Turkish coffee for him, and those coffee makers had over 40 assistants!!! Making a coffee became a very important ceremony!
In harems, women would receive intensive training on the proper technique of how to make coffee.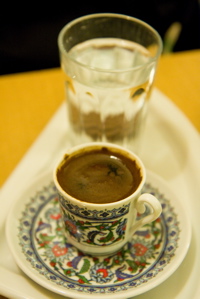 Mastery of this technique was very important because in ancient times, prospective husbands would judge a woman's merits based on the taste of her coffee!
This tradition stays even today and prospective brides, as a test of their housekeeping skills, are still expected to make and serve coffee to the boy's parents!
You think that's conservative or unfair? Well, it actually works in their advantage sometimes…
If they don't like the prospect, brides to be simply put some salt into the coffee instead of sugar, or spill coffee all over the guests!
---
How to Make Turkish Coffee:
The Turkish way of preparing coffee is different from any other in the way that:
The coffee itself is very finely ground, almost like powder!

It is prepared in a special Turkish coffee pot called "cezve"

First, water is put to boil and sugar is added straight away! That's why you will never get a spoon with your coffee!

When the water boils, the pot is taken off the fire and coffee is mixed in

After that, the pot with the coffee is put back on the fire to boil for a few more seconds and removed quickly before it bubbles/pours out!

A lot of attention is given to the foam which must stay on top of the pot

The pot is left to rest for a few minutes until the ground coffee settles on the bottom and then poured into cups
When you get your cup of coffee, you will notice that ground coffee settles on the bottom. You're not supposed to drink that. Unless you want to stay awake for the rest of your Mediterranean cruise to party with your cruise director. ;)
Just like in the past, the ritual of coffee making, coffee drinking, and more than anything else, socializing over a cup of coffee, has a great importance in Turkish society!
It is over a cup of coffee that politics is discussed and catching up on the latest news and gossip is done.
So if you get offered a cup of real hot Turkish coffee at a rug presentation or anywhere in Kusadasi, make sure you accept the offer.
Also, a real Turkish coffee pot will be one of the nice Turkish souvenirs to buy in Kusadasi.
Not sure where to shop in Kusadasi? Let your private tour guides direct you.
Kusadasi Hotels and Shore Excursions:
Hotels in Kusadasi - Planning to stay in Kusadasi to explore Ephesus even more? HotelsCombined.com allows you to instantly search and compare room availability and prices from all major travel websites!
Magical Steps Travel - this is a five star private tour provider for Kusadasi and Istanbul. Check out why they have a 100% guests' satisfaction guarantee and Trip Advisor's certificate of excellence for many years in a row now. 
---
Like Make Turkish Coffee page?
---
Pages related to Make Turkish Coffee:
KUSADASI ARTICLES TABLE OF CONTENTS
From MAKE TURKISH COFFEE to Mediterranean cruise ports easy HOME PAGE