Best Mykonos Beaches - Getting to Your Favorite Mykonos Island Beach
"Mykonos beach - Gorgeous beaches which are prototypes of an ideal Mediterranean beach..."
If you look forward to visiting one of the Mykonos beaches during your cruise to Mykonos Greece island, here's a few things to keep in mind.
First of all, although famous for gorgeous beaches which are prototypes of an ideal Mediterranean beach, there is also lots to see in Mykonos town itself.
Besides the Mykonos attractions, Mykonos village is an attraction in itself… the white washed cubic houses, the labyrinth streets, sophisticated bars, local taverns and fantastic shopping shouldn't be missed!
So plan your visit to a Mykonos beach in a way that you'll still have time to explore the village.
There are a few ways of getting to Mykonos beach.
---
1. Getting to Mykonos Beach – TAKING A TAXI.
Unfortunately chances of taking a taxi from your cruise ship dock to the beach in Mykonos are very slim.
In Mykonos village taxis can literally be counted on the fingers of two hands and they constantly circulate between the village and beaches, or hotels around the island.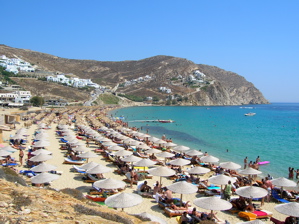 That's why you won't see any in front of your cruise ship.
To get to the nearest official taxi point, you will need to take your cruise line organized transfer bus from Mykonos port to Mykonos village in case your ship is docking in the New Port.
If your ship tenders into Mykonos village, the taxi point will be just a few minutes walk from the tender pier.
Learn more about the options of getting to Mykonos village in our article Getting to Mykonos village.
The official taxi pick-up/drop-off in Mykonos is in Manto square, also called the taxi square. It is the only square by the very waterfront of Mykonos, and you can easily recognize it by the bust monument of the local hero Manto Mavrogenous.
Just please keep in mind that, taxis being so sparse on the island, in high season (June, July, August) you can wait for up to an hour to get one. When you get to the taxi square you will most likely see a line formed already.
So be there very, very early in the morning, that's the best advice we can give you.
Also, keep in mind how you're going to come back from the beach to the village. For that reason we recommend going to one of the beaches that are connected with the village by a local bus.
---
2. Getting to Mykonos Beach: TAKING A LOCAL BUS.
To catch a local bus to a Mykonos beach, you would also need to take your cruise line's transfer bus to Mykonos village first if your ship docks in the new port. Find out more about getting to Mykonos village in our article Getting to Mykonos village..
There are 2 local bus terminals in Mykonos village. One is closer to the point where your cruise line transfer bus drops you off, just behind the Archaeological museum. However, the beaches it takes you to are on the more windy side of the island (e.g. Agios Stefanos).
That's why most people will walk through the village to the bus terminal on Fabrika square. From there, the buses take you to Ornos beach, Agios Giannis, Paradise beach etc. It is about 15-20 minute walk from the cruise line transfer bus drop-off point which is by the yacht dock.
Depending on the beach, prices will range from €1,40 – €1,70 per person, one-way.
You can locate both bus terminals on the Mykonos map – Mykonos village map.
Buses leave once an hour.
---
3) Getting to Mykonos beach – TAKING A SCOOTER.
This way of getting to beaches on Mykonos usually isn't encouraged by your cruise line due to safety reasons. Keep in mind you are doing it at your own risk.

To hire a scooter, you just need to cross the street from the Mykonos port and you will see a rent a car/scooter office right there.
This probably is an option that will save you the most time on transportation around Mykonos Greece island!
If you would like to spend your day close to the water or in it, but not necessarily just lying on the beach, make sure you check these locally operated tours in Mykonos for a unique experience of this island...
RELATED ARTICLES
---
From MYKONOS BEACH to HOME PAGE