Cruiser's Guide to Rhodes Beaches
"Rhodes beaches - Mediterranean cruise guest's guide to beaches in Rodos!"
If this is your first ever cruise to Rhodes, then Rhodes beaches might not be, and shouldn't be, at the top of your list of things to do on this day.
It's just very possible that with so many things to see in the old town of Rhodes as well as the acropolis of Lindos, you might regret spending the whole day on the beach.
However, with good planning on your Rhodes day, it is very possible for you to find a couple of hours to visit one of the Rhodes beaches.
If you haven't planned and budgeted for paying a Rhodes taxi driver to take you to one of the Rhodes beaches (often times drivers want to take you for a half day tour anyway, and might not be willing to take you to a beach only), it is very easy to walk to the Rhodes town beach, the so called Elli beach.
To make this easy, we have outlined the route for you on our Rhodes map.
If you are more interested in having an active day on the water than just lying on the beach, first check these suggestions for a fun day on one of the Rhodes beaches...
Rhodes Beaches - Elli beach
A Rhodes beach that you can walk to from the cruise ship terminal is called Elli beach.
If you're wondering how to reach Elli beach, follow these instructions:
get off the cruise ship and walk to the end of the Rhodes cruise ship pier
turn right and walk along the little sand beach in front of the first entrance in the wall
keep walking along the sea front following the outside of the walls
when you come to an end and face the wall, find the little passage in the wall to go through or follow the road. That way you will leave the old town behind and head towards the new town
keep walking past the Mandraki harbour water front and all its boats advertising diving tours and ferries/tours to Lindos
when you get to the big car park, cross it… by now you should see the sea in front of you and you've found the beach.
The whole walk to Elli beach takes about 20 minutes.
Elli beach was described as one of the finest Rhodes beaches by Lawrence Durrell, who made this island his home in the 1940s.
Elli beach is a nicely organized, 700 meter long and about 30 meter wide pebble/sand beach.
Running adjacent to it there's a Casino, an Aquarium and hotels which makes it frequented by both hotel guests and Rhodes locals.
The water here is very clean, and it's shallow when you first enter. It's a good place to swim.
At Elli beach, you will find lounge bars with cushy chairs going all the way down to the water, bars with cold drinks, little restaurants…
The whole beach is covered with deck chairs and beach umbrellas for rent. As you lay down you'll be approached by someone, that will charge you a few euros for each chair.
If you don't want to pay for the deck chairs, you can always take your towels from the cruise ship and simply spread them out closer to the water front.
In high season, it can be very difficult to find chairs for rent here, as the beach is full of hotel guests… so try and go later in the afternoon (take advantage of lower temperatures of the early morning to sightsee the old town of Rhodes).
As everywhere else in Europe, it is pretty common to see ladies sunbathing topless.
TIP: Make sure you take waterproof shoes or flip-flops with you, to walk in all the way down to the water as the sand/pebbles can be unbearably hot!
Here's also a mention of other famous beaches on the island of Rhodes. They are all on the Eastern, most famous, shore of the island and on the way to Lindos town, which is the second most famous place to visit here!
To visit any of these beaches you will need to either rent a car/scooter or hire a taxi.
We'll list them from the closest to the furthest from the old town of Rhodes.
Rhodes Beaches - Kalithea Beach
Being only 11km away from the old town, this beach is also a favourite hangout of the locals looking for a quick swim.
Kalithea is a little rocky bay with clear waters.
This area is also famous for the Baths, known as Kalithea Therme, built during the Italian occupation of the Dodecanese in 1929. The goal was to create a spot that would attract distinguished visitors from Italy.
The complex of the baths is set into rocky terraces. The baths were closed down in 1967 and the buildings have since deteriorated but they're still quite an attraction.
There are sun beds and umbrellas to rent, as well as restaurants.
If you would like to experience some scuba diving on Rhodes, it's important to know that Kalithea Bay is the only legal dive site on Rhodes island.
Rhodes Beaches - Faliraki Beach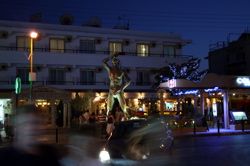 This 5 km long beach is one of the busiest Rhodes beaches. There are a few resorts in the vicinity, popular with British and Scandinavian guests.
If all you want on this day is to relax, listen to the sound of the waves or read a book… do not go to Faliraki.
On the other hand, if you like crowds, music blaring from lounge bars, restaurants, beach sports and activities… this is the place for you.
Faliraki resort also boasts one of the biggest water parks in Europe. So if you are cruising in the Mediterranean with your kids who have had enough of sightseeing… there's an idea for you!
Just "round the corner" from Faliraki are two small and charming beaches.
One is called Ladiko and the other one is the famous Anthony Quinn Bay. It was here that the film "Guns of the Navarone" was shot in 1961 with big stars such as Gregory Peck, Anthony Quinn and Irene Papas.
DINING-ROOM TABLE TIDBIT: Anthony Quinn was so enchanted with the little bay that he actually bought a large piece of land around it! Since then, the spot is simply known as the Anthony Quinn beach.
This is a good beach for those who wish to relax surrounded with natural stone surfaces, pine trees and emerald green waters.
The beach might not be appropriate for small kids as there are some sharp rocks around.
Rhodes Beaches - Lindos Beach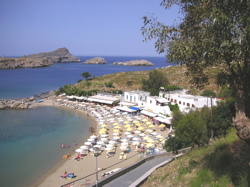 There are two smaller beaches at the foot of the Lindos acropolis and you can stop by if visiting Lindos.
If not, being 50km away from Rhodes old town it is a bit too far for those looking for a quick swim.
The beaches can be quite crowded with Brits who settle in Lindos in summer. There are sun beds, umbrellas and tavernas around. It is covered in sand and pebbles.
DINING-ROOM TABLE TIDBIT: This little bay underneath Lindos is where St. Paul the Evangelist landed when he visited the island of Rhodes.
Like Rhodes Beaches Page?
RELATED ARTICLES:
From RHODES BEACHES to Mediterranean Cruise Ports Easy
HOME PAGE
Have A Great Story About This Topic?
Do you have a great story about this? Have you been to this port of call? Have tried out any of the shore excursions I recommend? Do you have any tips that might help your fellow cruisers? Share them with us!