Tourist Information
Lucca Italy -
For Cruise Travel Guests
There are many reasons why you should read tourist information on Lucca Italy.
But probably the most important is that there are not too many ways to get to Lucca from Livorno - the affordable way. If you add Pisa to the equasion, it almost becomes impossible unless you are ready to cash out big bucks.
But I have found a real jewel for you! Keep reading!
If you have been to Florence Italy before, seeing the home of the famous Piazza Anfiteatro is the next best way of spending your day when docked in the port of Livorno.
Luckily, the famous Tuscan town of Pisa, Italy and its Leaning tower are right on the way, too, so you can combine both in only one day!

Booking one of the organized cruise line's shore excursions is far from being the only option of getting to both Pisa and Lucca.
Here at Mediterranean Cruise Ports Easy you will find the best tourist information Lucca Italy and different ways of transportation from your cruise ship.
We'll break them all down for you, give you all the pros and cons and help you  best ways of getting from Livorno to Pisa and Lucca in a day.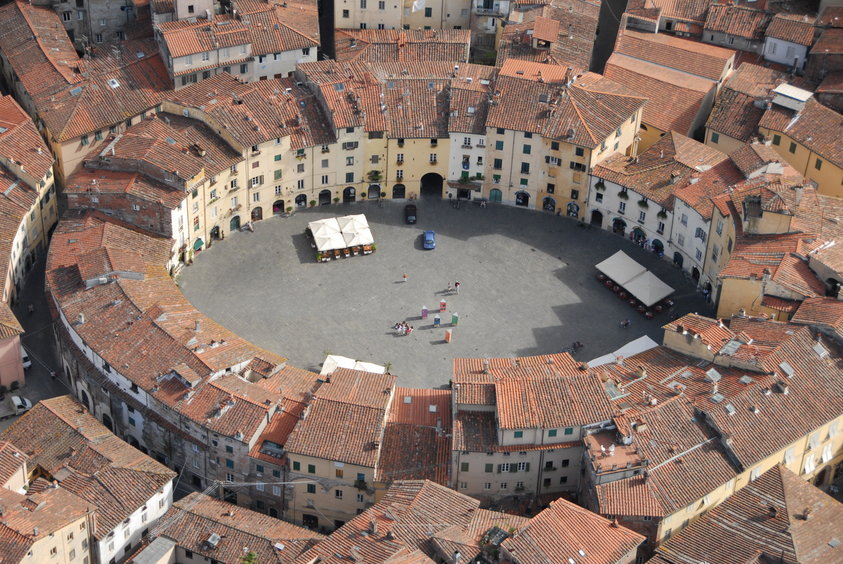 ---
Why visit Pisa and Lucca in a day - Tourist Information Lucca Italy?
There is probably no traveler in the world who hasn't heard of Pisa, one of the top destinations in Tuscany, but if you need the final push on why to visit it, read our article on Pisa Italy. On the other hand, the charming town of Lucca may be a little bit less known but is a must stop on any serious itinerary of the region. Here is some quick tourist information Lucca Italy, most visited for...
1)      Le Mura di Lucca or the 4 km long walls that embrace the town and give interesting perspectives of the city below. Not only can you walk upon them, you can rent a bike and cycle their tree-lined paved pathway! That's how wide they are.
2)      Guinigi tower, a 14th ct building that can be climbed to enjoy the great views of the town. It's very likely this is the only tower you'll ever climb and find trees growing on it.
3)      Piazza Anfiteatro, originally a Roman amphitheater that seated 10,000 people. Later on, its elliptical shape got lined with buildings and private houses that now form a beautiful piazza full of shops, restaurants and cafes.
4)      Lucca's Duomo or the Cattedrale di San Martino, a stunning gothic architecture and interesting artwork inside
5)      Palazzo Pfanner, an enchanting 17th ct palace with well maintained gardens that lure in many a wandering tourist on a hot summer day.
Besides being the place where part of the Portrait of a Lady movie was shot, it is also famous for being owned by the Pfanner family and the man who first brought beer to Italy and brewed it in the palaces' cellars himself too.
And these are just some of the many other attractions this charming town has in store for you!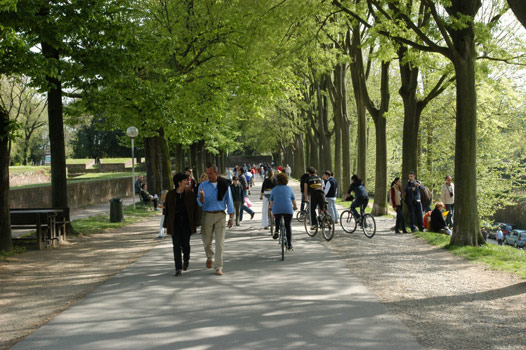 ---
How to Get from Livorno to Pisa and Lucca Italy - Tourist Information Lucca Italy
If you are searching for the best way of going from Livorno cruise port to Pisa and Lucca you must be juggling a few options in your mind.
In this tourist information Lucca Italy we'll break them down here for you - list all the pros and cons and offer the one that will take all the worry out of your day.
The best way of getting from Livorno to Pisa and Lucca Italy - Tourist Information Lucca Italy
Dear cruisers, Gods of cruising and port transportation have heard your cries - it's been since 2017 cruising season that you have been able to see both Pisa and Lucca in a day with a minimal hassle and for a minimal charge.
There is a Livorno transportation company that had already been offering bus trips from Livorno to Florence and Livorno to Florence and Pisa, but in 2017 they started a new bus line for cruisers only: the one that involves both Pisa and Lucca.
This option is as easy and practical as a shore excursion or a private tour and as affordable as a train.
It would actually equal your cruise line's Pisa and Lucca On Your Own tour, the only difference being it departs from the centre of Livorno - and is much more affordable.  
Its departures and arrivals are conveniently suited to your ship's timetable, too - no way you will be left behind!
Ready to see what's it all about? Click on the link below:
---
How to get from Livorno cruise pier to the Pisa and Lucca Bus pick up point?
To get from your cruise ship's docking pier to the point where you get on your

 bus 

to both destinations, just read the steps #1 and #2 in our article 

Livorno to Florence by bus.

All the instructions apply, just note the price for both Pisa and Lucca combined is €32 euros per person 
kids 3-8 pay €16
the ride is free for infants under the age of 2.
The coach departs Livorno at 10.30am
It first arrives in Lucca at 11.30am and drops you off right by the city walls and the information point 
It will give you 3 hours to stroll the narrow alleyways  of Lucca and see all the major sights (it's known as a city of a 100 churches), have a quick lunch or a nice cup of cappuccino.
Your bus departs Lucca at 2.30 pm and arrives to Pisa 30 minutes  later, at 3.00 pm.

In Pisa it will drop you off at "Parcheggio Pietrasantina", 700 meters from Miracle Square-

From there you can either walk or pick up the shuttle bus (€1 euro round trip) which takes you to Piazza dei Miracoli which is where you will see the majestic Cathedral, the Baptistery and its bell tower, better known as the 

Leaning Tower of Pisa.

You will have 1 hour and 45 minutes of free time here.

The bus will depart Pisa at 4.45 pm , and arrive back in Livorno at 5.15pm which gives you enough time to come back to your ship with the cruise port's shuttle.
You will be dropped off at the same spot downtown Livorno where you got on this bus, just behind the Piazza Grande.
It is only in the event of unforeseen circumstances, such as bad  traffic conditions that the passengers will be accompanied directly to their ship.
Just like with Livorno to Florence only, the seats on the bus are limited and sell in no time (especially when there are two or three ships in port on the same day so make sure you book yours ahead of time with our contact form below.
These buses normally operate every day the cruise ship is in port. 
Other options of getting from Livorno
to Pisa and Lucca
1)      Pisa and Lucca Shore Excursions: taking one of the ship organized day or half-day trips has its advantages, of course: you can put your brain on sleep mode. The only 2 problems with them are: to catch them on time and high pricing. If you are at least a little bit independent and don't like to be herded around you will save lots of money if you go with a DIY option.

2)      Taxi from Livorno to Pisa and Lucca: The distance from Livorno to Lucca is some 53 km (32 miles), which is a 40 minute drive. The price of an official taxi that would actually meter your ride would be some 87 euros for a one way trip. If you try to arrange the ride with one of the taxi drives inside the Livorno port, with a limited wait in Lucca and then again Pisa on the way back you are looking at a minimum 300-400 euros charge.
3)      Trains from Livorno to Pisa and Lucca are very affordable and you can read all about using them on our page here. However, they involve changing two means of transportation just to get from the cruise pier to the train station and carefully planning your train timing when going from Pisa to Lucca and then back. You need to take care not to miss your ship at the end of the day.
4)      Taking a local bus to Pisa and Lucca is affordable as well but also involves getting to Livorno train station on your own as that is where the bus stop is and careful studying of bus schedules and timetables.
5)      Private tours with local tour guides are easy to book online with Viator, one of the biggest tour providers online. Just be ready to pay over a $300 for a Lucca and Pisa day trip. Private tours are a great option when there's nothing better to offer in port but here this is not the case.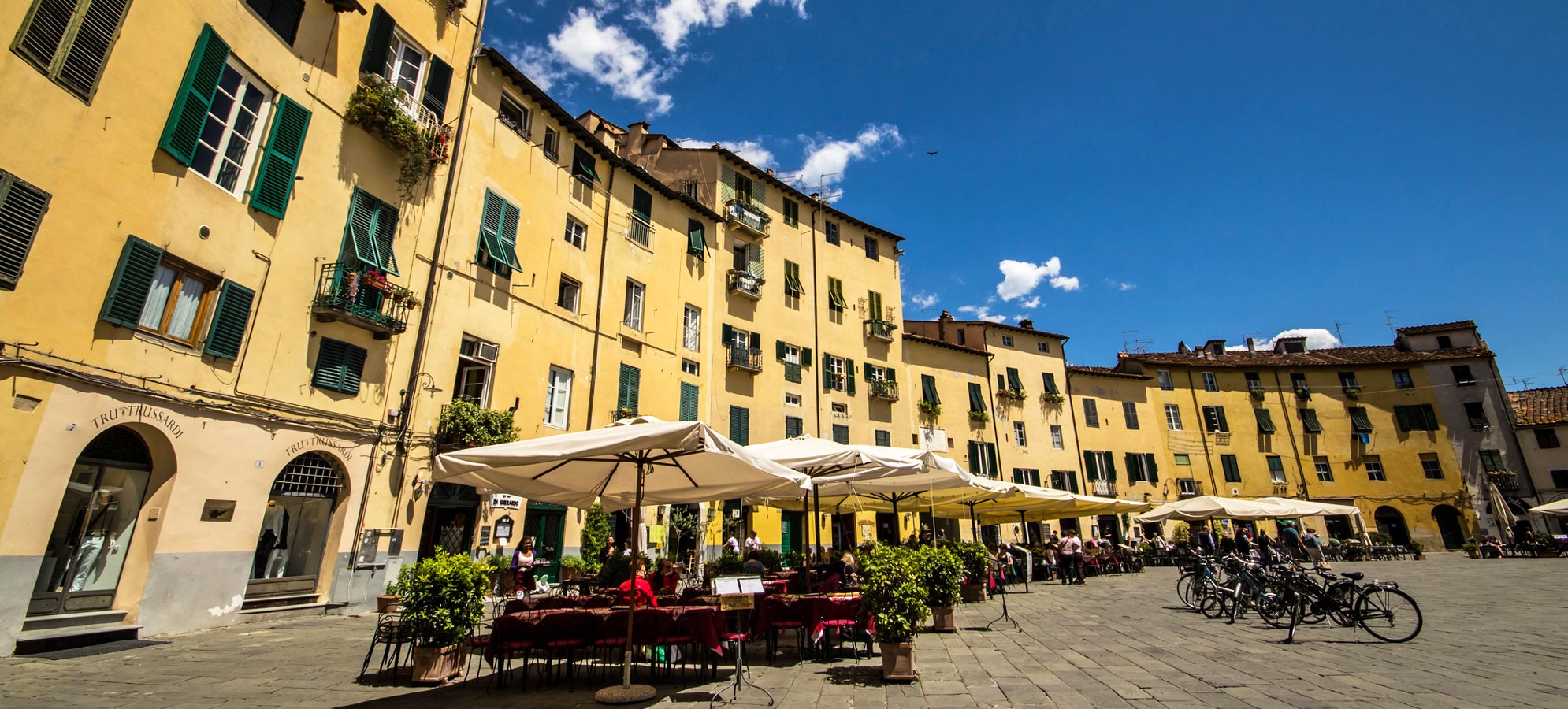 ---
Have A Great Story About This Topic?
Do you have a great story about this? Have you been to this port of call? Have tried out any of the shore excursions I recommend? Do you have any tips that might help your fellow cruisers? Share them with us!