Travel to Pisa and Florence
in a Day
Learn about the easiest and most affordable way of travelling to Pisa and Florence from Livorno cruise port
If you think you won't be coming to this part of the world any time soon, you may want to fit as much as possible into one day in Tuscany and travel to both Pisa and Florence from Livorno in a day. Which is perfectly doable. You just need to be fine with the fact that a trip like this is for the purpose of getting just a taste of both, not in-depth exploring.
Which is what cruises are good for anyway. Getting the feel of the places you will come back to one day, to explore and enjoy.
If you have checked your cruise line's shore excursions prices you will know they are quite pricey.
And taking a train to both destinations would demand laser-sharp planning. Which, knowing you are on a vacation, you may not be in the mood for.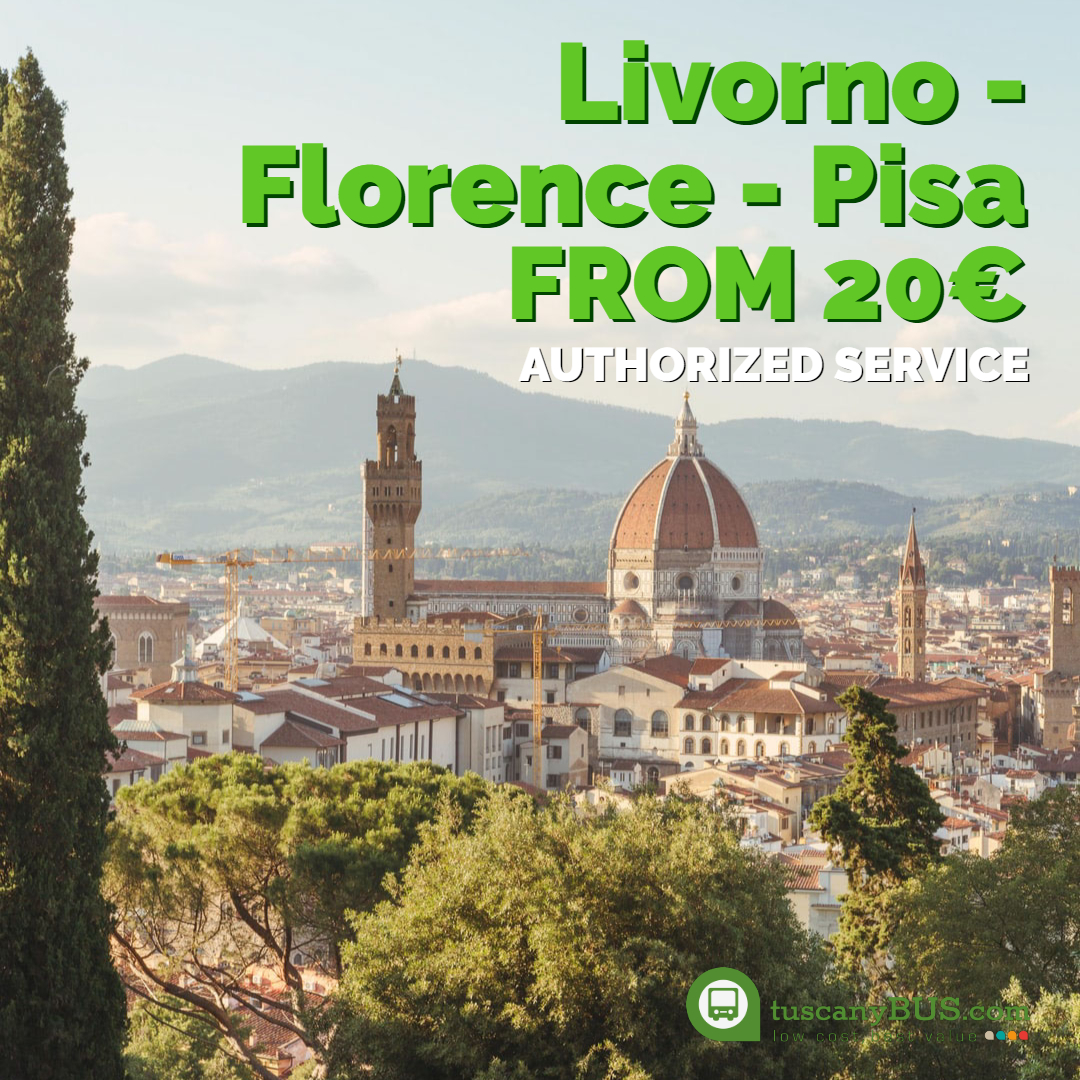 That is why all the cruisers are so happy to find out that tuscanybus.com offer low cost transfer travel to Pisa and Florence. it's just great to know there is a service that takes so much stress off your day in Tuscany and saves you big bucks.
To get from your cruise ship's docking pier to the point where you get on your tuscanybus.com to both destinations, just read the steps #1 and #2 in our article Livorno to Florence by bus.
Note: If your cruise ship is docking in La Spezia, you can read all about getting to Florence and Pisa here. 
All the instructions apply, just note the price for both Florence and Pisa combined is €40 euros per person, 
€20 euros for kids 3-9, and free for infants under the age of 3.
The coach departs Livorno somewhere between  9.30am and 9.45am, depending on the port shuttle's arrival.
It first arrives in Florence at approximately 10.45/11-00 am, right by the Santa Maria Novella train station.
It will give you two and a half hours to stroll the streets of Florence and see all the major sights, have a quick lunch or a nice cup of cappuccino.
Florence is really small actually, so it's just enough time go get the feel of this wonderful city.
Your bus departs Florence at 2.45 pm and arrives to Pisa an hour later, at 3.45 pm.
In Pisa it will drop you off at "Parcheggio Pietrasantina", 700 meters from Miracle Square.
From there you can either walk or pick up the shuttle bus (€1 euro round trip) which takes you to Piazza dei Miracoli which is where you will see the majestic Cathedral, the Baptistery and its bell tower, better known as the Leaning Tower of Pisa.
As you have one hour to enjoy Pisa, do not plan on climbing the tower or seeing the museums. Rather spend some stress-free time walking around and taking photos.
Apart from the Piazza dei Miracoli, there is nothing spectacular about Pisa today and there are no shopping opportunities apart from buying the magnets and other little souvenirs. That's why one hour in Pisa is just enough!
The bus will depart Pisa at 4.45 pm , and arrive back in Livorno at 5.15pm.
You will be dropped off at the same spot downtown Livorno where you got on this bus, just behind the Piazza Grande.
It is only in the event of unforeseen circumstances, such as bad  traffic conditions that the passengers will be accompanied directly to their ship.
Just like with Livorno to Florence only, the seats on the bus are limited and sell in no time (especially when there are two or three ships in port on the same day) so make sure you book yours ahead of time via our contact form below.
So go ahead and shoot them a little email and don't forget to say:
The number of people taking a tour

your exact date of arrival 

which ship you're arriving on
Should you have more than 8 people in your party who want to travel to Pisa and Florence, you can also contact tuscanybus.com (via the form below) and inquire about renting out a mini-bus. 
If it's weekend right now, be patient, they will reply on Monday!
Should you have any additional questions, you can also use the contact form below.
Have a fantastic day in Florence and Pisa!