Turkish Rug Buying Guide
for Cruisers
"Turkish rug buying experience - fun, educational and memorable!"
As your Mediterranean cruise ship approaches the Kusadasi harbour, there will be two things everyone of the ship will be talking about:

Visiting this part of the world, will for many of you be a once a lifetime chance to bring home an authentic carpet from this part of the world, and should not be missed.
Now, maybe you have already heard about what a high-pressure experience buying a rug can be...or maybe you're not really sure why you should get one.

Having worked as Port Lecturers on Mediterranean cruise ships for many years, we will offer some tips on how to make buying a rug the most fun experience of your cruise vacation and why you will benefit from getting one.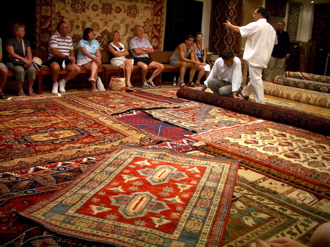 First of all, where to get your rug? Well, the good thing of taking Ephesus shore excursions is that they will usually include a free rug demonstration at the very end.
You will be taken either to one of the rug-making villages around Kusadasi or to one of the stores in Kusadasi shopping area.
The good thing about this is that, having been organised this way, the store would have chosen the most knowledgeable presenter to introduce to this ancient art that the Turkish people are so proud of.
The whole Turkish rug demonstration experience is very educational...you would have a chance to see a lady actually making a rug on the loom right before your eyes, how silk is made from silk cocoons, how the wool is dyed with natural products and learn why silk rugs are called "magic rugs".
Not to mention having a chance to admire either the gigantic oversized rugs that took years to weave or the miniature ones that are as fine as if painted by a thin paint-brush.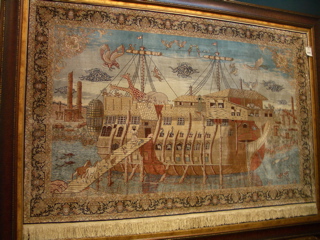 Having been part of our job, we have experienced at least a couple of dozens of demonstrations throughout the years and always learnt something new. For some of the cruise guests, sometimes it was literally a jaw-dropping experience.
One good thing about visiting one of the rug demonstrations is it will give you a chance to cool down in a relaxed and air-conditioned atmosphere, before you carry on with your Kusadasi shopping spree.
Another thing is, you will have a chance to experience one of the Turkish customs that Turkish people are so proud of...their hostpitality!
Most of the stores will treat cruise guests with a free drink, you will have a chance to taste that famous Turkish apple tea, real Turkish coffee or Raki, the famous liquorish-tasting spirit.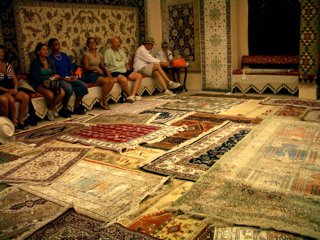 They often serve a little snack, too, something like a little cottage cheese and herbs pastry.
While you enjoy your drinks and your food, the presenter will quickly take your through the history of Turkish rug making as well as explain what makes them so different from rugs made in other parts of the world.
You will also learn about the Turkish Oriental Rugs colours and motifs and Turkish Oriental rugs materials used in rug making, as well as what is the difference between Turkish pile rugs and Turkish kilims.
At the beginning of every rug demostration everyone is pretty shy, but with time you will see more and more people taking their shoes off and walking over and touching dozens of rugs tht will be unrolled right in front of your feet.
So go ahead and join in, feel the warmth of the wool and softness of the silk. I bet you, you never ever had something as soft under your feet!
Now, once the demonstration is finished you have a choice of either leaving the premisses and carrying on your own way around Kusadasi, or staying in the store choosing your own Turkish rug to take home, which most people will do.
In that case, you will be given your own sales assistant that will take care of you and possibly take you into your own viewing room.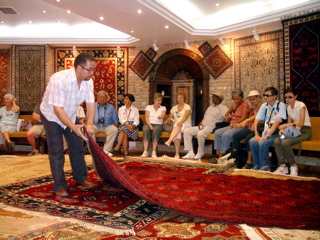 Here, you will have a chance to have even more beautiful rugs unrolled under your feet...just make sure you let them know what your size, material and color preferences are, as well as what your budget roughly is.
Now, if you're still not sure if you're in the market for a rug, here's a few reasons why most cruise guests will not miss out on this opportunity:
This is one of the rare opportunities for you to take home something that has been hand made in the country of your visit...Turkish rugs have not been made in a factory just the other day!

Turkish rugs are made in th technique of a double knot, as opposed to the other Oriental rugs which are made using the single knot technique. This technique takes more time but makes these rugs more durable, longer living and therefore generally more valuable too.

They are not something that can be made back home...most people there would not work for so long for so little money.

It's a good investment - an authentic, hand-made Turkish rug ages well and with use the knots tighten more, therefor you'll find that the design becomes even sharper and more beautiful.

Most of these rugs are made out of natural materials and dyed with natural colors. You can read more about it in our article

Turkish Oriental Rugs - Colors and Motifs.

They are simply beautiful - why not use them to give your room a quick makeover?

It's an dying art - young people in Turkey are more into IT and business now, not interested in sitting at the loom for hours every day. This makes the rug weaving a dying art.

Turkish Oriental rugs are works of art therefore - duty exempt for US citizens! You will not pay an extra dime to take it back home!

Shipping to your door is typically included in the final price.
If you've decided to go for it and get your own Turkish rug, keep these tips in mind:
Take your room measurements before you head for a cruise
Have your credit cards on you as soon as you leave the ship in the morning to go to your

Ephesus shore excursion.

Bargain for your rug! Never take the first price offered.
Ask for the value added tax to be taken off the price immeditely, so you don't have to go through the process of having your papers stamped by customs and sending them back to the merchant for the tax refund.
Ask the merchant how many knots there are per square inch. Better quality rugs start at about 250 knots per sq inch.
When shown different rugs, turn them over to see how detailed the picture is on the back...it will give you an idea of which rug has more knots in a square inch amd is therefore more valuable.
Take a photo of your rug before they put it away to be shipped.
Sign the back of your rug so you make sure you'll be getting the one you chose and paid for.
If you are not on one of the cruise line shore excursions yet, the best thing to get to one of the rug demonstrations is to book a private daily Ephesus tour online. You can always arrange to have the rug demonstration after your Ephesus sightseeing.
Enjoy your Turkish rug buying!
---
Pages related to Turkish Rug Buying Guide:
Home› Cruise Kusadasi › Turkish Rug Buying Guide