Venetian gondola for Med cruisers - prices and tips 
"A Venetian gondola experience is definitely something you can brag about to friends back home!"
Come on, admit it! Admit to envisioning yourself taking a ride in a Venetian gondola every time you glance at your Mediterranean cruise itineraries.
You're comfortably sitting back, in your sweetheart's arms, while the Venice gondolier is singing sweet songs in one of the most romantic languages in the world, just for the two of you…
You know what I mean... just like the happy couples taking gondola rides in those Mediterranean cruise holiday brochures.
So, if you're a Europe cruiser that is off for a romantic cruise holiday in the Mediterranean or even better a Venice honeymoon, you should not miss this opportunity!
And for the rest of you, maybe not so romantically inclined anymore, a Venetian gondola experience is simply something you can brag about to friends back home!
Once on a cruise ship, there are two different ways you can secure a gondola ride and you can read about them here.
---
What is a Venetian gondola?
Elegant, dark and mysterious... some say gondola in Venice Italy first appeared in the 600s, but the first documented mention dates back to the 1000s.
Although they have often changed their appearance in the past, today gondolas have a uniform look: painted black, 11 meters in length, made out of 280 components and 8 different types of wood.
Gondolas are often made out of plywood, which makes the upkeep cheaper and extends its lifetime.
However, in an attempt to preserve the traditional way of building gondolas in Venice, the municipality of Venice now demands them to be built out of solid wood.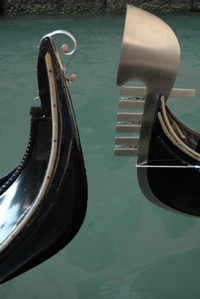 The only metal parts of a gondola are:
the "fero" at the bow, whose different parts unify different important elements of Venice: the top part resembles the Doge's hat, the S-form stands for the meandering of the Grand Canal, while the six teeth represent the six sestieri (districts) of Venice.

the "risso" (the crook) is on the stern and represents the island of Giudecca.
A Venetian gondola has always been used for private transport of persons of higher rank... yes, even back then riding a gondola wasn't easily accessible to just anyone. You can easily say that from a necessity, it turned into a status symbol.
Affluent Venetians used to decorate them so much, trying to show off their riches, that the Venetian republic had to ban it by law.
In the 1800s there was up to 10,000 gondolas circulating the canals of Venice. In the 20th Century with the common use of motorboats on the Grand Canal, the number went down considerably, so today there's only a few hundred Venetian gondolas.
DINING ROOM TABLE TID-BIT: The left side of a gondola is much larger than the right! That way it compensates for the weight of a gondolier and resists the tendency to turn toward the left at the forward stroke. That's why gondolas always sail with a little tilt!
---
Gondola ride prices and fares
"What is the price for a Venetian gondola ride?" is one of the most asked questions by cruise guests.
Minimum official prices on the gondola rides are set by the City of Venice:
€80 for 40 minutes ride
€40 extra for any additional 20 minutes
€100 after 7 pm
However, as said, these are the minimum set prices and if the gondoliers have a big demand, they can feel free to charge you more.
That's why you need to make sure you set the price and time duration of your ride before you jump into your Venetian gondola.
Sorry, we don't literally mean 'jump'… it is a bit wobbly!
Those prices apply for the whole gondola which can take up to 6 people!
So, if you're a family of 4, or a couple that decides to share this gondola ride in Venice with two other fellow Europe cruisers and split the cost… the price seems much more acceptable, right?
So relax, forget about the price and enjoy the whole wonderful experience.
Venetian gondola rides tips
Not all gondoliers sing. If you want singing along with your Venice gondola tour, make sure your gondolier can sing and be ready to pay about €35 extra for the service

Gondoliers are not required to give you information during your ride

Agree on the route of your ride before starting the tour; some people like taking a ride down the busy and touristy Grand Canal that's often crossed by speeding motorboats, but others much prefer quiet and romantic back canals! Make sure you're happy with the route of your gondola before you set off.
MONEY SAVING TIP: If you're really, really traveling on a budget but would still like to experience a gondola ride, here at Mediterranean-cruise-ports-easy we can tell you how to do it for the price of an espresso! To find out more, click here!
Now, if you don't feel comfortable arranging the gondola ride on your own, why not check the Gondola rides by Viator or even become a gondolier yourself?
---
Deals on Hotels and Shore Excursions:
Hotels in Venice - HotelsCombined.com allows you to instantly search and compare room availability and prices from all major travel websites!
Viator Venice Tours and Shore Excursions - Compare prices to the ship offered shore excursions and book your own tours online!
---
RELATED ARTICLES:
---
Like This Page?
VENICE ITALY ARTICLES TABLE OF CONTENTS
From VENETIAN GONDOLA to Mediterranean cruise ports easy
HOME PAGE