How to reach Venice cruise terminal hassle free

"Learn how to reach Venice cruise terminal, Stazione Marittima, from Venice airport or St Marks square. See Port of Venice photos!"
Venice cruise terminal is many a cruise line's starting port when it comes to Mediterranean cruises. If yours is one of them, lucky you, you get to both cruise the Mediterranean and see this amazing city too if you come and spend a few days beforehand.

Now, relax, stop stressing about how you'll get to your ship at one of the Venice port locations because it's not rocket science! And on top of that you've heard all those horrible stories of Venice having no roads and being all on water, oh, gosh, how do people get around there? Heeeelp!

Don't worry, here at Mediterranean Cruise Ports Easy we have the answers for you - you'll get to know how to reach Venice cruise terminal.
First of all, it's important to know which Venice cruise terminal your ship will be docked at.
If you still aren't sure about your cruise ship's dock, you can easily find it out at the Venice Terminal Passageri calendar.
Once you punch in your cruise ship's name, you will get a list of its calls for the season. In the "zone" listing at the end there will be a code for its dock.
Here's what the codes stand for:
SMT - Stazione Marittima terminal
SBL - San Basilio terminal
R7M - Riva dei Sette Martiri
To find out more about each one of these terminals and their locations, read our article on Venice port.
That way you can start planning your transportation to and from your Venice cruise terminal early.
Usually, most larger ships today dock at the Stazione Marittima, which is part of Venice cruise terminal, that's why here we'll cover how to reach this dock.
But before you read more, make sure you open our Map of Venice Stazione Marittima and Piazzale Roma.
---
How to reach Venice cruise terminal
- Stazione Marittima, from Venice Marco Polo airport.

CRUISELINE TRANSFER- find out if your cruise line has a transfer service organized. Often, at the airport you will see cruise line staff with your cruise line's signs, directing their passengers towards the transfer buses. Inquire about the cost of this service with your cruise line or your travel agent.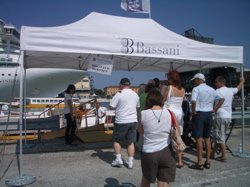 TAXI- Venice taxi takes you straight from the Marco Polo airport to the central square of the Port of Venice. It is relatively inexpensive and it's easy and hassle free. Best choice in case you need to get there quick! Expect to pay €30-40. It's a 20 minute ride.
If you are staying in a hotel before joining a cruise ship, here's a few land/water transfer options you can book online. Just make sure you know which airport you'll be arriving at.
WATER TAXI- Taking a Venice water taxi from the airport in Venice Italy to the Venice cruise terminal is the most expensive way of getting to the Port of Venice.
Remember that water taxis are the "limos of Venice" and you could pay over €90 from Marco Polo airport to Stazione Marittima. Also, keep in mind it is not much of a scenic ride.
Time-wise, you are not making much of a profit either as it will take over 25 minutes. As each water taxi takes up to 12 people with luggage, you can benefit from their service if you are arriving in a bigger group and will be splitting the cost. So if you wanna arrive in style...go for it!

Here's a few suggestions of local water taxi services cruisers love to book...
LAND BUS - you can easily get from Marco Polo airport to Piazzale Roma (the transportation hub and the last point cars can reach before historic Venice). From there it's fairly easy to reach Venice cruise terminal. Although it involves splitting your trip in 2 parts, it can save you some money if you're cruising on a budget.

There are 2 options with the land buses:
ATVO blue shuttle buses- Charge: €3 per person. They go twice an hour from platform 1 at the airport, the ride takes 20 minutes. They have a luggage compartment where the driver will stow your bags. For more info check the official ATVO web site.
An orange ACTV bus also links the airport with Piazzale Roma but it's more like a regular public bus. Although cheaper, it does not have luggage compartments. If you do have a few bags, you will have to take them with you on the bus. Bus #5 to Piazzale Roma departs from the far left of the airport exit. Make sure you stay on the bus until the very last stop as the bus will stop a number of times on the way.
Once at Piazzale Roma, you still have to get to the Stazione Marittima. Scroll down for more information on how to get to Venice Cruise terminal from Piazzale Roma.
---
How to reach Venice cruise terminal (Stazione Marittima) from St Mark's square, or your hotel

In case you need to reach the cruise port of Venice from Piazza San Marco or St Mark's square, or a hotel you might have spent a few days in, in Venice before the start of your cruise Mediterranean travel.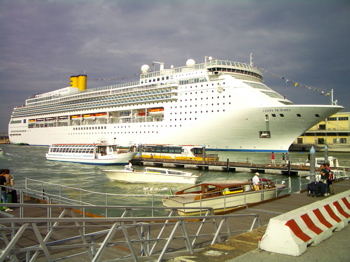 In this case you will already be on good terms with Venice and your hotel concierge will be able to help you with this too.
But just to give you a few pointers:
WATER TAXI - as explained above, water taxis are the easiest but also the most expensive way of getting around Venice. They can take you straight from your hotel to inside the Venice cruise terminal. If you travel with a party of 12 the cost could be reasonable, once split. If you decide to go with this option, you're in for an arrival in style!
VAPORETTO - you can take vaporetto #1 from close to Piazza San Marco (San Zaccaria stop, in front of the Danieli hotel Venice) or any point down the Venice Grand Canal. The trip takes about 35 minutes. It will be €6,50 per person. Please keep in mind there is also an extra charge for each piece of big luggage.
If you have experienced a ride down the Venice Grand Canal already, and time is an issue when getting onboard your cruise ship, take vaporetto #2 from Piazza San Marco (San Zaccaria stop) to Piazzale Roma. From there follow the below instructions on how to get to Venice cruise terminal from Piazzale Roma.
ALILAGUNA LINEA BLU- If your hotel is close to Piazza San Marco, you could take the LINEA BLU direct boat from San Marco Giardinetti straight to Venice cruise terminal.
Alilaguna is a private powerboat company that uses the ACTV landing jetties.
If I tell you Giardinetti means "little gardens" in Italian, you will easily remember that the stop is actually by the little garden next to St. Mark's square.
If you're facing the square with your back to the sea, it's just a few minutes walk to the left, very close to the Tourist Information office and on the way to Harry's bar.
For the cost of €7 per person the LINEA BLU boat will drop you off inside the Stazione Marittima from where you will walk towards your check-in building.
The LINEA BLU boat will not go down the Venice Grand Canal but down the Giudecca Canal and will have two stops along the way: Zattere and by the Hilton Molino Stucky Hotel.
For these boats' exact departure times you can always check the most updated schedules here. Also, they do not ride all year round.
LINEA BLU will not be of any help to you if your visit to Venice is part of your cruise ship itinerary and you want to use it for the quickest way to reach Piazza San Marco from Stazione Marittima. Remember, this line is not operational unless there is a ship in Venice cruise terminal doing embarkation/disembarkation on that day.
If Venice is the port where you get off your ship, to stay in Venice for a day or two or go straight to the airport, follow the same instructions but in reverse order.
Here's a few suggestions of services that can shuttle you between your hotel in Venice and the Stazione Marittima cruise terminal...
---
How to reach Venice cruise terminal, Stazione Marittima, from Piazzale Roma
Piazzale Roma is a traffic hub of Venice. It is positioned at the very end of the Venice Grand Canal.
To locate Piazzale Roma, open up our Map of Venice.
As this is the last point cars and land buses can get to from the mainland, this is where you will find, in one small area, all the means of transportation to get you into or out of Venice.
This is where the local public bus stop is; the train station is just a bridge away; water taxi stops, water buses, land taxis as well as the Venice people mover.
This is where your airport buses would have dropped you off, as well as vaporettos from your hotel or Piazza San Marco, while you're trying to make your way to the Venice cruise terminal.
So here's the options when it comes to getting from Venice Piazzale Roma square to the Port of Venice, Stazione Marittima.,/p>
WALK- Yes, it is actually possible to walk. This will be a money saving option if you are on a budget. However, keep in mind, the sidewalks are pretty narrow and you will have to compete for that space with other people.
With all that luggage, it will take you about 20 min to reach the main square inside the Venice cruise terminal. Depending on where your ship dock is inside the terminal, it will take you another 5-10 minutes to reach the actual cruise ship.
If you are healthy and fit and don't mind walking, you might consider this option. However, if you have problems walking and you might mind the hot Venetian sun in the high season, pass on this!
What's really great is that since 2010 you can cut your trip much shorter by using the Venice people mover.
If you, for some reason still decide to walk all the way from Piazzale Roma to Venice cruise terminal, here's the DIRECTIONS:
Turn your back to the local bus stations in Piazzale Roma

The parking building and its car rentals will be on your left hand side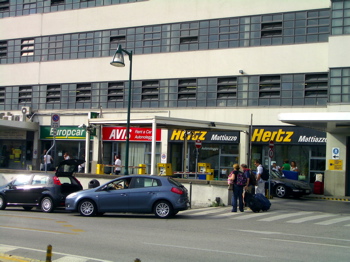 Walk up the road for about 10 minutes until you reach the gas station on the right-hand side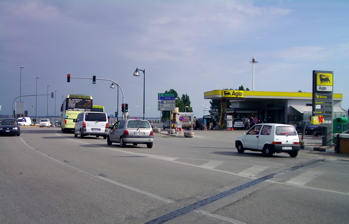 Take a left and start descending down towards the port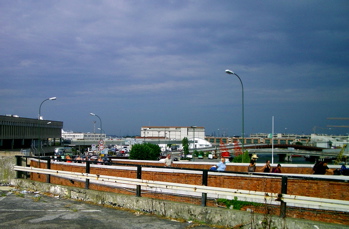 Go past the entrance and security point and reach the main square of Venice port, next to terminal #107
Find your cruise line terminal/ship from there
VENICE PEOPLE MOVER - Since 2010 cruisers are very lucky to have the option of using this automated electric train and make their trip to the cruise terminal much easier and cheaper. Read about it on our page Venice people mover.
TAXI- taxi ride from Piazzale Roma to the Venice cruise terminal takes only about 5 minutes. The charge is about €15 but they normally will charge you extra for the luggage too.
FREE SHUTTLE- these are available only on days when Italian cruise lines (eg. Costa) have turnaround days in Venice. And that is on Saturdays, Sundays and Mondays in high season. If you turn your back to the Venice Grand Canal, you will find the free shuttle bus on the left hand side corner of the Piazzale Roma, by the bank. It is called Tourist bus.
LOCAL BUS- Local bus #6 that leaves from bus stop C3 will drop you off right by the Venice cruise port gate. From there, it's only a few minutes walk into the Venice cruise terminal area. You need to purchase the ticket before you board the bus.
---
Deals on Hotels and Shore Excursions:
Hotels in Venice - HotelsCombined.com allows you to instantly search and compare room availability and prices from all major travel websites!
Viator Venice Tours and Shore Excursions - Compare prices to the ship offered shore excursions and book your own tours online!
---
RELATED ARTICLES:
---
---
Like Venice Cruise Terminal Page?
VENICE ITALY ARTICLES TABLE OF CONTENTS
From VENICE CRUISE TERMINAL to Mediterranean cruise ports easy
HOME PAGE