Venice taxi for cruisers
"For you as a cruiser, there will be a few occasions when you might benefit from a Venice taxi ride!"

Can you take a taxi in Venice?
In Venice, taxi (land taxi) might not be the most often used means of transportation and they are not commonly available or used for transportation within the historic city center.

It cannot reach the most popular Venice attractions due to the unique layout of the city with its intricate network of canals, and it cannot compete with an "out of a movie" experience a water taxi can give you.
Generally, taxis are only available in these areas of Venice:
Tronchetto: Tronchetto is a parking area located near the entrance of Venice. It is connected to the mainland by a bridge. From Tronchetto, you can find land taxis that can take you to destinations outside the immediate city center or to the mainland.
Piazzale Roma: Piazzale Roma is another area in Venice where you can find some land taxis. It is the main bus terminal and parking area in Venice. Taxis can be found there to transport passengers to locations outside the historic center or to the mainland (this square is very close to Stazione Marittima Venice cruise port which is still the official cruise terminal, although ships are docking in the industrial area of Marghera). It is the furthest point that a land taxi in Venice can reach on it's way to historical Venice. This is where cars, Venice land taxis and bus services stop and where water taxis, water buses (vaporettos) and gondolas take over on the way into Venice.
Mestre: Mestre is the mainland area of Venice and has more road-based transportation options, including land taxis. If you are staying in Mestre or need to travel to or from the mainland, you can use land taxis there.
---
Venice taxi from airport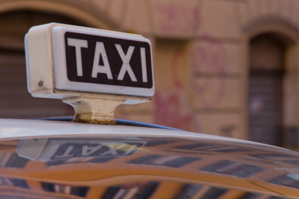 Taking a land taxi from the Marco Polo airport to Venice is a practical solution if you're tight with time and you are boarding the cruise ship on the same day.
Using a Venice taxi on land, you won't need to wait for the local buses, no need to lug your bags to the water bus or water taxi dock.
And... you'll be dropped off right inside the Venice cruise terminal.
If you are staying in Venice for a few days before your cruise and need to reach a hotel, first make sure you know the exact location of your hotel.
Land taxi from the airport to Piazzale Roma will be helpful only if your hotel is near the Piazzale Roma.
In case your hotel is closer to Rialto or Piazza San Marco area you will need to either continue your travel from Piazzale Roma in a water taxi or consider taking an Alilaguna airport transportation boat straight from the Venice airport.
Taxi fares from Venice airport to both Venice cruise port and Piazzale Roma are €40. 
If you don't want to wait in a taxi line at the airport, book your own taxi ahead. Check the links below:
---
Venice taxi from the Cruise Terminal to Marco Polo Airport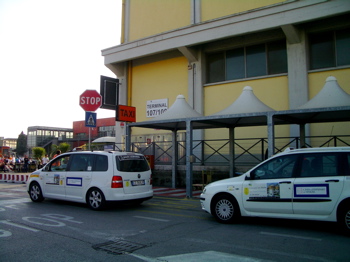 If you are disembarking your cruise ship in Venice and rushing to catch your flight from Venice airport, catching a land taxi is a good way to go.
Just remember that as of 2022 there is now an additional step when getting off the ship: being shuttled from the cruise dock in Marghera to Stazione Marittima.
Can you catch a taxi directly at Marghera cruise dock? No, unfortunately not. It is a big industrial area where cars and taxis are not allowed. Also, it is not safe (or allowed) to walk from the dock to the port exit. 
It's easy to locate a taxi stand inside the Stazione Marittima cruise terminal - it is on the side of terminal buildings #107/108.
The only problem is... if your ship has turnaround on the same day as another two or three ships... Venice port will be full of people trying to do the same: catching a taxi to Venice airport.
So, be ready to wait in line. Actually, standing in line will not guarantee you will get the taxi first. Taxis, as they arrive, do not stop in any particular line or order.
As there is no-one there to keep the line in order and make taxis take the first in line, expect people to simply jump out of the line and catch the taxi that stopped in front of them. I know, a bit frustrating, so arm yourself with alot of patience or be prepared to let the Italian in you out!
Taxi fare from Venice cruise terminal to airport in a Venice land taxi will cost you €40. Depending on traffic it the ride from Venice cruise port to the airport can take from 20-30 minutes.
To avoid waiting on a taxi inside the port for half an hour, maybe better arange a private taxi pickup inside the terminal or in Piazzale Roma square (you get there with People Mover in a few minutes).
---
Venice taxi from cruise terminal to downtown Venice
Unfortunately, such a thing does not exist. If you are visiting Venice for a day or two as part of your Europe cruise itinerary and want to get to historical Venice or to Piazza San Marco, you'll need to look into other means of transportation. 
Find out more here:
Taxis (land) will be available inside the Stazione Marittima terminal mostly only on turnaround days.
Even if the day of your cruise ship's visit coincides with other ship's turnaround and taxis are available inside the Stazione Marittima, taxi drivers will always rather take passengers to Marco Polo airport than to Piazzale Roma which is only a 5 minute ride away by People Mover.
Of course, there are always some bestselling shore excursions which will take you straight from inside the port to major Venice attractions:

---
Venice taxi from Piazzale Roma to the Cruise Terminal
As Piazzale Roma is a big Venice transportation hub, it will be very easy to catch a land taxi from there to the Stazione Marittima (where embarkation/disembarkation procedures are still held) or San Basilio cruise terminal.
Stazione Marittima cruise terminal is only a few minutes ride from the Piazzale Roma but expect to pay about €15 and there is a few euros charge for big luggage.
However, since the existence of Venice People Mover, hardly anyone will pay this much for a few minutes ride.
Of course, walking from Piazzale Roma to Stazione Marittima cruise terminal is another option. 
---
RELATED ARTICLES:
---