Walk Venice: The Joys of Exploring Venice on Foot
Walk Venice to savour and absorb its magic slowly - find out how to walk into Venice from Stazione Marittima cruise terminal
Can you walk from Venice cruise terminal into Venice?
Yes, absolutely! Reaching historical Venice from Stazione Marittima on foot is not only possible but also a delightful way to start your exploration. The cruise terminal is conveniently located near the heart of Venice, making it a short and scenic walk to the historical center.
But, there is a big BUT!
In 2022 the city of Venice banned big cruise ships from docking in Venice and they relocated them to the industrial area of Marghera! Click on the Marghera link to read how to get from Marghera to the old cruise terminal at Stazione Marittima (and it certainly can't be done by walking!).
Before deciding to walk from Stazione Marittima into Piazza San Marco, take into account a few factors:
first is the time you have in port: I would only suggest walking if you are staying in Venice for 8 hours or more, or having an overnight
second is your physical condition and comfort level for walking these distances
---
How long does it take to walk from Venice cruise port into Venice?
When your cruise ship shuttle bus drops you off inside the Stazione Marittima (coming from Marghera cruise dock), you will need to walk 5-10 minutes  from the terminal building to the exit from the port.
From there you can either walk another 15 minutes to Piazzale Roma or take a People Mover and get there in another 5 minutes (10 minutes with wait times and buying tickets).
In Piazzale Roma you will see the Grand Canal, this is where historic Venice starts. As you stroll along the waterfront and cross over iconic bridges, you'll find yourself immersed in the charming ambiance of the city's historic districts. 
So you can say you will reach Venice in about 20 minutes from the Stazione Marittima but if Piazza San Marco is where you actually want to go (and most cruisers do), then add another 30-35 minutes walking!
---
How far is Stazione Marittima cruise port from Venice?
The distance from Stazione Marittima to Piazzale Roma is approximately 1.2 kilometers (0.75 miles). Piazzale Roma serves as a major transportation hub where you can find buses, taxis, and the People Mover, connecting you to various parts of Venice.
From Piazzale Roma to Piazza San Marco in central Venice, the distance is around 2.4 kilometers (1,5 mile) on average (there are many possible routes). This route takes you through the charming streets, over picturesque bridges, and past beautiful Venetian architecture. 
Keep in mind that these walking times are approximate and can vary based on your pace and the specific path you take. It's also worth noting that the journey through Venice is as much a part of the experience as the destinations themselves, allowing you to immerse in the unique atmosphere of the city.
---
What are the benefits of walking from the cruise port to central Venice?
Walking into central Venice from the cruise terminal boasts a bundle of enticing benefits.
Firstly, it's a feast for the senses. As you step onto the Venetian streets (from Piazzale Roma onwards), you're immediately enveloped in the sights, sounds, and scents of this enchanting city. 
Secondly, walking lets you uncover hidden gems. By wandering on foot, you're free to stumble upon quaint squares, boutique shops, and local cafes that reveal the true essence of Venetian life. 
Thirdly, walking keeps you in control. There's no set schedule or route – just you, your pace, and the freedom to explore as you wish, ensuring an experience that's tailored to your interests.
Fourthly, it's a chance to admire the stunning architecture up close. Venetian palaces, bridges, and squares come to life as you walk among them.
At last, walking into Venice on foot also offers the added benefit of saving money on transportation costs.
---
Get ready to walk Venice - Some practical tips
So, you're ready to dive into the heart of Venice – on foot? This article is all about tackling the streets like a local and getting to central Venice on your own two feet. Plus, I'm dishing out practical tips that'll have you navigating this watery wonderland like a pro.
Here are five practical tips for navigating Venice on foot:
Comfortable Shoes Are Key: Venice's streets are a mix of cobblestones, bridges, and pathways, so comfy and supportive footwear is a must. 
Grab a Map or Use Navigation Apps: Venice's charming maze-like layout can be delightful, but it's easy to get turned around. You can get hold of a map at the Tourist Info center in Piazzale Roma square.
Stay Hydrated and Snack Smart: Exploring Venice is exciting, but walking can work up an appetite. Keep a bottle of water handy and consider carrying some snacks to keep your energy levels up as you venture through the city (if setting off early, caffes may not be open yet).
Be Mindful of Pedestrian Etiquette: Venice's narrow pathways often mean sharing the space with fellow pedestrians. Keep to the right side, be courteous, and if you need to stop for a photo, try to find a spot where you're not blocking the flow of foot traffic.
Explore Beyond the Tourist Hotspots: While iconic sites like St. Mark's Square are a must-visit, don't be afraid to wander off the beaten path. Some of the most charming and authentic experiences in Venice can be found in its quieter corners: don't forget to look up at the facades of the buildings you're passing by - notice the detailing on the windows, medieval pateras (small round reliefs) built into palaces' facades, check what's behind that corner… maybe a secret garden or a little square with an old stone well in it.
Have enough time on your hands - at least 8 hours in port, preferably and overnigh!
How to get from the cruise port to central Venice on foot?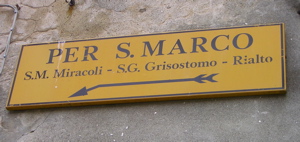 To make your Venice walking adventure a breeze, keep an eye out for the friendly yellow signs perched on buildings corners.
These handy signs guide you either toward San Marco (St. Mark's Square) or Rialto (en route to St. Mark's Square) - they will lead you right to your desired destination.
If you're thinking of retracing your steps from central Venice to the cruise ship, the process is as smooth as butter. Just follow the signs pointing to Piazzale Roma or Ferrovia (the train station). They're practically neighbors, so don't sweat it – whichever you follow, you'll end up in the same spot!
And hey, when you're walking through Venice, the biggest misadventure might involve accidentally strolling into a cozy dead-end street that decides to surprise you with a canal view.
But no worries, there's not much further you can go – getting "lost" in Venice usually means you're right where you want to be.
As you walk Venice you will catch the real life of this unreal city, life that isn't just staged for a curious observer:
kids playing football on a piazzetta

commuters drinking their first morning espresso standing up by the bar before they're off to work

little old ladies taking their doggies out for a walk

locals gathering in the local trattoria for a glass of wine after they close the bottegas for siesta

students rushing to their classes

smell of fresh cornettos in the pastry shop, men gathering at the barbers' discussing the latest politics…
These impressions may stay with you even longer than the view of some famous tourist attractions.
---
Walk Venice - Directions on how to walk from Venice cruise terminal to Piazzale Roma 



Get off your ship's gangway and ask the security for directions to get to the exit of the cruise terminal. Now keep in mind Venice port is very big and has many peers. Your ship could be anywhere between 2 to 10 minutes away from the central part of the cruise terminal complex and the exit. 

Anyway, look for the building no.107 which is close to the main hub of the complex, its entrance/exit, close to the taxi stop (taxis may be a rarity to find since 2022), the cruise line bus transfers to the airport and the entrance to the People Mover.

Please note that Alilaguna Blu Line does not stop inside the Stazione Marittima since 2022.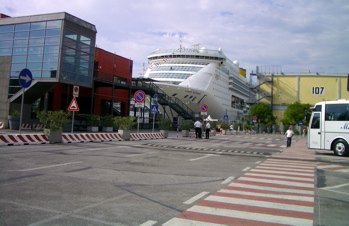 Now turn your back to terminal building 107, and walk straight ahead. You will go through the Venice terminal entrance/exit and check point. Follow the signs for exit out of the area and towards Piazzale Roma. Stay on the right hand-side of the road.
Here you can still decide to cut short one portion of the way with the People Mover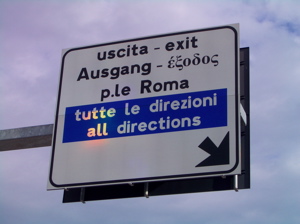 When you get to the roundabout, keep on the right hand side. Be aware of the cars, as on this whole stretch there is no pedestrian sidewalk really.
Continue walking up the "ramp" that connects the Venice terminal area with the highway that connects the mainland with Piazzale Roma.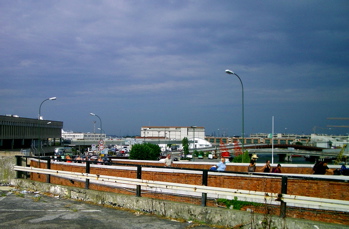 You will see the gas/petrol station in front of you. Now turn right and keep walking towards Piazzale Roma and its parking building.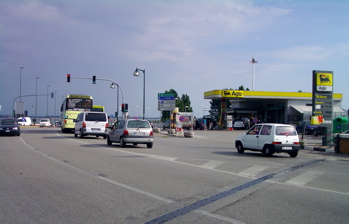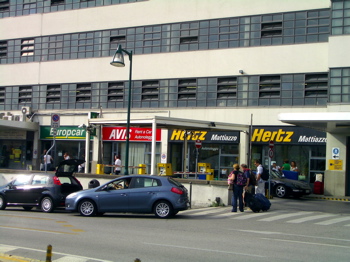 Here at Piazzale Roma you'll enter a more enjoyable area for walks in Venice, "the real, historical Venice".
These were the instructions for those that don't mind walking the dull part between Stazione Marittima and the Piazalle Roma. But guess what, thanks to the People Mover, a kind of an electric train that started operating in 2010, no one has to walk this dull little stretch. Find out more about it in our People Mover article.
At Piazzale Roma will also be your first encounter with the Venice Grand Canal. In case you're taking a Venice vaporetto to reach downtown Venice, this is where you'll do it.
While here, make sure to take a photo with the (in)famous Calatrava bridge, opened in the summer of 2008. Everyone has some opinion on it… you either love it or hate it! What's yours?
From there, you can either cross that bridge (which would take you to the train station) or stay on this side and go past the Giardino Papadopoli… there's no right or wrong way, just follow the signs for San Marco and you'll end up downtown Venice!
If you decided not to walk Venice all the way, here's a few suggestions on services that will take care of your transport between Piazzale Roma and Piazza San Marco...
---
RELATED ARTICLES:
---
Like Walk Venice Page?
VENICE ITALY ARTICLES TABLE OF CONTENTS
From WALK VENICE to Mediterranean cruise ports easy
HOME PAGE